I have been eyeing this apple pie jam recipe for months. Now that it is apple picking time, I have lots of apples to try out fun new recipes like this one. You will just love this recipe for canning apple pie jam. It is one of my favorite apple canning recipes!
The only real problem with this recipe is that your family is going to eat this stuff as fast as you make it. There is not even a need to can it if you are going to eat it in a couple of weeks.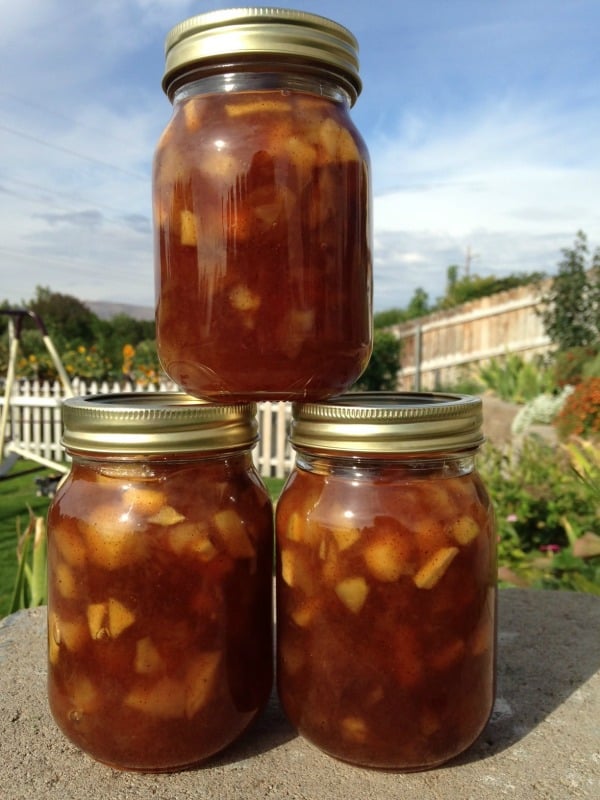 Apple Pie Jam Recipe
Ingredients:
4 c. diced apples (I used Golden Delicious)
2 tbsp. lemon juice (fresh or bottled)
1 1/4 tsp. ground cinnamon
1/4 tsp. ground ginger
1/4 tsp. ground nutmeg
1 box powdered pectin
4 c. granulated sugar
1 c. firmly packed brown sugar
1/2 tsp. butter
Note: If you are going to make a lot of jam and/or jelly, then you HAVE to try this powdered pectin that you can buy in bulk from Amazon. Six tablespoons of this pectin is the equivalent to one box of Suregel pectin. This is the ONLY way to buy pectin inexpensively if you are going to buy a lot of it (like I do!).
Hoosier Hill Fruit Pectin, 2 lb bag
This recipe makes about 6 half pints or 3 pints of jam. You can easily double this recipe.
Start the water heating in your boiling water canner
and sterilize your canning jars, lids, and rings.
Place the 4 cups of diced apples in a large liquid measuring cup (mine is 8 cups), and add water just to the 4 cup measuring mark (apples and water should equal exactly 4 cups).
Place the apples and water in a large stock pot and add the lemon juice, cinnamon, ginger, nutmeg, pectin, and butter.
Bring the mixture to a full boil that cannot be stirred down. Add all the sugar at once and stir. Heat to boiling once again and boil for 1 minute.
Remove the pan from the heat and skim off any foam with a metal spoon.
Granite Ware Covered Preserving Canner with Rack, 12-Quart

Prepworks by Progressive Canning Funnel for Regular and Wide Mouth Jars

Canning Instructions
Pour the jam into the hot sterilized canning jars, leaving 1/4 inch head space. You can easily measure the head space with this inexpensive canning funnel.
Wipe the rims of the jars with a clean damp rag and place the lids and rings on the jars.
Process the jars in the boiling water canner
for 10 minutes.
Remove the jars from the canner and place them on a towel on the counter to cool for 24 hours. Store in a dark pantry for a year or more. If any of the jars don't seal, you can put them in the refrigerator right away and eat them within a couple of weeks.
Like this recipe? Try my recipes for canning crock pot apple butter or canning applesauce.
Related Recipes
Follow my canning and preserving board on Pinterest.