I am always looking for new cookie recipes to try, especially during the holiday season when I like to bake lots of goodies to give to friends and family.
This post may contain affiliate links.
This was the first time I've tried these Jello cookies, and they are surprisingly very easy to make. If you have any Jello laying around the house, you probably already have everything you need to make them.
Christmas Jello Cookies
Ingredients:
3-oz. box Jello, any flavor
1 c. powdered sugar
1 c. butter or margarine, softened
2 1/4 c. flour
1/4 tsp. salt
Sprinkles (optional)
Icing:
1 tbsp. Jello
2 c. powdered sugar
You can use any flavor Jello to make these cookies. I decided to use cherry Jello. I made another batch with lemon Jello, and they turned out great. The Jello really gives the cookies a lot of flavor.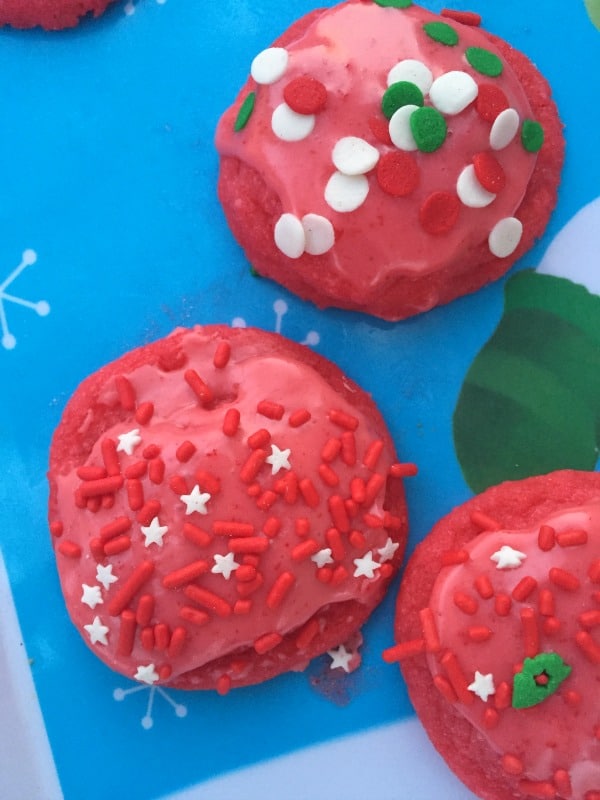 Heat oven to 350 degrees. Open the box of Jello and remove 1 tbsp. of the dry gelatin, saving it to make the icing.
Mix together remaining Jello, powdered sugar, and butter or margarine. Stir in flour and salt.
Form the dough into 1-inch balls and place on ungreased cookie sheets. Bake until the cookies hold their shape, but are not brown, about 8 minutes.
Let cool on the cookie sheets for a few minutes before moving them to completely cool them.
To make icing, combine the 1 tbsp. Jello with 3 tbsp. hot water. Let this stand for a few minutes and then stir in 2 c. powdered sugar until the icing is a smooth consistency.
Spread the icing on the cooled cookies, and then add sprinkles if desired. If the icing is a little runny, it is okay. You want it to be a little on the runny side. When it dries it will harden.
These cookies freeze well if you are baking a bunch of cookies to give away as gifts for Christmas.
Follow my Christmas board on Pinterest.
Related Recipes