Can You Vacuum Luxury Vinyl Plank Flooring?
This post may contain affiliate links.
If you have just installed new luxury vinyl plank flooring in your home, you may want to know the best way is to clean it. If you are wondering if you can use a vacuum on vinyl plank flooring, the answer is yes, you can! You will find here the 4 best vacuums for vinyl plank floors.
See Today's List of 5 Best Vacuums for Vinyl Plank Floors

There are several ways to effectively clean vinyl flooring. According to Bob Vila, it is totally fine to both vacuum and mop your vinyl floor. In fact, it is a good idea to vacuum your floor first to pick up any loose debris, then mop it.
I've included below some of the best vacuums available on the market today for vacuuming vinyl plank flooring. You can find the best mops for cleaning vinyl flooring here and here are the best spin mops for kitchen floors.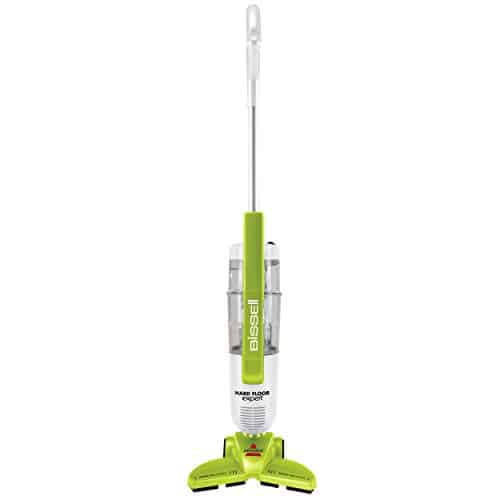 Bissell Hard Floor Expert Corded Stick Vacuum Cleaner, Green

The Bissell hard floor corded stick vacuum cleaner is an easy to clean bagless vacuum cleaner that provides edge to edge cleaning.
This stick vacuum cleaner is very lightweight and easy to maneuver. Its swivel steering allows you to easily move around furniture and under kitchen cabinets.
One of the best stick vacuum for vinyl floors, this stick vacuum is fairly inexpensive and is rated 4 1/2 out of 5 stars on Amazon. You can read the reviews here.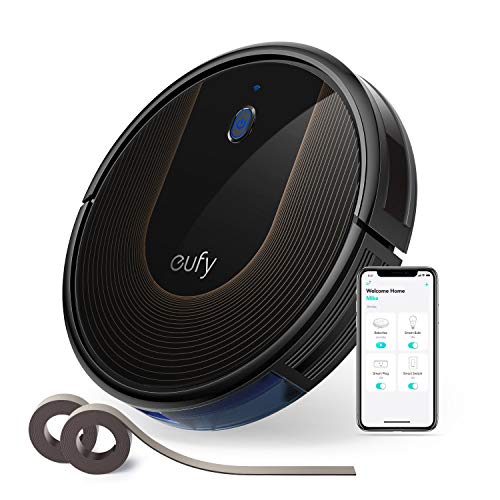 eufy [BoostIQ] RoboVac 30C, Robot Vacuum Cleaner, Wi-Fi, Super-Thin, 1500Pa Suction, Boundary Strips Included, Quiet, Self-Charging Robotic Vacuum Cleaner, Cleans Hard Floors to Medium-Pile Carpets

The RoboVac 30C vacuum cleaner is a state of the art robot vacuum cleaner that is great for cleaning luxury vinyl plank floors in addition to low and medium pile carpets.
This robotic vacuum cleaner connects to your Wifi and can be controlled effortlessly with Amazon's Alexa and Google Assistant voice control services.
This model will automatically increase your suction power when extra vacuuming strength is required. You can even set boundary strips to only clean the areas that you want.
This model comes with 13.2 ft Boundary Strips, remote control (2 AAA batteries included), charging base, AC power adapter, cleaning tool, extra set of high-performance filters, 4 side brushes, 5 cable ties, and a 12-month warranty.
One of the best robotic vacuums for vinyl floors, this vacuum is rated 4 1/2 out of 5 stars on Amazon. You can read the reviews here.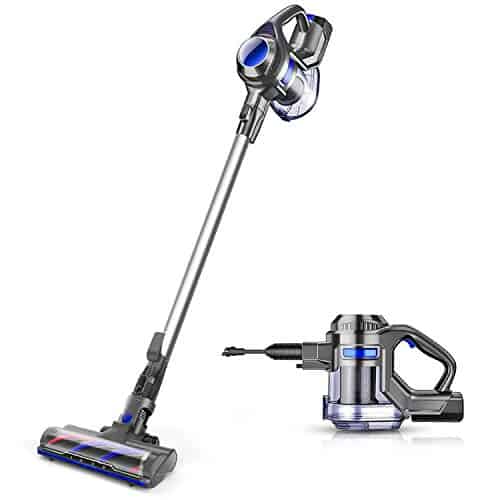 MOOSOO Cordless Vacuum 10Kpa Powerful Suction 4 in 1 Stick Handheld Vacuum Cleaner for Home Hard Floor Carpet Car Pet – XL-618A, Lightweight

The MOOSOO 10Kpa vacuum is one of the best cordless vacuums for vinyl floors. This handheld vacuum cleaner provides 120-watt powerful suction to meet every cleaning demands, quickly picking up debris, dust, and pet hair.
Weighing only 3.3 lbs, this vacuum works well on all kinds of hard floors, carpets, stairs, and windowsills. Its 20-35 minutes of cordless running time ensures thorough cleaning throughout the house.
The wireless design of this vacuum will free you from the hassle of having a cord and will still provide powerful suction for thorough cleaning. Two adjustable modes adapt to different cleaning situations and allow full use of the battery
One of the best cordless vacuums for vinyl floors, this vacuum is rated 4 1/2 out of 5 stars on Amazon. You can read the reviews here.

Shark Navigator Upright Vacuum for Carpet and Hard Floor with Lift-Away Handheld HEPA Filter, and Anti-Allergy Seal (NV352), Lavender

The Shark Navigator Upright Vacuum is one of the best vacuums for vinyl flooring. This model features anti-allergen complete seal technology + a HEPA filter. 99.9% of dust and allergens are trapped inside the vacuum.
The Shark Navigator works great both on carpet and hard vinyl floors. It is very lightweight and easily maneuvers around furniture.
This vacuum is rated 4 1/2 out of 5 stars on Amazon. You can read the reviews here.