Are you wondering which mop is best for cleaning kitchen floors? I set out to find the best kitchen mop for myself. There are so many different mops to choose from! It really depends on what kind of kitchen floor you have. There are different types of mops that are best for different types of kitchen floors.
This post may contain affiliate links.
See Today's List of Best Kitchen Mops

I'm not going to lie, mopping is no fun, but it has to be done (here are 5 of my favorite quick mopping tips). Truth is, if you have a great mop, mopping doesn't have to be all that bad after all.
O-Cedar EasyWring Microfiber Spin Mop, Bucket Floor Cleaning System

One of the best mops for tile floors is this easy wring spin mop by O-Cedar. This mop is actually great for all floor types, but it works particularly well on tile floors.
This easy wring spin mop features an exclusive bucket design that has a built in wringer so that you never have to touch the mop when you are wringing it out. It also features a splash guard to keep dirty water from splashing out of your bucket.
The easy wringing system allows you to control how much water you apply to your floors so that your kitchen floor dries more quickly.
The triangular shape of the mop head easily cleans corners that are hard to get to, has a flexible mop head, and the mop head can easily be removed and washed in the washing machine.
More than 5,000 people have left reviews for this mop on Amazon. This mop received 4 out of 5 stars.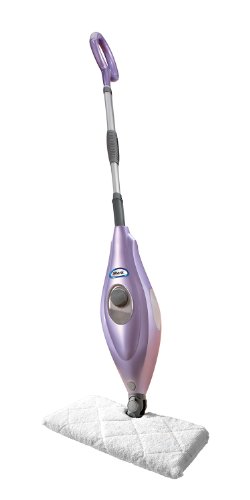 Shark Steam Pocket Mop Hard Floor Cleaner with Swivel Steering XL Water Tank (S3501)

The Shark steam hard wood floor cleaner is really popular right now for mopping wood floors.
This mop uses steam to remove dirt and grime from your hard wood floors. It features a 25 foot power cord for mopping large rooms.
Just plug this steam mop in and it is ready to go in just 30 seconds. It comes with 2 washable microfiber pads.
You can use this mop on all hard floor surfaces, including hard wood floors.
More than 3,000 people have reviewed this steam mop on Amazon, and it received 4 out of 5 stars. One reviewer says that they didn't know how much they needed this steam mop until they had it!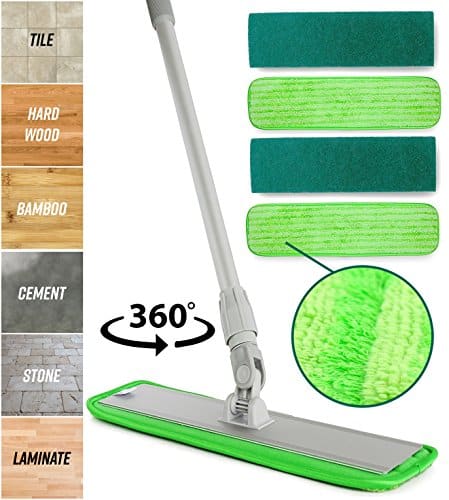 Microfiber Mop Hardwood Floor Cleaning – Washable Pads Perfect for Wood, Laminate & Tile – 360 Professional Dry Wet Reusable Dust Mops with Refill Pads & Hard Handle for Kitchen, Walls, Vinyl, Garage

What is the best mop for vinyl floors? This microfiber mop is a great choice if you are looking for an all-purpose mop.
In addition to cleaning vinyl floors, you can also use this mop to clean vinyl plank floors, laminate, tile, bamboo, hard wood, cement, and stone floors.
This mop features a mop head that swivels 360 degrees. The mop handle is completely adjustable, extending from 35 to 60 inches in length.
It comes with two microfiber pads that you can easily wash in your washing machine.
This mop is great for cleaning up spills and pet hair. You can also use it to clean your kitchen walls and ceilings!
One reviewer commented that they love using it for their cleaning business because this mop is lightweight yet sturdy. They said the mop heads do not fall apart like some brands.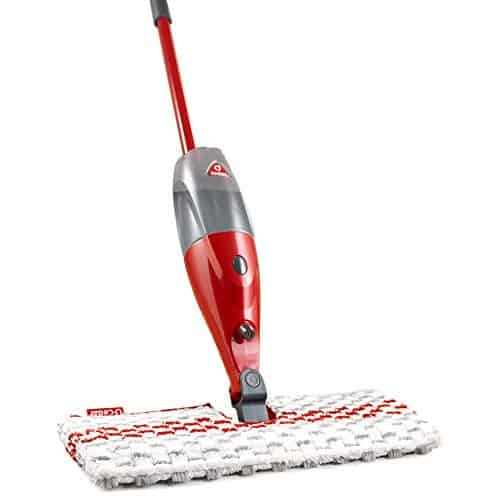 O-Cedar ProMist MAX Microfiber Spray Mop

This O-Cedar Pro Mist microfiber spray mop is a good all-purpose wet mop for vinyl floors.
This model features a large dual sided mop head that allows you to clean floors fast without having to change the mop pad.
Just fill bottle with water and add 2 small teaspoons with your choice of cleaning solution.
The bottle can be easily removed with a one-touch release, and the mop features reusable mop pad that can be washed in your washing machine up to 10 times.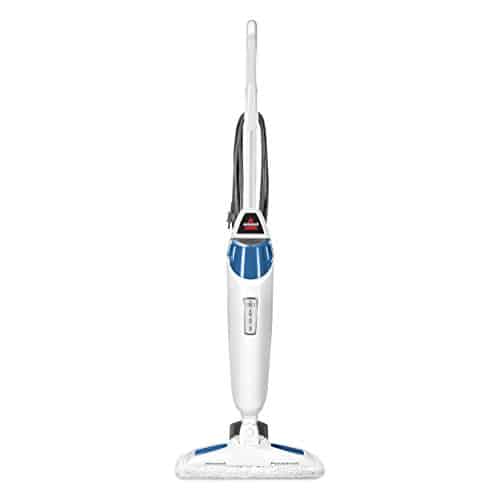 BISSELL PowerFresh Steam Mop, Floor Steamer, Tile Cleaner, and Hard Wood Floor Cleaner, 1940

Bissell's PowerFresh steam mop is currently Amazon's best selling steam mop. It is great for mopping all types of kitchen floors, including cleaning laminate floors.
In addition to claiming to kill 99.9% of germs and bacteria, this mop features a digital set steam control that lets you control whether you want high, medium, or low steam depending on what you are cleaning.
It has a 23 foot power cord and takes only 30 seconds to heat up.
It comes with a microfiber soft pad, a microfiber scrubby pad, two fragrance disks, and a carpet glider.
This model has received more than 10,000 customer reviews. It is rated 4 out of 5 stars.
You can find out how Consumer Reports rates the best steam mops here.
If you are looking for a good mop for cleaning linoleum floors, you will probably be happiest with the Bissell PowerFresh Steam Mop.
If a steam mop is out of your price range, you might want to look at this dust mop with a sturdy stainless steel handle.
This mop comes with two microfiber pads — one for dry mopping, and one for wet mopping. The handle is also adjustable.
You will find this mop very affordable and it is also great for cleaning tile floors.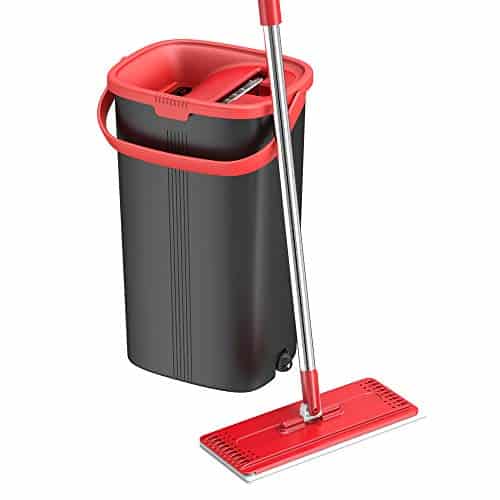 TETHYS Flat Floor Mop and Bucket Set for Professional Home Floor Cleaning System with Aluminum Handle/2-Washable Microfiber Pads Perfect Home + Kitchen Cleaner for Hardwood, Laminate, Tiles, Vinyl

If you are looking for the best mop for stone floors, you might want to check out this flat floor mop and bucket set. It is currently Amazon's #1 best seller in commercial floor cleaners.
This mop system features two reusable microfiber pads that are machine washable. These reusable pads work well to clean stone floors, tile, laminate, hard wood, vinyl, bamboo, cement, baseboards, and drywall. It will clean nearly any hard surface.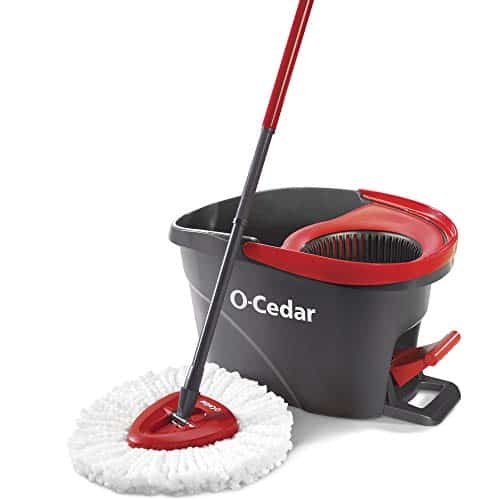 O-Cedar EasyWring Microfiber Spin Mop, Bucket Floor Cleaning System

One of the best microfiber mops for kitchen floors is this microfiber spin mop floor cleaning system from O-Cedar.
This exclusive mop bucket design features a built-in wringer that allows you to wring the mop without using your hands.
This microfiber mop deep cleans tough dirt and grime, and the bucket features a splash guard that keeps the water inside your bucket.
✅ Related Kitchen Cleaning Hacks
Follow my cleaning hacks board on Pinterest.