How to Get Silly Putty out of Carpet
Are you trying to get silly putty or slime out of carpet fast? Even if the silly putty or slime has dried on your carpet, there is still hope! This easy tips from our readers will help you in removing both slime and silly putty from your carpet.
This post may contain affiliate links.
Note: The tips for removing silly putty from carpet are first, and the tips for removing slime are at the end of the article.
Tip #1: I actually did it – just now. I used Goo Gone Sticker Lifter following the directions. I scrubbed a LOT. Then I used super hot, soapy water. That was what seemed to really do it, but the Goo Gone loosened it up first.
Then I rinsed it well. It will never be perfect, but since the carpet is beige with brown flecks and a medium pile, it will be pretty much invisible unless you know where to look. The whole process took nearly an hour for a 1 inch spot.
Tip #2: Now, this is from a 30 year old male. My little two year old got silly putty into our carpet. It was awful. I used the previously mention method: Goo Gone and hot, soapy water. A little goo remover and hot water and presto. All gone. It took 10 minutes. This was in a shag style carpet with a ton of silly putty.
Tip #3: I just used Goof Off, (water based). Results were literally instant. Silly putty dissolved completely and we blotted the goof off out of the carpet.
Tip #4: For removing silly putty on carpet, I used WD-40 on spot for 10 minutes as recommended on your website but I had no rubbing alcohol so instead I followed with Oxi Clean in hot water, a little rubbing with an old toothbrush, and the silly putty came right out.
Tip #5: Tip #3 worked like a charm. I was absolutely amazed at how fast Goof Off worked. Literally dissolved the silly putty instantly. Thanks!…Holly
How to Get Magic Putty Out of Carpet
Tip #6: Soak the spot with WD-40, let the WD-40 sit for 20 minutes, pick the large pieces of silly putty off with a butter knife, take 3 Tsp of Oxi Clean and warm water and pour it on the area, take tooth brush and brush the spot, take a cloth and rub it over the area…Ronda
Tip #7: The Goo Gone worked for taking silly putty out of carpet! It only took about 5 minutes putting Goo Gone on a towel, blotting, and rinsing with hot soapy water. I had to repeat about 2 or 3 times and it's totally gone! Thank you!…Sheila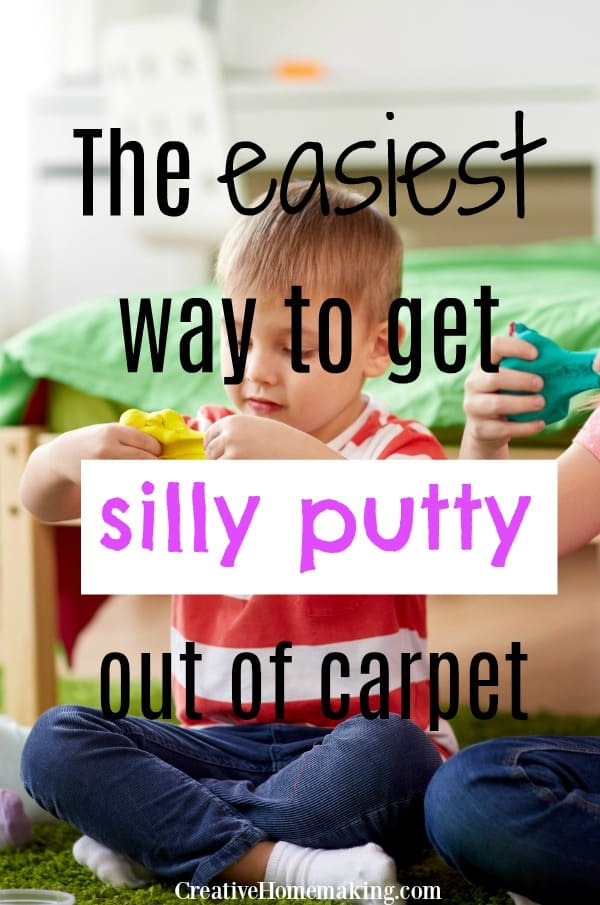 Tip #8: My daughter "lost" silly putty and I found it…on our couch, a fuzzy throw blanket, denim jacket and pajama top! I asked my husband to pick up goof off when he went to the store based on someone else's tip.
They didn't have it but the woman at the store suggested KrudKutter. I tried it and it was amazing. I sprayed it on and used a butter knife and paper towels to scrape off the residue, but it all came off, every last little bit!…Loren
Tip #9: WD-40 works wonderful! I found bright green silly putty in my tan shag-style carpet. After picking out what I could I then sprayed WD40 on it and let it set for 10 minutes. I rubbed with a dry cloth for a few minutes and poof! It was gone. I rinsed with soapy water and you would never know there was anything on it ever…Tiffani
Tip #10: Rubbing alcohol got silly putty out of my son's favorite bear in about 10 seconds…Melanie
How to Remove Thinking Putty from Carpet
Tip #11: Found the kids' thinking putty stuck in new charcoal shag carpet. Was similar to gum in hair. Pulled up as much as possible. The rest was really stuck in there. Went to this site and tried the tip for rubbing alcohol.
Dampened the area with the alcohol and rubbed with a clean dry cotton cloth. The silly putty dissolved into the rag. No visible residue in rug. Took no more than 5 minutes. Thank you!…Doug
Related Article: Get Slime Out of Your Couch with These Simple Steps
Tip #12: Thanks for the tip about using rubbing alcohol – it worked great! Silly putty had "melted" into a mesh chair — it was a mess!…Alise
Tip #15: Rubbing alcohol! I thought I was "stuck" with silly putty, but then I went to this site. Rubbing alcohol didn't hurt my carpet, I already had some, so I didn't have to go out and buy anything. Thanks for the tip!…Linda
Tip #16: Another 30 year old male. Had no goo gone or goof off on hand. Silly putty on carpet. Removed clumps by hand and dumped rubbing alcohol on the remainder. Scrubbed. 2 minutes later–all gone. Never would have guessed…Dan
Tip #17: I used OOPS! Just dampened a clean rag with it and rubbed it on the silly putty spot, and it was off in seconds! Then I rubbed the rug with clean soapy water and it was good as new…Lauri
Tip #18: Oh my gosh this worked perfect for me I took Goo Gone and some hot water with dawn soap in it and mixed some Goo Gone into it and scrubbed and it all came out with in 10 minutes (just keep scrubbing)…Quincey
How to Remove Slime from Carpet
The best way to remove slime from carpet after it dries is to use a rag to apply white vinegar directly on the slime.
The vinegar will work to dissolve the slime so that you can wipe it off the carpet. For tough stains, let the vinegar sit on the stain for a few minutes before gently rubbing at the slime with the rag.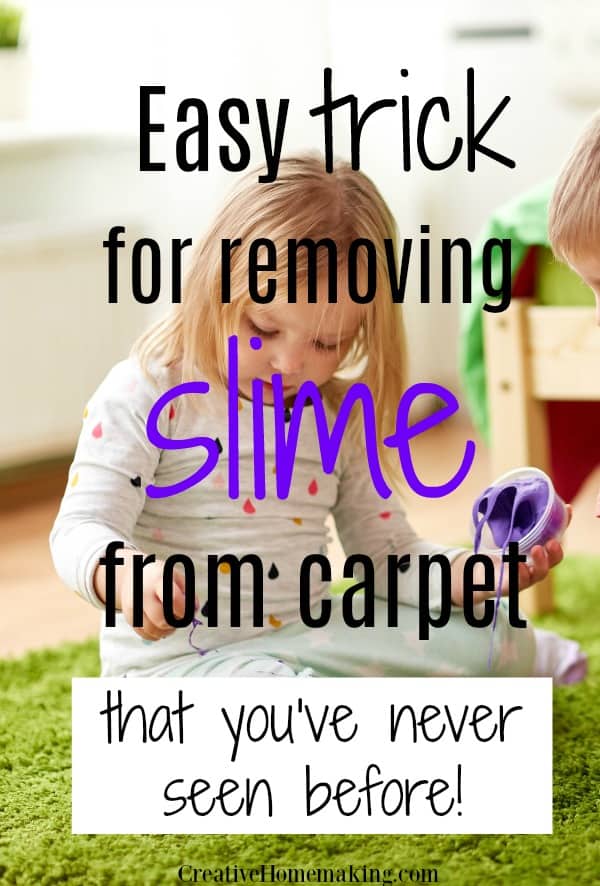 To find out how to remove playdough, candle wax, nail polish, and more from carpet, check out these genius carpet cleaning tips.
Related Carpet Cleaning Hacks
Follow my cleaning tips board on Pinterest.
Removing Silly Putty or Slime from Carpet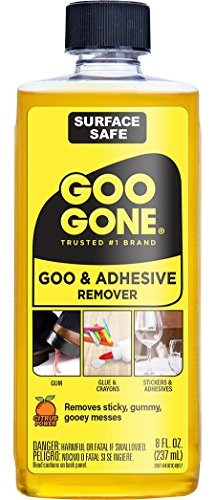 Goo Gone Original Liquid – 8 Ounce – Surface Safe Adhesive Remover Safely removes Stickers Labels Decals Residue Tape Chewing Gum Grease Tar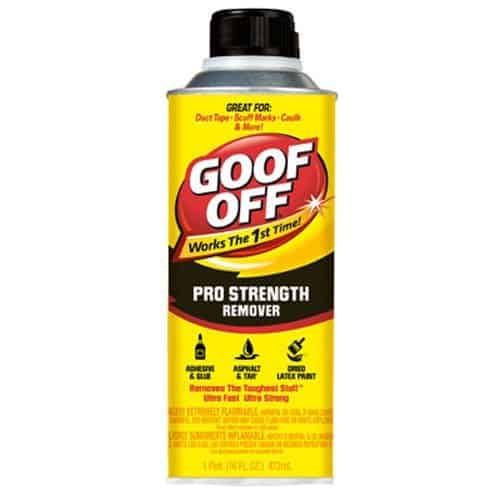 Goof Off FG653 Professional Strength Remover, Pourable 16-Ounce