My family really enjoys chicken enchiladas. I have tried many recipes, and there are a lot of variations of this recipe. Some recipes include cream of chicken soup, which I used to use a lot, but after making my own sauce I have to say I can't go back to the cream soup…it is so easy to make your own sauce, and there is no comparison in the flavor!
This post may contain affiliate links.
White Chicken Enchiladas
Ingredients:
6 soft burrito shells
2 cups chicken, cooked and chopped or shredded
2 c. grated cheese (cheddar, monterey jack)
3 tbsp. butter or margarine
3 tbsp. flour
2 c. chicken broth
1 c. sour cream
1 (4 oz.) can diced green chilies
Preheat oven to 350 degrees. Grease a 13×9-inch baking dish.
In a small bowl, mix together shredded chicken and 1 cup grated cheese. Divide up the chicken mixture among 6 soft burrito shells.
For each burrito shell, tuck in the top and bottom of the shell and then roll up. Place seam side down in the greased baking dish.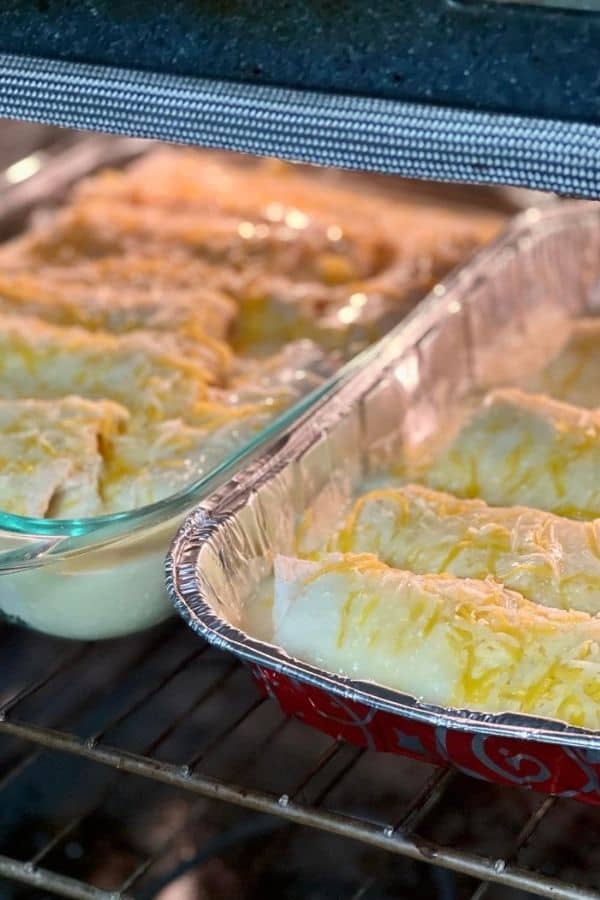 In a small sauce pan, melt butter. Stir in flour and chicken broth and whisk until smooth. (For chicken broth I just mixed together 2 c. water and 2 tsp. chicken bouillon). Heat over medium heat until mixture is thick and bubbly.
Stir in sour cream and green chilies and remove from heat. Pour sour cream mixture over enchiladas and top with remaining grated cheese. Bake for approximately 22 minutes, until is cheese melted. If you want to you can place the dish under the broiler for a couple of minutes to brown the cheese.
When you taste this white sauce, you will see what I mean…yum!!
Follow my Favorite Recipes board on Pinterest.
Related Recipes