Last year I tried a recipe for apple pie jam. It was so good that I gave it away as Christmas presents and everyone loved it. I recently ran across this recipe for canning caramel apple pie jam and decided to give it a try to see how it was different from the apple pie jam. It is now one of my favorite apple canning recipes.
This post may contain affiliate links.
Caramel Apple Jam Recipe
Ingredients:
6 c. diced peeled apples
1/2 c. water
1/2 tsp. butter
1 package (1-3/4 ounces) powdered fruit pectin*
3 c. sugar
2 c. packed brown sugar
1/2 tsp. ground cinnamon
1/4 tsp. ground nutmeg
Note: If you are going to make a lot of jam and/or jelly, then you HAVE to try this powdered pectin that you can buy in bulk from Amazon. Six tablespoons of this pectin is the equivalent to one box of Suregel pectin. This is the ONLY way to buy pectin inexpensively if you are going to buy a lot of it (like I do!).
Hoosier Hill Fruit Pectin, 2 lb bag
Ever since I got my apple peeler
, I use it whenever I am peeling and chopping a lot of apples. For this recipe I used the apple peeler and slicer, and then I chopped the apples into smaller pieces.
I found, however, that I didn't like how thin the pieces of apple turned out. When I made my apple pie jam I chopped up the apple pieces into cubes, and I think I liked that consistency better in the jam, so I will chop them by hand next time.
In a large heavy sauce pan combine the apples, water, and butter. Cook, stirring occasionally, over low heat until the apples are soft and tender. Stir in the powdered pectin.
Bring the apple mixture to a full boil that cannot be stirred down. Stir in all of the sugar at once and return to a full boil. Boil, stirring, for one minute.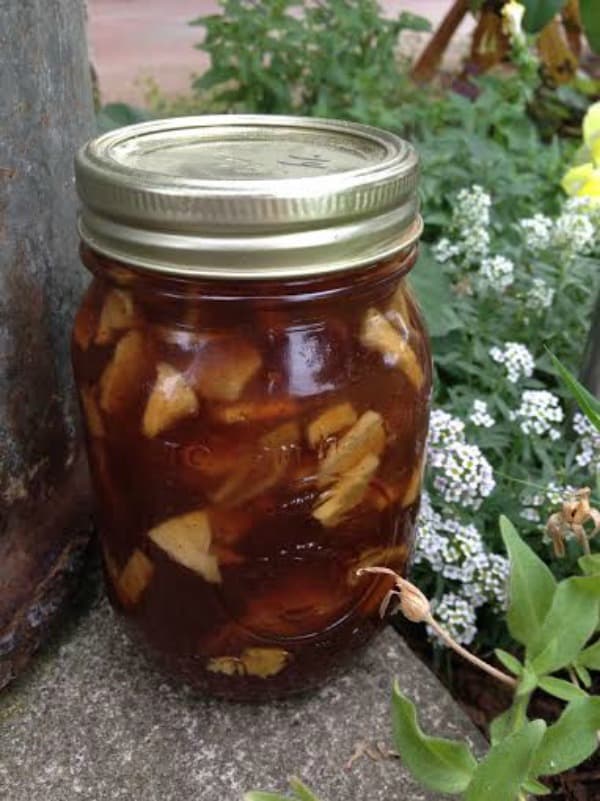 Canning Instructions
Remove the pan from the stove and skim off the foam with a spoon. Ladle the hot mixture into sterilized canning jars, leaving 1/4-inch head space. You can easily measure the headspace with this inexpensive canning funnel.
Wipe the rims of the jars with a damp towel and place sterilized lids and rings on the jars.
Place the jars in a boiling water canner
, making sure the jars are covered with at least an inch of water. Bring to a boil and process for 10 minutes. Remove the jars from the canner and cool on a towel until completely cooled and jars are sealed.
Norpro 865R Apple Master-Apple, Potato, Parer, Slicer & Corer with Vacuum Base & Clamp

Granite Ware Covered Preserving Canner with Rack, 12-Quart

Prepworks by Progressive Canning Funnel for Regular and Wide Mouth Jars

Makes 7 half-pint or about 3 pint jars.
So how does this recipe compare to the apple pie jam recipe? Well, the ingredients are almost identical, but there is more brown sugar in the caramel apple jam recipe so in my opinion that jam is a bit sweeter than the other jam.
They do taste a lot a like and both are wonderful on french toast! If you are looking for a less chunky version of this jam, you can also make it more like an apple butter. Here is one version that recipe.
Like this recipe? Try my recipes for crock pot apple butter or caramel apple bread.
Related Recipes
Follow my canning and preserving board on Pinterest.