How to Make Strawberry Rhubarb Pie Filling
This post may contain affiliate links.
I love this time of year. My garden is growing great, and strawberries and rhubarb are now in season. There are lots of great recipes you can make with strawberries and rhubarb.
I canned some strawberry pie filling a couple of weeks ago, and last week I tried canning strawberry rhubarb pie filling for the first time. Strawberry rhubarb pie is one of my family's very favorite kinds of pies, and this strawberry rhubarb pie filling recipe is now one of my favorite recipes for canning strawberries. It's also one of my favorite pie filling recipes for canning.
Pie fillings are really easy to make and can for winter. Canning is a great way to make your fruit last all through the winter, and there's nothing like having pie fillings already made for pies to enjoy in a few months at Thanksgiving and Christmas. Don't want to can your pie filling? You can also freeze it in these inexpensive freezer containers!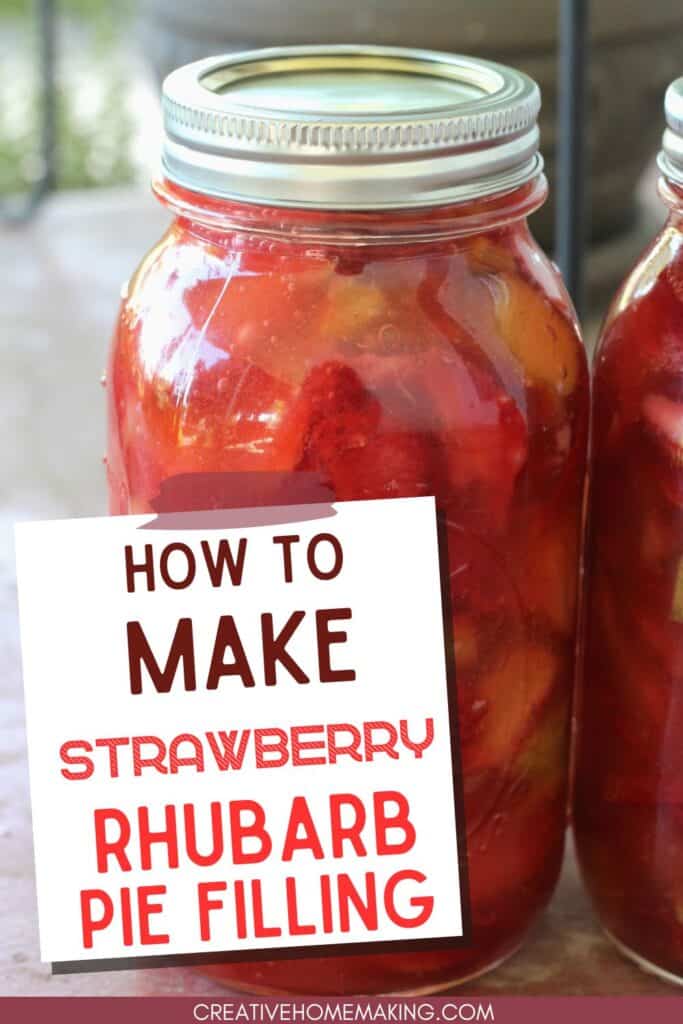 This recipe makes 2 quarts of pie filling. You will need 1 quart of pie filling to make one 9-inch pie. If you want to make 1 quart, just cut the recipe in half. If you want to make 4 or 6 quarts, just double or triple the recipe.
Strawberry Rhubarb Pie Filling Recipe
Ingredients:
5 cups rhubarb, diced
5 cups strawberries, sliced
2 cups sugar
1 cup Clear Jel*
2 cups water
8 tbsp. bottled lemon juice
Note: If you don't have the exact amount of strawberries or rhubarb that you need, it's fine to add less strawberries or less rhubarb, just make sure that you have a total of 10 cups of fruit.
Related article: strawberry measures and equivalents
* If you have never heard of Clear Jel, it is a modified form of cornstarch that is used for canning. In the old days recipes often called for cornstarch and a lot of people still use it, but it is not recommended for canning anymore.
I have tried using regular cornstarch when canning homemade pie fillings, and I wasn't at all happy with how it turned out.
The consistency of the pie filling turned out lumpy, and the color of the pie filling changed slightly.
When you use the Clear Jel, the pie filling is the perfect color and consistency, and you end up with perfect pie fillings every time.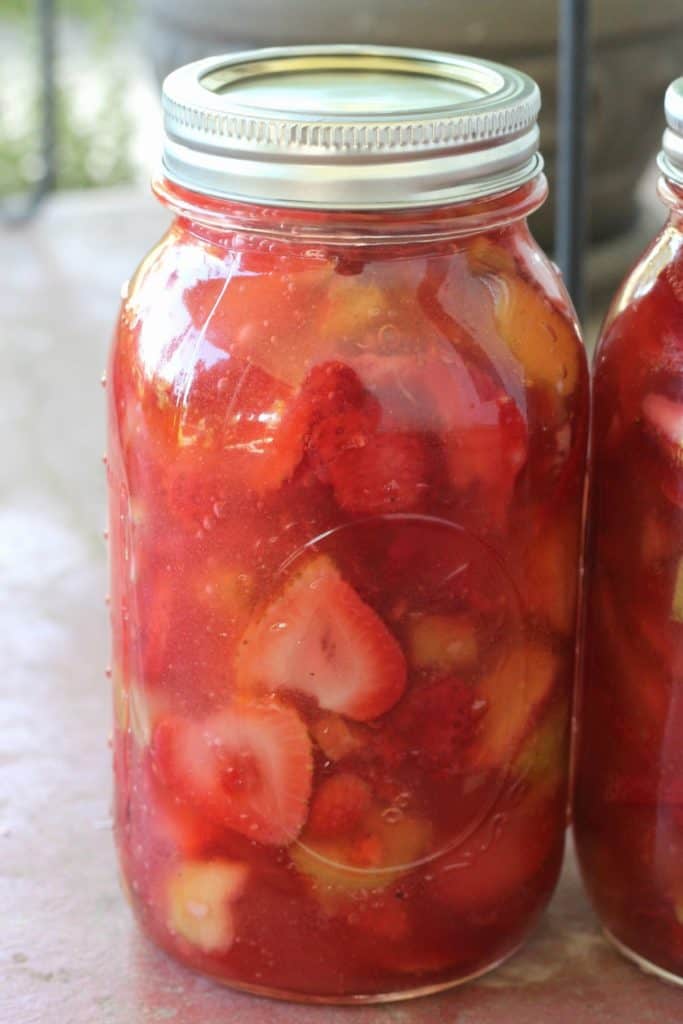 You might be able to find Clear Jel at your local health food store. You can also buy it on Amazon and have it delivered right to your door.
Wash the rhubarb and then dice it into small bite sized pieces.
Wash your strawberries and cut off the stems. Slice the strawberries. I used this strawberry slicer to slice mine. I love how it makes all of the slices the same size and makes your pie filling so pretty to look at!
Related article: what to do with a flat of strawberries
Combine sugar and Clear Jel in a large stock pot. Add water. Stir. Cook on medium heat until mixture boils and thickens. Mixture will thicken very quickly. Add a little additional water if mixture becomes too thick.
Stir in lemon juice. Boil for 1 minute, stirring constantly. Stir in strawberries and rhubarb.
Canning Instructions
Fill sterilized quart jars, leaving 1 1/2 inches head space. You can easily measure the head space with this inexpensive canning funnel.
It is important to have the correct amount of head space because this pie filling will expand during the processing time and break your jar if there is not enough room in the jar to let the mixture expand.
Wipe the rims of the jars with a damp towel or paper towel. Place the rings and lids on the jars finger tight.
Related Article: How to Freeze Rhubarb: A Quick and Easy Guide
Put the jars in your boiling water canner. Fill canner with water, making sure there is at least 1 inch of water above the jars. Bring the water to a boil. Process the jars in the boiling water for 30 minutes.
Remove the jars from the canner and place on a towel on the kitchen counter to cool. Sealed jars can be stored in the pantry for 1-2 years. If you have any jars that don't seal, place them in the refrigerator and use them in the next week or two.
Like this recipe? Try these other rhubarb recipes: Easy Rhubarb Butter and Rhubarb Simple Syrup
More Canned Pie Filling Recipes
Did You Try this Recipe?
Tag @creativehomemaking on Instagram and hashtag it #creativehomemaking
Follow my canning and preserving board on Pinterest.