Homemade pie is such a treat. But homemade pies are so much work! I made homemade pies with homemade pie crust for many years, but when you are making a lot of pies at one time, it is a lot of work. This blackberry pie recipe is no exception.
This post may contain affiliate links.
But as I get older, I have decided that it isn't always necessary to make an entire pie from scratch. I mean, if you want to, go for it! But if you don't want to or don't have time for it, then don't beat yourself up over it.
I love baking from scratch as much as anyone, and I've been doing it for a long time. But that doesn't mean that I don't use shortcuts when I'm baking, because I do.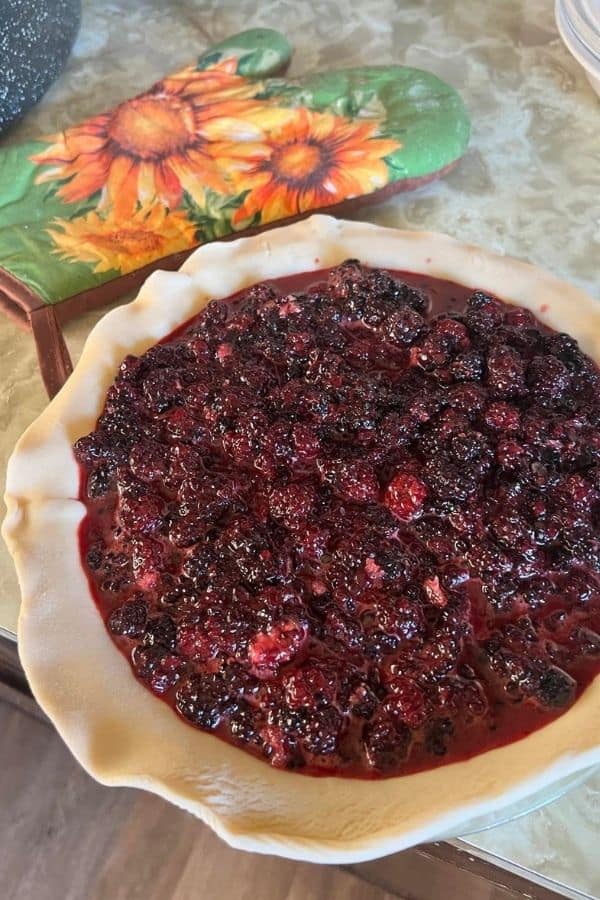 One of the things I did to prepare for this recipe ahead of time was to use frozen blackberries I had picked and frozen. Several years ago! And the berries were still fresh and the pie turned out great.
I made the pie filling from scratch for this recipe, but I have also canned pie filling when I have fresh blackberries. Here is my recipe for canning blackberry pie filling.
You also don't have to always make your pie crust from scratch. When I do, I usually use this recipe from Betty Crocker. If you don't have time or want to make your own crust, you can also buy store bought pie crust, either ready made or you can also buy pie crust mix or even make your own pie crust mix. Here is my recipe for easy homemade pie crust mix.
This is the recipe I used to make my blackberry pie for Thanksgiving. It turned out amazing. You can use fresh or frozen blackberries.
If you are using frozen blackberries, make sure that you drain all of the liquid from the berries after they have thawed, or your pie will be runny.
Blackberry Pie Recipe
Ingredients:
6 cups fresh or frozen blackberries
1 cup sugar
3 tablespoons cornstarch
Crust for a 2-crust pie
Preheat oven to 375 degrees. Line your pie pan with the bottom crust for the pie.
Mix together the cornstarch and sugar. Gently stir the sugar mixture in with the berries. Place the berries in the pie dish and place the top crust on top of the berries.
Crimp the edges of the pie. A pastry crimper like this one makes the job easier!
Bake pie for 35-40 minutes, or until golden brown. If the edges of the pie start getting too brown place a sheet of aluminum foil over the pie the last 10 minutes or so of baking. You can also use a pie crust shield like this one to keep the edges of your pie from getting too brown.
Follow my Favorite Recipes board on Pinterest.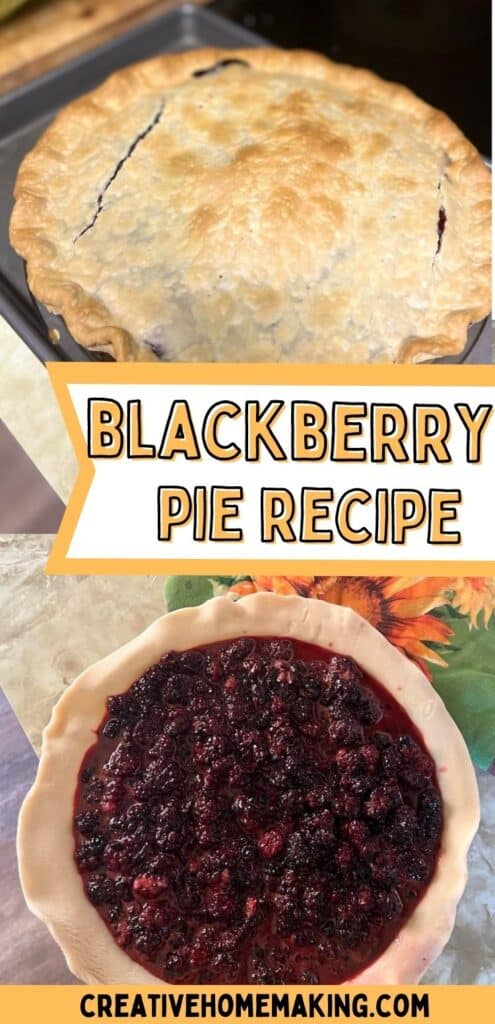 Related Recipes: