These Rice Krispie eggs are a fun treat for Easter. When your children open them up they will get a surprise…jelly beans! And they only take a few minutes more to make than regular Rice Krispie treats.
This post may contain affiliate links.
Rice Krispie Treat Eggs Recipe
6 c. Rice Krispie cereal
40 large marshmallows
3 tbsp. butter or margarine
Miniature jelly beans
Large plastic Easter eggs
This recipe will make approximately 12 large Easter eggs. You will need to work quickly before the Rice Krispie mixture cools and hardens, so it helps to have an extra person or two helping you to get them done faster.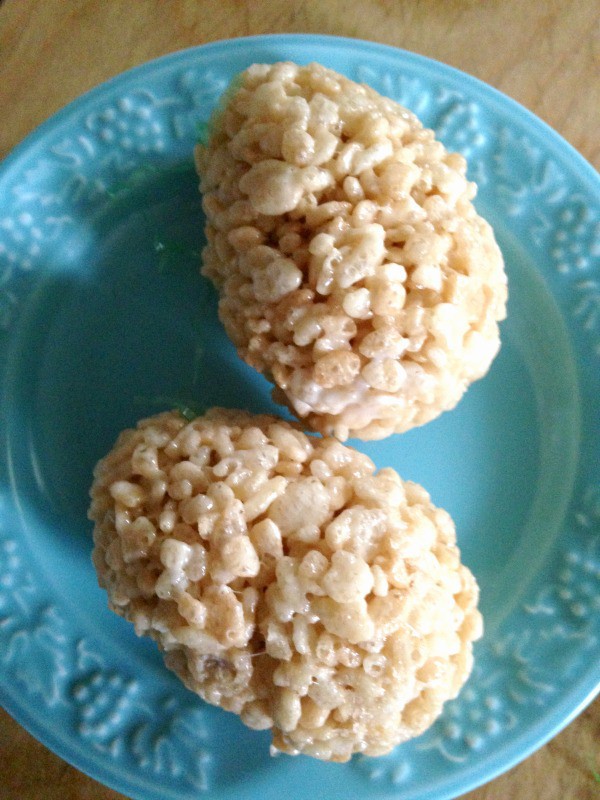 Make the Rice Krispie mixture as you normally would, melting the butter and marshmallows together in a large sauce pan. While the marshmallows are melting, grease the insides of the plastic Easter eggs. I used a little vegetable oil on a paper towel to grease them, and that worked great.
After the marshmallows and butter have melted, remove the pan from the heat and stir in the Rice Krispies. Quickly spoon the Rice Krispie mixture into the plastic eggs halves, pressing the tops flat (even with the top of the egg half).
After you have filled all the halves, use your fingers to gently press a hole into the center of each half. Place several miniature jelly beans into each hole you have made and then gently press to egg halves together to form a whole egg.
Use your hands to get a smooth egg shape. You need to place a light coating of butter or vegetable oil on your hands so the marshmallow mixture doesn't stick to your hands.
That's it! I barely got a photo of mine before they were all gobbled up by my kids. They were a fun project, we will definitely be making them again.
Follow my Easter board on Pinterest.
Related Easter Recipes