Vertical gardens are a great option for gardeners who have limited space to work with. There are a number of ways you can implement vertical gardening. Here a few ideas to get you started.
This post may contain affiliate links.
Trellises
A simple way to create a vertical garden is to place a trellis in a large container. You can steady the trellis by placing it against a wall. This method is quite effective for freeing up space in your garden.
If you don't have a garden, this is a great way to create a small garden on your back patio.
Certain types of vegetables lend themselves well to growing on trellises. Plants that grow in vines, such as green beans, peas, squash, cucumbers, and even small melons, grow well on trellises.
These inexpensive trellises you can order from Amazon are made especially for pots and containers.
Rain Gutter Garden
You can use rain gutters to create a great vertical garden. Rain gutters can be attached to the sides of buildings, on a fence, or even to your porch or deck railing. Rain gutters come in 10-ft lengths.
Just cut them to the desired length. One rain gutter will make two nice 5-ft planting containers.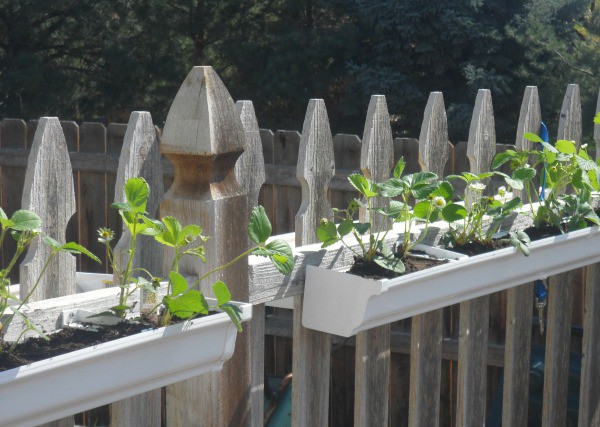 For each rain gutter planter you will need two rain gutter end caps to glue on to the ends of each rain gutter.
Use a drill to drill small holes in the bottom of the rain gutters for drainage.
Lastly, attach the rain gutter to the fence with the screws that are designed to attach rain gutters to your home.
Fill the rain gutters with potting soil and then plant your seeds or bedding plants. These planters are great for planting lettuces, spinach, herbs, or even strawberries.
Hanging Vertical Garden
This vertical garden is a creative way to recycle a hanging shoe organizer, the kind that you hang in your closet that has pockets all over the front of it.
This kind of garden would be suitable for planting lettuces and herbs. If you don't have room for a garden, but can hang something like this on your porch or even in a room of your home, you will have fresh herbs and salad fixings any time.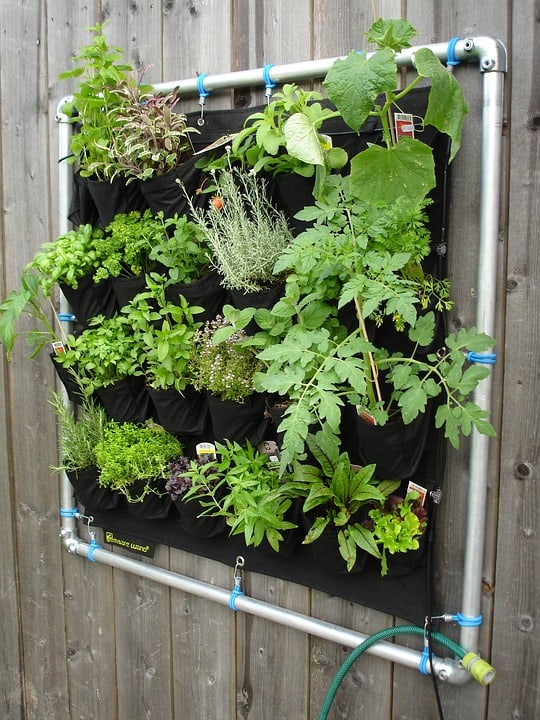 You will need a strong pole (like a curtain rod) to hang the shoe organizer from. It will be quite heavy with the dirt and plants added to it.
Mount the pole to the place where you want the shoe organizer to hang from.
Next hang the shoe organizer from the pole with some strong hooks, such as utensil hanging hooks.
Fill all the shoe pockets with potting soil, filling to within 1 inch of the top of the pocket, and plant your seeds.
Make sure to place come kind of tray or trough beneath the shoe organizer to catch any dripping water.
Water plants slowly so that they do not overflow into each other. If water does not drip out of the pockets when you water, then poke a few small holes in each pocket to allow drainage.
Living Wall
If you want your garden to be a work of art, consider creating a "living wall". There are kits you can buy that are specially designed frames that allow you to plant your plants right into the picture frame.
These living walls look great hanging in your sunroom, or on a wall on your porch or patio. Indoor living walls are truly a work of art, brightening up your living space while also helping to purify the air in your home.
You can find some great living wall kits on Amazon.
You can also purchase modular panels to make your living art as big or as small as you wish, making them completely customizable to suit your needs.
Plants that grow well on living walls include geraniums and asparagus ferns. Succulents are also favorites for small living walls, because they have shallow root systems and do not get overly large.
Related Gardening Hacks
Follow my gardening board on Pinterest.