Are you trying to break in new towels? You might be wondering if breaking in new towels is actually a thing, but it really is. Whether you're washing new towels for the first time, you're having trouble with your towels shedding, or your new towels are leaving fuzz on you, hopefully these tips will help!
This post may contain affiliate links.
Washing New Towels for the First Time
Want to know if you can use your new towels right away? When you purchase new towels, it's a good idea to give them some special treatment when you wash them for the first time to help break them in.
If you find that your new towels (or even your old towels) aren't absorbent, try these easy tips.
When you wash your bath towels for the first time, wash them in warm or hot water with a cup of white vinegar. Don't use any laundry detergent.
Before drying the towels, re-wash them with 1/2 cup of baking soda, then dry the towels in the dryer without using any fabric softener. Using fabric softener can actually contribute to the breaking down of the fibers in your bath towels and adds an unnecessary coating to them.
Related Article: How to Get Smell Out of Towels in Front Load Washer
How to Stop New Towels from Shedding
If your new towels are shedding or leaving fuzz on you, here are some easy tips to help prevent it.
Washing new towels in white vinegar (as described above) will help keep your new towels from shedding. It also helps set the color of your towels. Using a 1/2 cup baking soda in your wash will also help keep new towels from shedding. Just don't use the vinegar and baking soda in the same wash cycle, or you will end up with a big foamy mess!
It's totally normal for new towels to leave fuzz and lint on you, even with expensive good quality towels.
Washing the towels in vinegar or baking soda will do the trick of removing some of that fluff and break your towels in quickly and easily.
This battery operated lint remover also works great for easily removing lint from towels and clothing in a hurry.
Follow my cleaning tips board on Pinterest.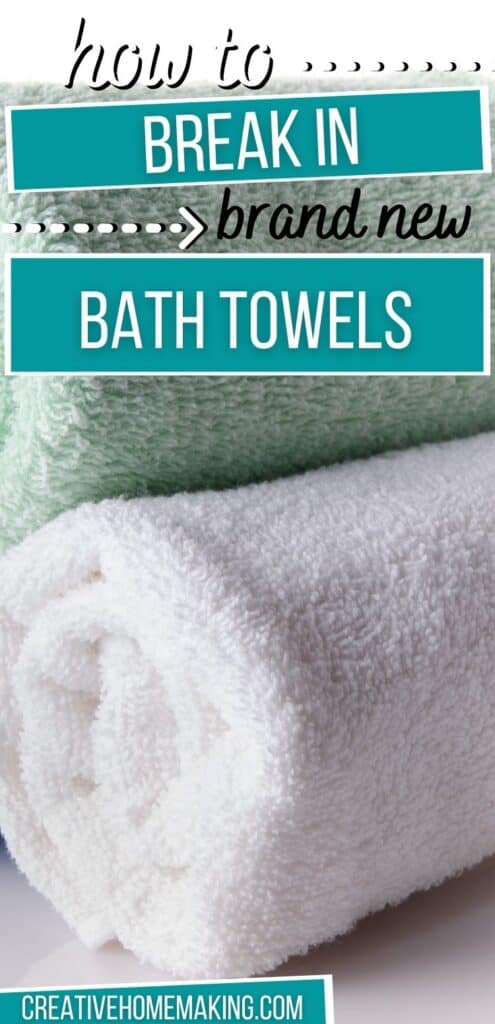 Related Articles