Stubborn bathmat stains are sometimes difficult to remove from the bottom of your bathtub. It is possible to remove them, however, with these easy cleaning hacks!
This post may contain affiliate links.
Bathmat stains are often caused by mold and mildew buildup underneath your rubber bathmat. They can also be caused by hard water build up by water that gets trapped under your bathmat every time the bathtub or shower is used. Hard water stains can be prevented by making sure your bathtub is dry after every time you use it.
Related Article: How to Get Rid of Smelly Bath Towels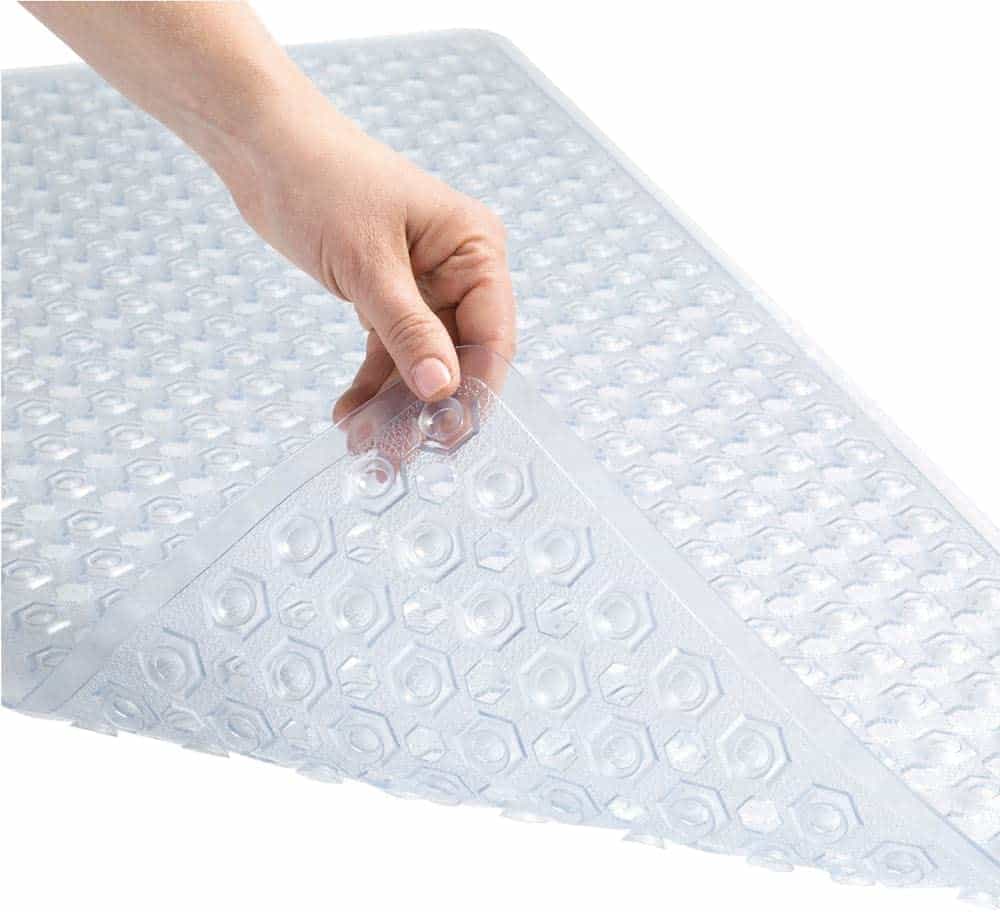 Gorilla Grip Patented Bath Tub and Shower Mat, 35×16, Machine Washable, Extra Large Bathtub Mats with Drain Holes and Suction Cups to Keep Floor Clean, Soft on Feet, Bathroom Accessories, Clear
Vinegar and Hot Water
Vinegar is very effective in killing mold and mildew in your bathtub. Try mixing a cup of white vinegar and two cups of hot water in a spray bottle and spray the stains with the mixture.
Let the vinegar sit on the stains for a couple minutes and then scrub with a good bathroom scrub brush. Rinse with clean water. This method should help remove even the most problem bathtub stains.
Related Article: How to Clean Plastic Bathtub Stains
Vinegar and Baking Soda
You can also try using a paste made from white vinegar and baking soda. Sprinkle 1/2 cup baking soda on the stains and then pour 2 cups of white vinegar over the baking soda. Let set for about 30 minutes and then scrub with a good bathtub scrub brush. Rinse.
Vinegar and Hydrogen Peroxide
Hydrogen peroxide is effective in removing hard water stains caused by the bathmat in your bathtub. Make a paste that is equal parts white vinegar, baking soda, and hydrogen peroxide.
Related Article: How to Clean a Rubber Bath Mat
Apply the paste to the stains and let set for about an hour. Scrub gently with scrub brush and rinse.
You can help to prevent bathmat stains in your bathtub by keeping your bathtub dry in between uses and keeping your bathmat dry by lifting it out often to rinse underneath it and allowing the mat to dry before laying it back down in the bathtub.
But if you ever find you have some stubborn stains to deal with, one of these three methods should be successful in removing those stains.
Related Article: Removing Hard Water Stains in Sinks
Follow my cleaning tips board on Pinterest.
Related Articles