My family is a big fan of dill pickles, so I have been making this refrigerator dill pickle recipe for the past several years. It's one of my favorite easy pickling recipes. I have been curious, however, to try making homemade sweet pickles so I decided to give this recipe a try. And the best part is, no canning is required!
This post may contain affiliate links.
This recipe will make 1 quart or 2 pints of sweet pickles. These pickles can be stored in the refrigerator for several months.
Refrigerator Sweet Pickle Recipe
Ingredients:
5 c. pickling cucumbers, sliced thin
1/2 c. onion, sliced (optional)*
1 c. sugar
1 c. white vinegar
1 tsp. mustard seeds
1 tsp. celery seeds
1 tsp. ground turmeric
*You can leave out the sliced onion, or you can also replace the sliced onion with a tablespoon of minced dried onion.
Note: You need to use homegrown cucumbers or cucumbers from a farmer's market for this recipe. The cucumbers you find in grocery stores have a wax on them that makes the pickles not turn out. You can use regular cucumbers, but pickling cucumbers work best.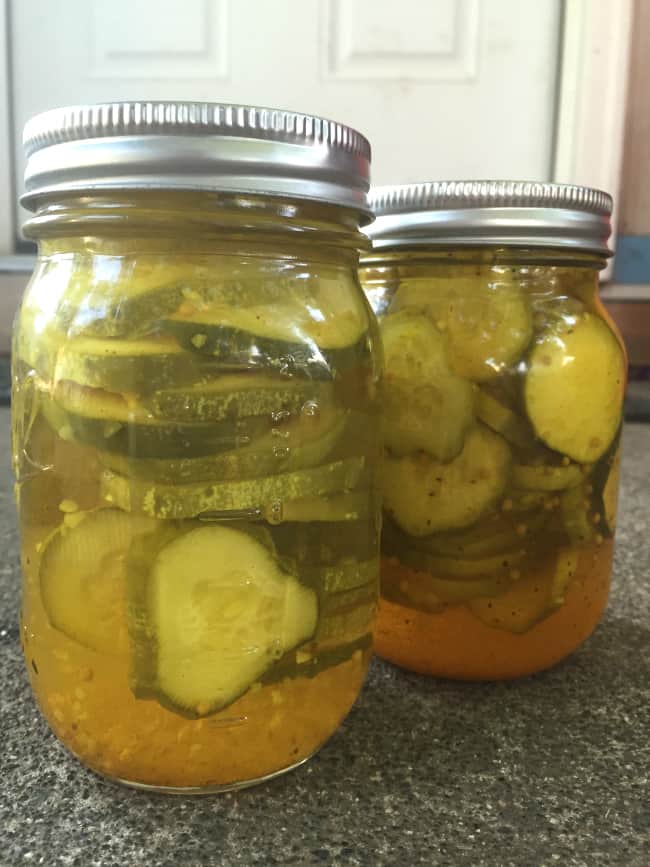 You want to slice the cucumber thin, but not paper thin. You want them to be crunchy when you bite into them. You can use a paring knife to cut them, but I love to use my mandoline slicer
. It cuts vegetables very uniformly and is so much faster than using a regular knife.
Place the cucumber slices and sliced onion in a clean quart jar or two clean pint sized jars.
Combine the sugar, vinegar, mustard seeds, celery seeds, and ground tumeric in a small sauce pan and bring to a boil. Remove from heat and pour over cucumbers in the jars.
I let the jars sit on the counter for a day or two and then put them in the refrigerator. They can be stored in the refrigerator safely for a month or two.
Enjoy! My boys were skeptical that they would like these sweet pickles but they were pleasantly surprised.
Follow my canning and preserving board on Pinterest.
Related Recipes