If you are growing fresh herbs in your garden, or you know someone who is willing to share their fresh herbs with you, freezing them is a great way to preserve them to enjoy them all winter. These tips will teach you easily how to freeze herbs in butter or olive oil for later use.
This post may contain affiliate links.
To freeze herbs in olive oil or butter, all you need are some clean ice cube trays, fresh herbs, olive oil, and/or butter.
Wash and chop your fresh herbs. Herbs that work great for this are parsley, chives, tarragon, thyme, oregano, and sweet basil.
Related Article: How to Freeze Milk: Tips and Tricks for Longer Storage
Next place a tablespoon or so of fresh herbs into each of the compartments of the ice cube tray. Pour olive oil or melted butter on top of the herbs, filling each compartment to the top. I did one tray with butter and one tray with olive oil.
Place the ice cube tray(s) in the freezer. After they are frozen, remove the cubes from the trays and store in the freezer in ziploc freezer bags.
These herb cubes are great for sauteing vegetables and meats. I throw in a couple of cubes when I am cooking pork chops and mushrooms, and it adds so much flavor. Yum!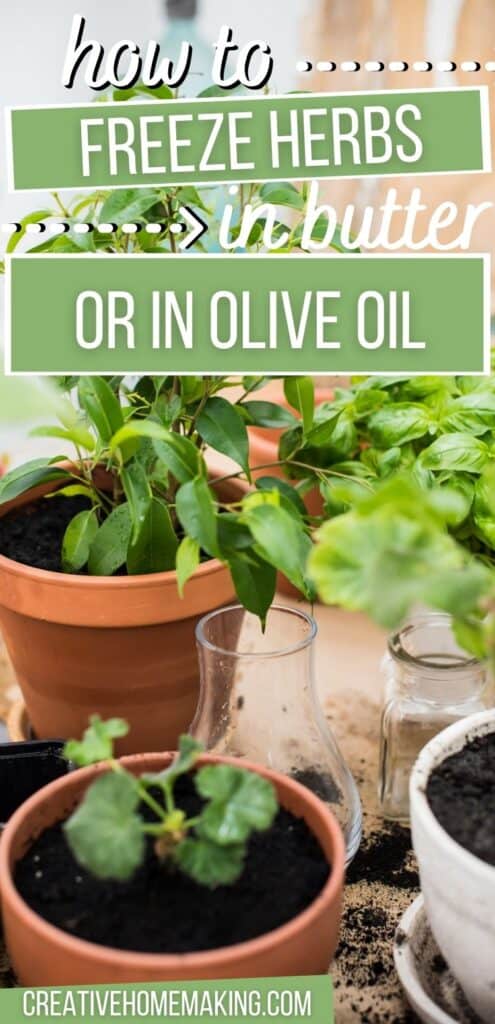 Follow my Favorite Recipes board on Pinterest.
Related Articles