I've been meaning to find a good slow cooker spinach artichoke dip recipe for years. The ones from the store just aren't as good, and I didn't even realize how easy it is to make from scratch until now.
This post may contain affiliate links.
I bought the ingredients to make several batches so that I would be ready with an extra party dip during the holidays. I tried it for the first time yesterday, and it didn't disappoint. It is super easy to make, and delicious too. It heats up well, and it is also good cold.
Spinach Artichoke Dip
1 10-ounce bag fresh baby spinach
1 13-ounce can quartered artichoke hearts
8 oz. cream cheese, cut into 1-inch cubes
1 cup sour cream
1 cup shredded mozzarella cheese
1/2 cup grated Parmesan cheese
4 garlic cloves, minced
Salt and pepper, to taste
This recipe is super easy to prepare. Drain artichoke hearts. Chop baby spinach and artichoke hearts into small pieces and combine with cream cheese, sour cream, mozzarella cheese, Parmesan cheese, garlic, and salt and pepper in crock pot. Stir.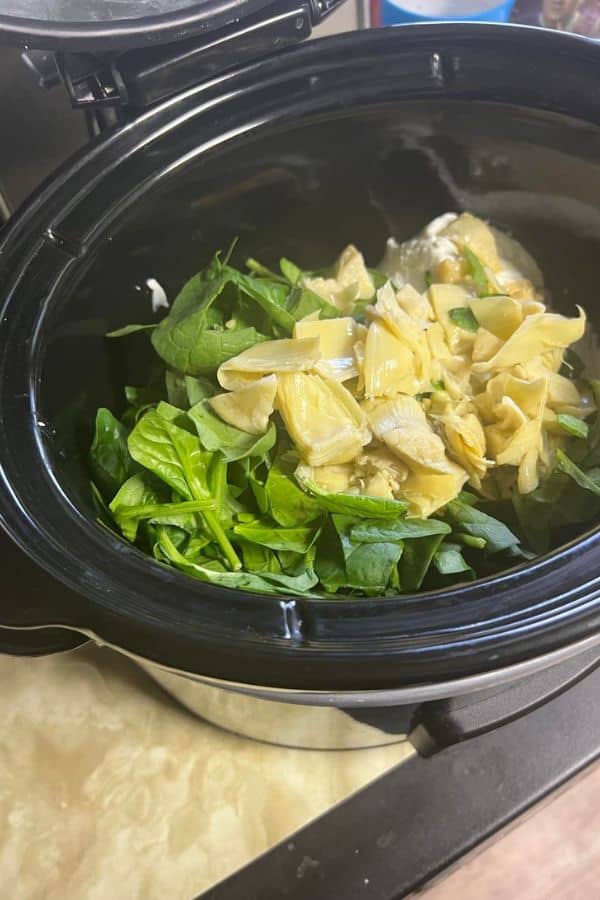 Cook on high for 1 hour, or on low for 2-3 hours. Stir. Keep warm until ready to serve.
This recipe serves 6-8 people. If you want to make a larger batch, I found that you don't really need to double all of the ingredients. I just doubled the cream cheese and the sour cream, and found that the results were still great. There was no need to add extra spinach or artichokes.
Serve with crackers, chips, or torn up French bread.
Enjoy!
Follow my Christmas recipes and crafts board on Pinterest.
Related Recipes: