I am always looking for great cookie recipes to try for Christmas cookie exchanges and to give away to family and friends during the holiday season. I love to pick cookies of different shapes and colors and flavors to create a variety to choose from.
This post may contain affiliate links.
These chocolate covered cherry cookies are very colorful and will be a big hit with people who like chocolate covered cherries. This recipe is definitely a keeper!
Chocolate Covered Cherry Cookies
Ingredients:
1/2 c. butter
1/2 c. sugar
1/2 c. brown sugar
2 eggs
1 tsp. vanilla extract
2 tsp. cherry juice (from jar of cherries)
1 1/2 c. flour
2/3 c. baking cocoa
1/4 tsp. salt
1/4 tsp. baking powder
1/4 tsp. baking soda
30 maraschino cherries
1/4 c. chocolate chips
2 tbsp. sweetened condensed milk
1 tbsp. cherry juice (from cherry jar)
Preheat oven to 350 degrees.
Beat butter, sugar, and brown sugar together until creamy. Beat in eggs one at a time.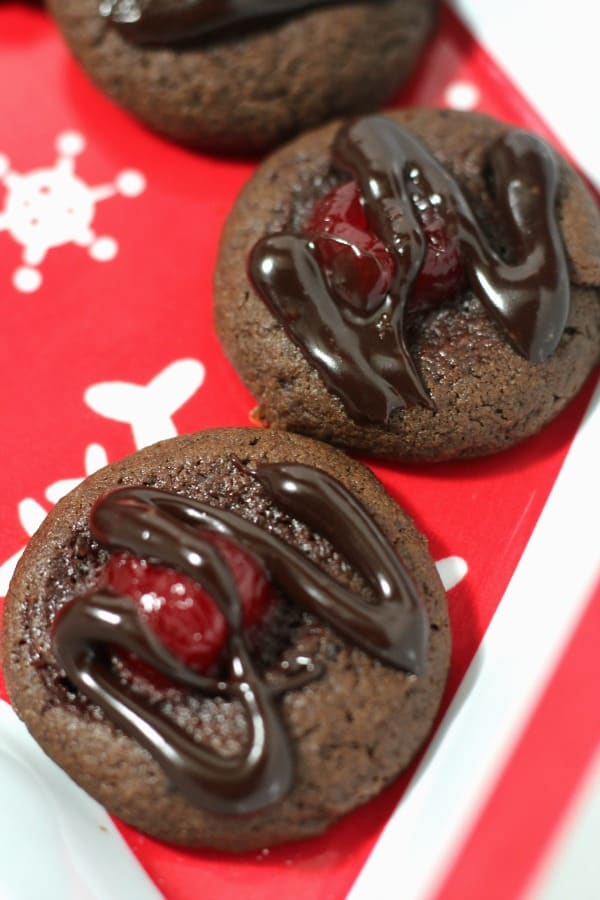 Add flour, cocoa, salt, baking powder, and baking soda to the butter mixture. Add vanilla and 2 tsp. cherry juice from jar of maraschino cherries.
Refrigerate dough for about 15 minutes. Roll dough into 1-inch balls and place on a greased cookie sheet or cookie sheet lined with parchment paper or a baking mat.
Use your thumb to make a small indentation in the center of each cookie. Place a maraschino cherry in each hole.
Bake cookies for 10 minutes.
Melt chocolate chips and sweetened condensed milk in the microwave. Add 1 tsp. cherry juice. Drizzle over cooled cookies.
After the cookies are completely cooled and the chocolate on top has dried completely, these cookies can be frozen for a month or two.
Like this recipe? Try my recipe for Andes Mint Cookies.
Related Recipes
Follow my Christmas and Christmas Cookies boards on Pinterest.