I just love fresh raspberries. It's taken me years to get my raspberry patch to the point where I can grow enough raspberries to actually make delicious recipes like this raspberry freezer jam.
This post may contain affiliate links.
Raspberry freezer jam is super easy to make. Not a canner? Then this is a great option for making homemade jam without the fuss of all the canning equipment. If you are wondering whether it is easier to freeze jam rather than can it, the answer is not really.
For the experienced canner, it is just as easy to can raspberry jam as it is to freeze it. For the person who doesn't have canning equipment, and doesn't want to invest in any canning equipment, then freezing is definitely a great option.
The process for making the jam is basically the same. It's just how you are processing it that's different.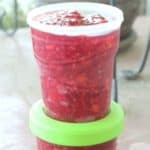 Raspberry Freezer Jam
Ingredients
6

c.

fresh raspberries

5 1/4

c.

sugar

1

box

Sure Jell pectin

3/4

c.

water
Instructions
Place raspberries in a large bowl and gently mash the raspberries with a potato masher. You should still have a few chunks of raspberries when you are done mashing them.

Measure the crushed berries. You should have exactly 3 cups of crushed berries. If you don't have that exact amount, either add more raspberries or remove some so that you have exactly 3 cups.

Stir in 1 cup of the sugar into the raspberry mixture. Stir until the sugar is dissolved. Stir in the remaining 4 1/4 cups sugar.

Let raspberry mixture sit for 10 minutes.

In a small sauce pan, stir together Sure Jell pectin and 3/4 cup water. Bring to a boil. Boil for 1 minute, stirring constantly. Remove pan from the heat.

Stir pectin mixture into the raspberries. Stir constantly until mixture is dissolved.

Pour raspberry jam into prepared canning jars or freezer containers, leaving 1/2 inch head space. Place lids on tops of containers. Label the containers.

Allow jam to sit out on the counter for 24 hours. After 24 hours, place the containers in the freezer. The raspberry jam can be stored in the freezer for up to one year.
Sure Jell vs. Other Pectins
Make sure you get Sure Jell pectin for this particular recipe. Some pectins have different instructions for freezing or canning jams. With the Sure Jell brand pectin, there are instructions for freezing or canning jam.
Some pectins are only good for canning, or only good for freezing, so make sure you take a look at your pectin labels. You can for sure use Sure Jell pectin for this recipe.
Best Containers for Freezer Jam
There are several different kinds of containers you can use to make raspberry freezer jam. If you have canning jars, you can use canning jars in the freezer.
You can buy some great inexpensive plastic lids for your canning jars so you don't have to use metal canning lids and rings in the freezer. Make sure to order the right lids for your jars, the plastic lids come in wide mouth or regular mouth sizes.
You can also buy plastic freezer containers that can be used for jams and for freezing other types of foods. These freezer containers work really well for homemade jams. You can also get freezer safe labels for your containers so you don't forget what's in them.
Follow my canning and preserving board on Pinterest.
Related Recipes