If you are looking for a new cupcake recipe to try this summer, then give these strawberry shortcake cupcakes a try. They are really different than traditional cupcakes, they really do taste more like shortcake than cupcakes.
This post may contain affiliate links.
Strawberry Shortcake Cupcakes
Cupcake ingredients:
1 c. butter, softened
2 c. granulated sugar
4 eggs
1 tsp. vanilla extract
2 3/4 c. flour
2 tsp. baking powder
1 c. milk
Frosting ingredients:
1 c. butter, softened
3 1/2 c. powdered sugar
2-4 tbsp. milk
1 tsp. vanilla
pinch of salt
3 c. chopped strawberries
If you want to save some time you can use store bought frosting, but this homemade buttercream frosting is worth the effort if you have the time to make it.
Preheat oven to 350 degrees. Line cupcake pans with cupcake liners. You might also want to try these great re-usable silicone baking cups.
This recipe will make 24 small cupcakes, I like to make my cupcakes bigger, so I made about 18 slightly larger cupcakes.
Cream the butter and sugar with a mixer for a couple of minutes, until mixture is light and fluffy. Beat in eggs one at a time. Add vanilla extract.
In a separate bowl, mix together flour and baking powder. Alternately add the flour mixture and milk to the butter and sugar mixture. Stir until just combined.
Spoon the batter into the cupcake liners, filling each cupcake tin 2/3 full. Bake for 20 minutes or until toothpick comes out clean. Remove from oven and let cool completely before frosting.
To prepare the frosting, place softened butter in a mixing bowl and mix until light and fluffy. Beat in powdered sugar, vanilla extract, and milk, until spreadable consistency.
Wait until the cupcakes are completely cooled before frosting them. If you don't want to be fancy, you can just frost the cupcakes like you normally would and then add some strawberries on top for garnish.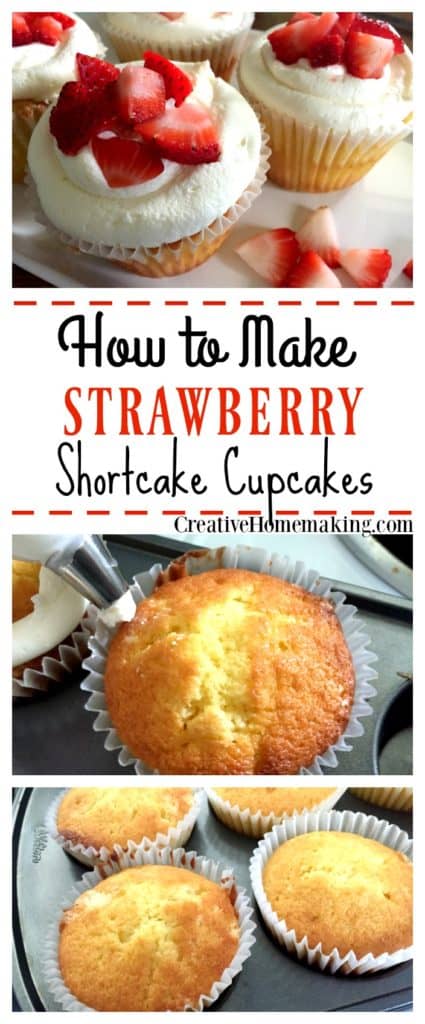 If you want to be fancy, use a frosting tip like the Round Tip #12 you can get in this inexpensive icing tip set on Amazon. You don't even need to buy expensive frosting bags.
I just use a ziploc bag, snip a small hole in one of the bottom corners of the bag, and place the frosting tip in the hole. Fill the bag with frosting, and make sure the ziploc part is completely closed. Easy!
To frost with the frosting tip, just pipe a line of frosting around the outside edge of the cupcake, and then continue spiraling around in a circle until you get to the center of the cupcake.
Place chopped strawberries on top of the cupcakes. If you are going to prepare these ahead of time, don't add the strawberries on top until you are ready to serve them or the strawberries won't look as fresh.
These cupcakes would also look great with blueberries mixed in with the strawberries. It would make a great red, white and blue treat for the Fourth of July!
Store these cupcakes in an airtight container, as they will dry out quickly. This convenient storage container stores up to 24 cupcakes or 2 large cakes. They are best eaten within a day or two of making. Enjoy!
Related Strawberry Recipes
Follow my summer desserts boards on Pinterest.