What Causes Gnats to be in Your House?
This post may contain affiliate links.
Gnats are attracted to water and moisture in your home. For this reason, you will find gnats in your houseplants and in and around garbage cans in your home. They come in your house in the summer time looking for food. Keep reading to find out my favorite home remedy for gnats.
In a hurry? These inexpensive sticky stakes attract fungus gnats, aphids, and other small insects to protect your indoor plants.
DIY Gnat Sticky Trap
If you want to make your own DIY gnat sticky trap, gather up some popsicle sticks and some post-it notes. Stick a sticky note on a popsicle stick (adding a little glue if necessary) and spread honey on the side of the paper facing out. Place the stick in your houseplants to naturally trap and kill gnats quickly and easily. Replace with new post it notes as necessary.
You can also buy these inexpensive sticky stakes on Amazon.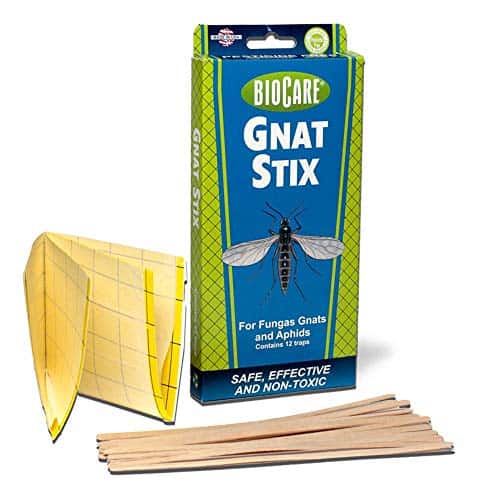 BioCare Gnat Stix Indoor Traps for Fungus Gnats and Aphids, Nontoxic and Pesticide-Free, Made in USA, 12 Count – S5333
Gnat Killer Spray
There are many insect sprays on the market that kill gnats on contact. This gnat killer spray is an all natural insect control product that is safe to use both on indoor plants and in your garden. It also kills spiders and aphids.
I Must Garden Insect Control: Kills and Repels Aphids, Whiteflies, Scale, Spider Mites, Thrips, Gnats, Leafhoppers – All Natural Indoor/Outdoor – 32oz Ready-to-Use Easy Spray Bottle
DIY Gnat Spray
If you want to make your own gnat spray, there are some essential oils you can use to use as a natural repellent for gnats. There are actually certain smells that deter gnats.
To make your own gnat spray, combine a few drops of any combination of peppermint oil, rosemary oil, tea tree oil, neem oil, or eucalyptus oil. Place the oil in a spray bottle along with some distilled water.
Note: that this spray may not kill the gnats but if you spray the oils on your plants it will deter the gnats from returning. You may need to apply the spray daily until the gnats are gone.
This DIY gnat spray is great for getting rid of gnats inside of your house and smells great too! It won't be cheap to buy all these essential oils if you don't already have them on hand, but you can use them to make other things like this homemade mosquito repellent or household cleaning products like this DIY lavender household cleaning spray.
Does Vinegar Repel Gnats?
You can also get rid of gnats with Dawn dish soap and a little bit of vinegar. Combine a cup of water, 1 tbsp. vinegar, and a couple of drops of Dawn dish soap in a spray bottle and spray this mixture on your houseplants and indoor plants to kill gnats fast.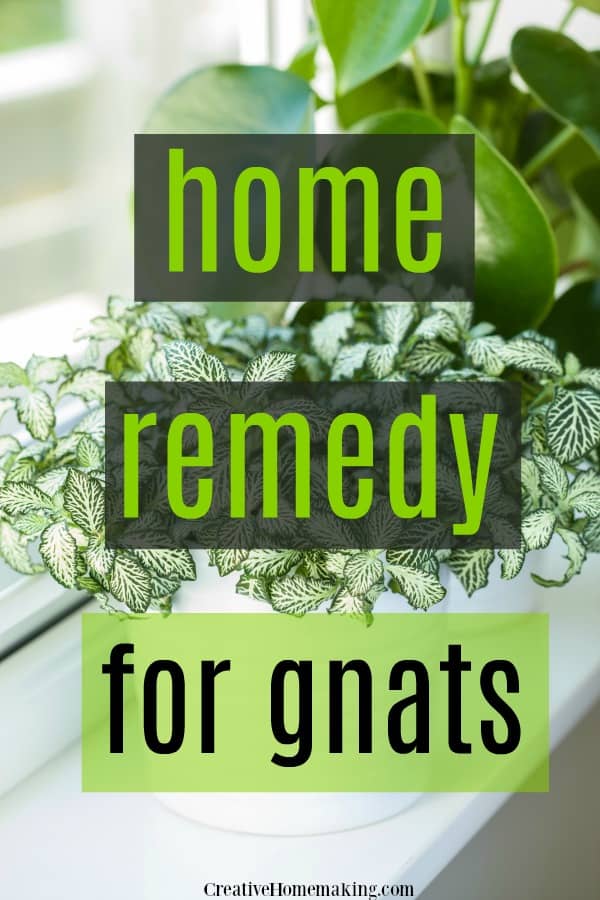 Do Dryer Sheets Keep Gnats Away?
It is an old wives tale that carrying around a dryer sheet in your pocket while you are out in the garden will keep gnats away. Apparently, however, many people do swear that if you rub a dryer sheet on your clothing that it will help to keep gnats away from you while you are outside because there is a chemical in the dryer sheets that the gnats do not like.
Does Ammonia Kill Gnats?
If you are having a problem with gnats in your kitchen or bathroom drain, ammonia is a great home remedy for killing gnats living in the drain. Just pour a little ammonia in the drain, and it will kill the gnats, eggs, and larvae in the drain.
How Do You Keep Gnats Away?
Follow my gardening for beginners board on Pinterest.
Related Articles