Tip #1: When cleaning tile floors, try spritzing with vinegar and then sprinkling baking soda on a sponge and scrubbing.
This post may contain affiliate links.
See Today's List of Best Mops for Tile Floors

Tip #2: I found the best cleaning and spot free drying on my tile floor is 1-part lemon ammonia to three parts water and three drops of any liquid dish soap. This cleans, disinfects, and dries a shiny clean like nothing else I've tried. I put mine in a spray bottle and spray as I need it.
Tip #3: I use a small amount of Fabuloso (found at Dollar Stores & CVS Pharmacy, Wal-Mart) to clean my tile floors. Vinegar works very well also. Just don't use too much water in mopping. More like damp mopping.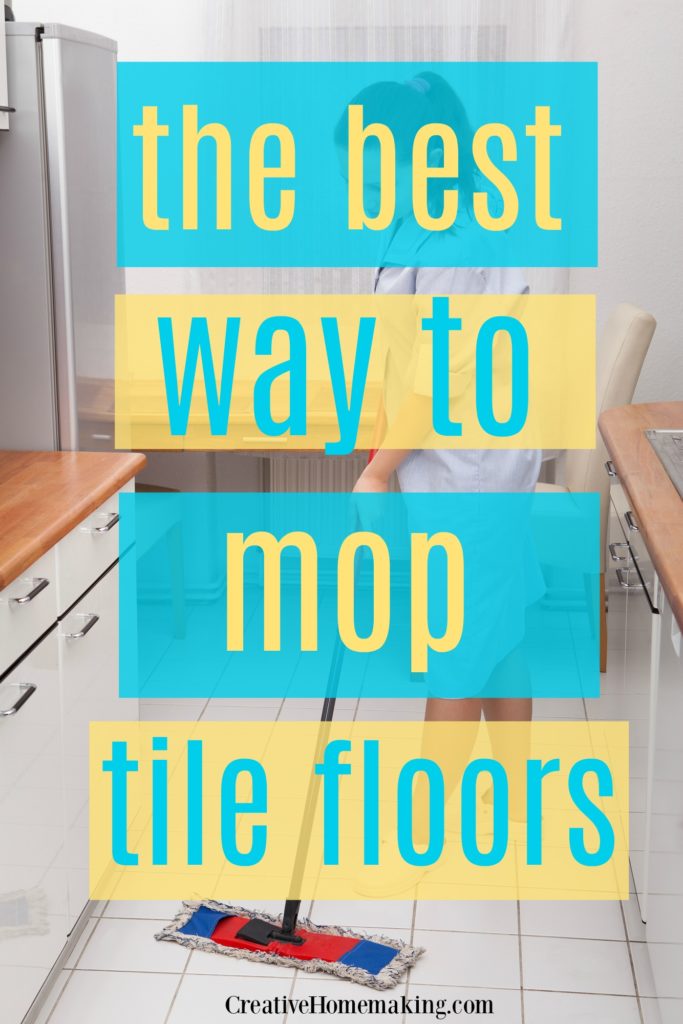 Tip #4: I use Pine Sol on my tile floors.
Tip #5: I was told to use vinegar. I have tile everywhere in my house except the bedrooms. I save all of my old toothbrushes and when my kids are misbehaving I give them a toothbrush and a spray bottle of vinegar and they get to the clean the grout for a certain amount of time. You would be surprised at how well straight vinegar cleans the dirt in grout.
Tip #6: Thanks, everyone for all of the help! I began using a 50:50 vinegar water mixture with a tiny drop of detergent (Dreft is what I used).
I pour all of this in one side of my sink, and then when I'm mopping, I use the other side of the sink to rinse out the mop with clean water as I go and dip the mop in the vinegar mixture after rinsing it out.
It seemed to work, the floors weren't sticky the last time I did this. Thanks again for all of the replies!
Related Kitchen Cleaning Hacks
Follow my cleaning hacks board on Pinterest.