How to Get While Baseball Pants White Again
This post may contain affiliate links.
It's baseball season! And with baseball or softball season comes mom's weekly chore of making sure her child's white baseball pants are clean.
If you are wondering the best way to clean and get the stains out of white baseball uniforms, give these easy DIY cleaning tips a try.
Tip #1: I use Purex with my wash. It is color safe bleach. If you let it soak for 30 minutes to an hour the uniforms will look almost brand new. I also put my detergent in as well.
When my brother played football…years ago…that is what my mother did with his muddy, grass stained, dirty uniforms, and they looked great before every game. He didn't much like it though because he said "it looks like I never play, and I am a starter".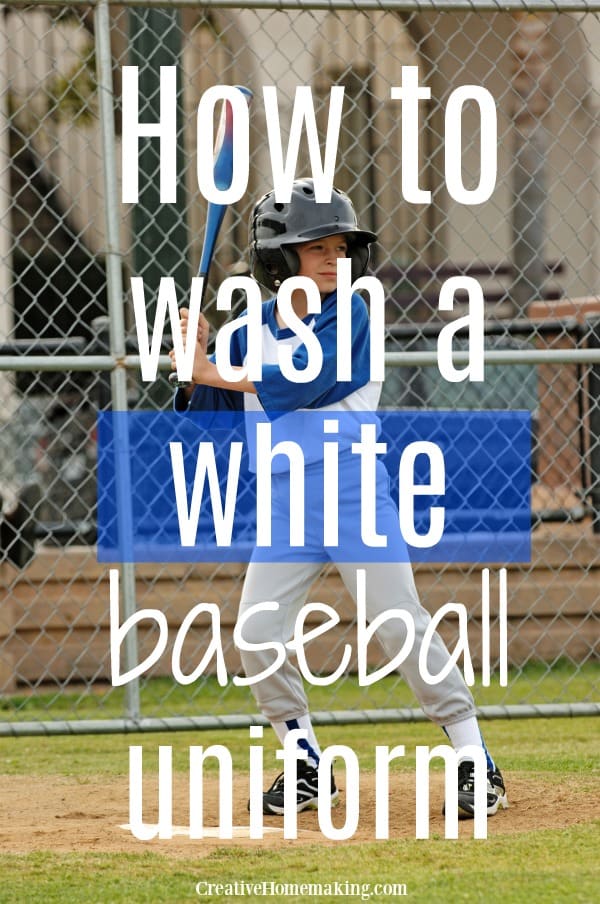 Tip #2: The tip about baseball uniforms is terrific…I've done that for my grandson (they have iron in water) and he always looks great. At times his uniform is so dirty I've asked if any other teammates play…Jeanne
Tip #3: With two kids that played ball – baseball and fastpitch softball for years and years (daughter played in college as well), I used the dishwasher detergent most of the time.
Along with washing in the dishwasher detergent, I usually used a combination of stain spray and a paste of water and bleach alternative (like Purex or Chlorox 2) on the worst stains as well, and let it sit for a while before washing.
That seemed to do the trick for the most part, but softball fields are red clay and not dirt, so those stains can really be tough.
The daughter's socks never did get completely stain free since she was an infielder and always played in the clay.
Sometimes it was a pain in the neck (other parts of the anatomy) keeping those softball pants white, but my kids are grown now and I have to admit I miss all that time we spent at the ballparks…Suzanne
Tip #4: I use a product called Zout laundry stain remover made by the Dial Corp. It removes blood, as well as baby food stains.
I also used it to keep white double knit baseball pants white while his teammates pants looked slight pink after practicing sliding into the base when it was raining and red clay lined the paths between the bases. I have used that product for over 25 years…Julia
Tip #5: Use ESPRO SPORTS CLEANER Stain Remover with Odor-Guard. It gets out everything and smells great. You buy it on Amazon.Janet
Tip #6: I use OxyClean to clean my son's baseball and football uniforms. I have never found a stain that doesn't come out.
The sooner you get the uniform in the wash, the better. Just add 1 cup OxyClean powder and your detergent to the wash of warmest water you can for the fabric.
Add light colored uniform and run the wash cycle almost completely through. Before the washer drains, turn the machine off and let the uniform soak for a few hours or overnight. At this point, you can add the darker pieces to the wash.
The OxyClean will keep the colors from bleeding onto the lighter fabrics in the cooler water. Start the wash at the beginning of the cycle and wash as usual. You will be amazed how clean the uniform comes out…Nancy
Related Laundry Hacks
Follow my cleaning board on Pinterest.