Removing Scratches on Glass Top Stove
Question: I have a glass top stove that has a small scratch on it. Does anyone know what I can do to get rid of this scratch on my black top ceramic stove top?
This post may contain affiliate links.
Answer: I have a new black ceramic stove, and recently got some scratches from a pan someone dragged across the stove. They were deep enough to feel with your finger.
I thought they'd be there forever, and didn't even try to get them out.
But when I cleaned the stove with the scraper that came with it, and then used the tube of stove top cleanser and polish, they simply disappeared.
I use Cerama Bryte Cooktop Cleaner, the stuff especially made for glass ceramic stove tops, not every time I use the stove but whenever it has marks. Just scrape it, with the blade, then use the cream cleanser, then the polish.
I just use a sheet of paper towel and it only takes a minute. It always comes up as good as new, even when I think it won't.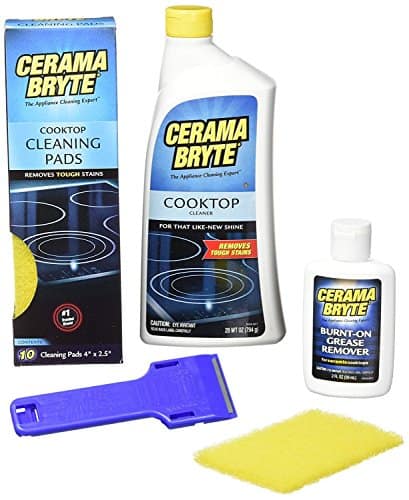 Cerama Bryte Best Value Kit: Ceramic Cooktop Cleaner 28oz, Scraper, 10 Pads, Burnt-on Grease Remover 2oz

Related Cleaning Articles
Follow my cleaning tips board on Pinterest.