Last year I tried making blueberry vinaigrette and raspberry vinaigrette for the first time. They were delicious and everyone who received them as gifts gave them rave reviews. This year I stumbled on something possibly even better….strawberry basil vinaigrette. It is the BEST.
This post may contain affiliate links.
Strawberry Basil Vinaigrette Recipe
Ingredients:
16 c. fresh sliced strawberries
3 c. white vinegar
1/2 c. fresh basil leaves
This recipe makes approximately 4 pints or 8 half pints of strawberry basil vinaigrette. If you want to make more or less you can easily cut this recipe in half or double it.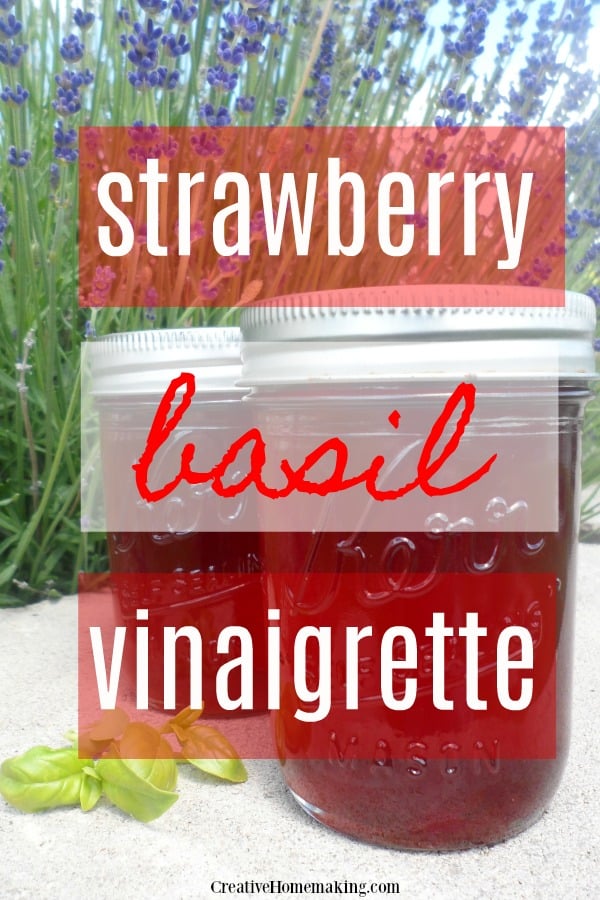 If you buy a flat of strawberries, you will have approximately 8 c. of sliced strawberries left over after preparing this recipe that you can either use for another recipe or place in freezer bags and store in the freezer for later use. Find more on strawberry equivalents here.
Place the sliced strawberries in a non-metal bowl and pour the white vinegar over the strawberries. Cover with plastic wrap and leave on the counter until the next day so the strawberries have a chance to soak up the vinegar.
The next day, run the strawberries through a food mill
or fine mesh sieve or strainer to remove the strawberry seeds and pulp.
Measure the remaining juice, you should have about 6 cups of liquid. Place the liquid in a sauce pan and add 6 c. sugar. Bring to a boil, stirring constantly.
Stir in fresh chopped basil. Adding the basil lasts keeps the basil leaves from turning brown.
Strawberry Basil Vinaigrette Canning Directions
Fill a boiling water canner half full with water, and bring water to a boil.
Pour strawberry vinegar into hot sterilized canning jars, leaving 1/2 inch headspace. You can easily measure the headspace with this inexpensive canning funnel.
Wipe the edges of the jars with a damp towel and place lids and jar rings firmly on jars. Place jars in boiling water bath and process for 10 minutes.
Place jars on a towel on your kitchen counter to cool completely, making sure that all jars have sealed before storing. These jars can be stored for a year or more in a cool dark place (if it lasts this long).
Serve this dressing on a fresh spinach salad with feta cheese and fresh sliced strawberries.
Follow my canning and preserving board on Pinterest.
Related Recipes