I have been trying a lot of new dandelion recipes this year, like this easy recipe for dandelion lemonade. I finally have my husband convinced that it isn't really necessary to kill all of the dandelions in our lawn.
This post may contain affiliate links.
It turns out that honey bees love dandelions. Dandelions are one of the first flowers of spring that the bees use to gather their pollen. When you treat dandelions with weed killer, it can harm the bees. Since we have our own bee hive, it definitely doesn't make sense to purposely harm our bees! I have grown quite attached to our bees over the years.
This year I decided to try making dandelion lemonade for the first time. It is very easy to make. To make a gallon of lemonade, gather about 4 cups of fresh dandelions, making sure that they have not been treated with any pesticides or weed killers.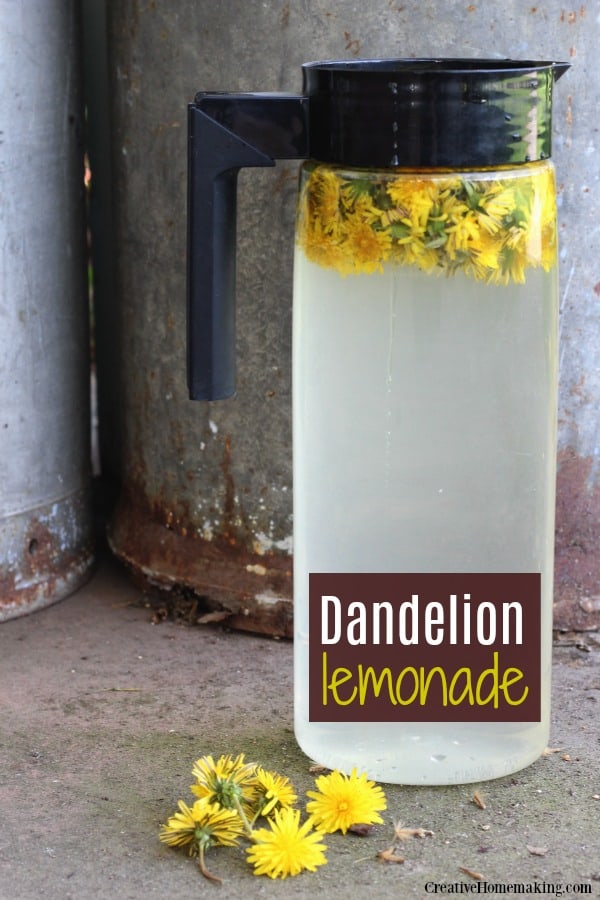 Dandelion Lemonade Recipe
Ingredients:
4 cups fresh dandelion flowers
1-2 cups sugar or honey
4 lemons*
*If you want to use bottled lemon juice instead of fresh lemons, one lemon is approximately equal to 3 tbsp. of bottled lemon juice.
This recipe makes 1 gallon of lemonade.
Place the dandelions in a strainer and rinse them to remove any dirt or small insects. Fill a gallon container with water and add the juice of 4 lemons and 1-2 cups of sugar. You can also substitute honey for some or all of the sugar.
Place the dandelions in the top of the container and let sit for a couple of hours before serving. You can strain the dandelions out before serving or leave them in the lemonade for garnish. This nifty glass pitcher has an infuser built right into it that you can place the dandelions in without having to strain them out later.
VeBo Tea and Fruit Infusion Pitcher With Ice Core Rod – 2.9 Quart Water Pitcher Infuser
Note: This recipe will make a nice lightly flavored lemonade. If you want a stronger flavor from the dandelions, then boil the dandelions in about 4 cups of water and let sit for about an hour. Strain the dandelions, pour the water in a gallon container and add sugar, lemon juice, and remaining water. This will result in a noticeably stronger flavored lemonade.
Follow my Creative Homemaking board on Pinterest.
Related Recipes