I love cranberries! I am always looking for new recipes to make with cranberries during the holiday season. This cranberry butter is really easy to make and would make a great holiday gift.
This post may contain affiliate links.
Crock Pot Cranberry Butter Recipe
Ingredients:
2 12-oz. bags fresh cranberries
2 c. sugar
2 whole cinnamon sticks
1 c. water or apple juice
Directions:
Wash and sort through cranberries to make sure they are all good.
Combine all ingredients in crock pot and cook on high until cranberries are soft, about 2-3 hours.
Remove cinnamon sticks from cranberry mixture.
Puree cranberry mixture with an immersion blender or food processor. If you don't already have an immersion blender
, I really recommend getting one.
They are indispensable in the kitchen, you can order one from Amazon
for a little less than $30. I use mine all the time.
It is a hand held blender that you can use right in your pan when you are cooking. That is very handy, especially when you are dealing with hot foods.
It is difficult to remove hot foods from your pan to puree them in a food processor or blender. You blend them right in the pan!
However, if you don't have an immersion blender, you can also use a blender or food processor. Just be careful when you are pouring the hot cranberries so that they don't splatter on you.
If the cranberry mixture is too runny at this point, keep cooking it in the crock pot until it cooks down some more.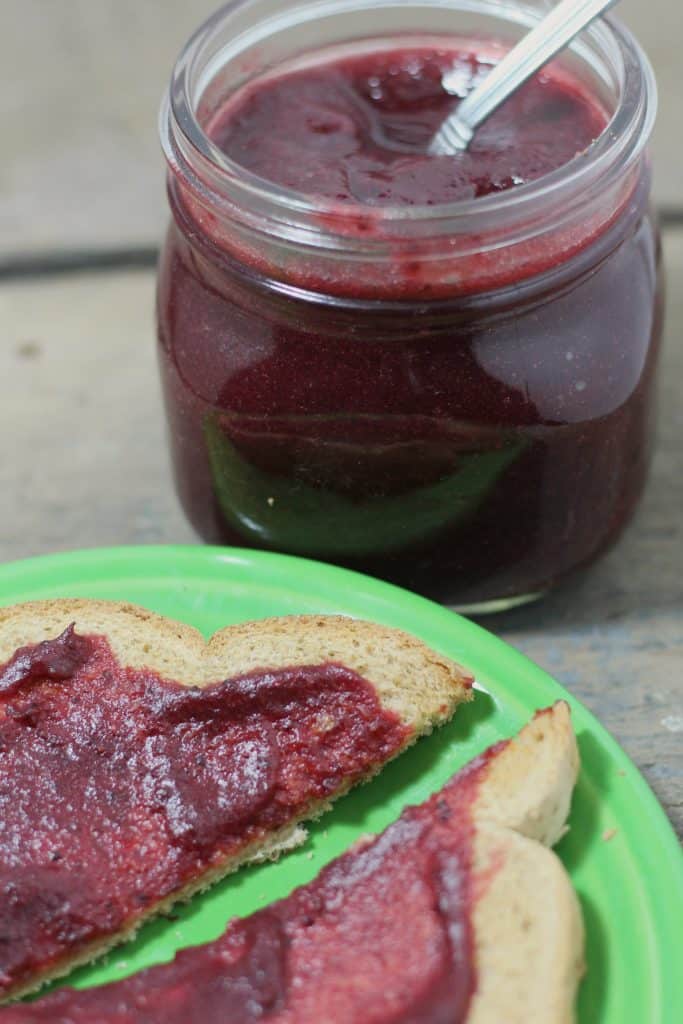 At this point you can either serve it as-is, or if you want to remove the little bits of cranberry skin still remaining in the puree, then you need to press the mixture through a fine mesh strainer
or a food mill
.
This will give you a perfectly smooth cranberry butter, although I don't mind a few bits and pieces of cranberries in mine.
Pour cranberry butter into mason jars or other serving containers and refrigerate until ready to serve.
This recipe makes a little more than 2 cups of cranberry butter, depending on how long you cook down the cranberries.
Note that this recipe has not been tested for long term storage, so please do not can it in a boiling water canner, it must be stored in the refrigerator.
This cranberry butter makes a great holiday gift for friends or family or it would make a colorful addition to your holiday table.
The taste is heavenly. It is great on toast, and would also taste wonderful on holiday french toast. My son even loves it on peanut butter sandwiches.
This is a fun holiday treat that I think I just may make a new holiday tradition.
Related Recipes
Follow my Favorite Recipes board on Pinterest.
Like this recipe? Try my recipes for crock pot apple butter and crock pot pear butter. You might also like this recipe for cranberry pear jam.