Canning crock pot apple butter is something I look forward to every year. I love apple butter. I have seen lots of recipes for making it in the crock pot so I thought I would give that a try this year.
This post may contain affiliate links.
Crock pot apple butter is really easy to make! It's one of my favorite apple canning recipes. Really, the only drawback of making apple butter in the crock pot is that you can only make small batches at a time.
Click here for 6 simple tips from a mental health coach that will help you start reducing anxiety today!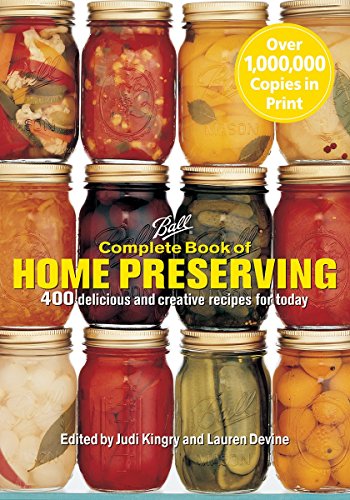 Ball Complete Book of Home Preserving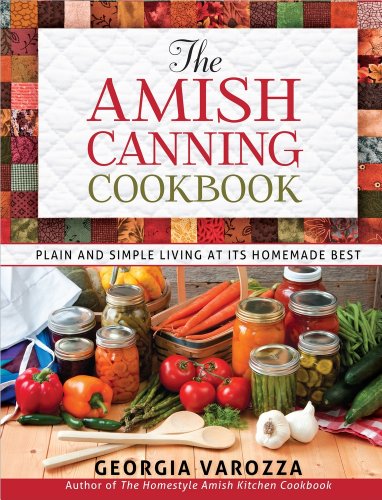 The Amish Canning Cookbook: Plain and Simple Living at Its Homemade Best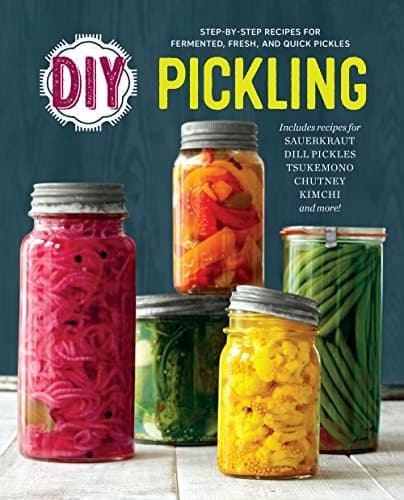 DIY Pickling: Step-By-Step Recipes for Fermented, Fresh, and Quick Pickles

My crock pot will make approximately 4 pints of apple butter at one time. If that is all you are looking to make, then this method will be perfect for you.
(Click on the video below to watch me canning crock pot apple butter step by step.)
Crock Pot Apple Butter Recipe
Ingredients:
Apples
1 tbsp. lemon juice
1 tbsp. vanilla extract
1 c. granulated sugar
1 c. firmly packed brown sugar
Cinnamon
Nutmeg
Cloves
As I stated above, one crock pot will make approximately 4 pints or 8 half-pints of apple butter. I didn't say how many apples to use because I didn't count or measure mine.
I had a big box of apples and just started peeling.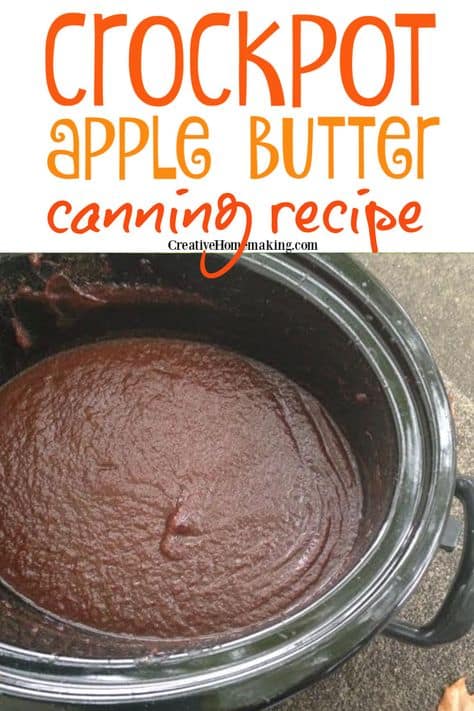 Related Article: Best Apples for Canning: A Guide to Choosing the Perfect Varieties
All you have to do is fill the crock pot as full as you can with apples and still be able to get the lid on. I peeled and cored the apples and cut them into large chunks.
Some people don't bother peeling the apples first.
Next add the lemon juice and vanilla extract. It is going to be really tempting to add some water to the apples, but don't.
Related Article: 6 Apple Recipes to Satisfy Your Fall Cravings
Just put the lid on it and walk away. It is easy to do this after dinner and let the crock pot simmer on low until the next morning.
The next morning, stir the apples. I used a potato masher to mash mine a bit. Stir in the sugar, brown sugar, cinnamon, nutmeg, and ground cloves.
I didn't measure the spices, but I put at least a tablespoon of cinnamon in, probably closer to two. Let the flavors blend a bit and taste it. Add more sugar or spices if necessary.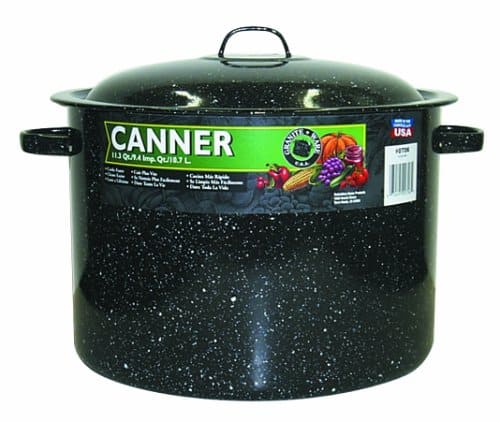 Granite Ware Covered Preserving Canner with Rack, 12-Quart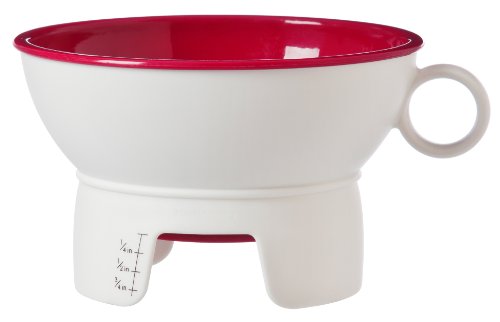 Prepworks by Progressive Canning Funnel for Regular and Wide Mouth Jars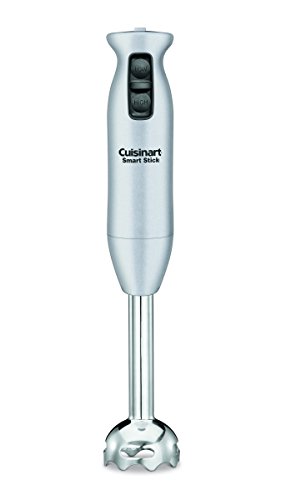 Cuisinart CSB-75BC Smart Stick 200 Watt 2 Speed Hand Blender, Brushed Chrome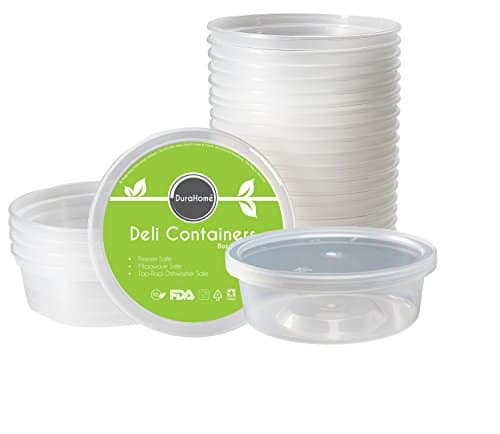 DuraHome – Deli Containers with Lids 8 oz. Leakproof – 40 Pack Plastic Microwaveable Clear Food Storage Container Premium Heavy-Duty Quality, Freezer & Dishwasher Safe

Let the apple butter cook down for another couple of hours. It should be really thick with no water in it. Stir it really well.
If you would like a smoother consistency you can put it in the blender or use an immersion blender right in the crock pot. That is what I did and it worked great.
Taste the apple butter one more time to make sure you like the spices. It's not too late to add anything to it.
You can now either cool the apple butter and pour it into freezer containers (I love these inexpensive freezer containers you can order from Amazon) to put in the freezer.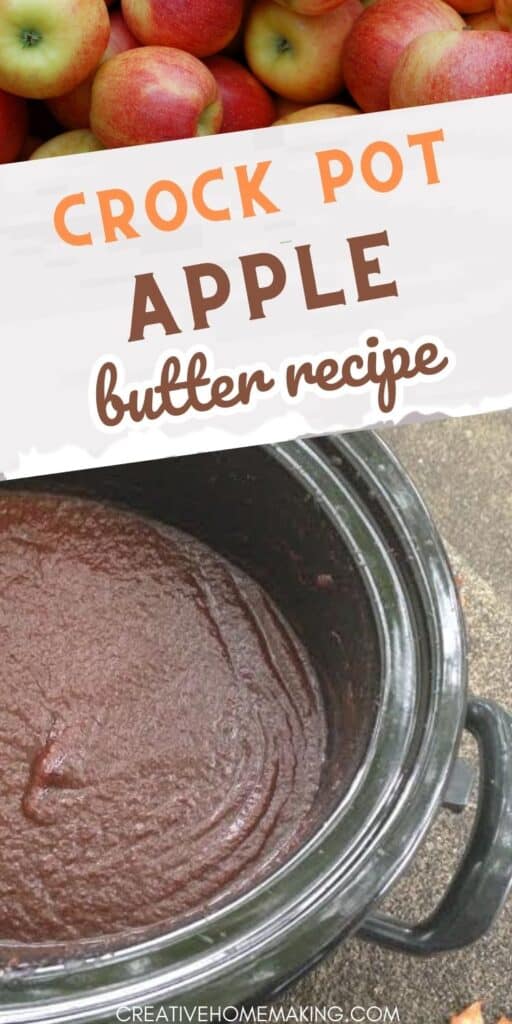 Canning Instructions
To can this crock pot apple butter, sterilize your canning jars, lids, and rings and pour hot apple butter into jars, leaving 1/2 inch head space. Easily measure the headspace with this inexpensive canning funnel.
Wipe the rims of the jars with a damp towel or paper towel and place the lids and rings on the jars finger tight.
Place the jars in the boiling water canner. Make sure jars are covered with 1-2 inches of water and bring water to a boil. Process the jars in the boiling water canner for 10 minutes.
Remove the jars from the boiling water canner and set them on a towel on the kitchen counter to cool.
Sealed jars can be stored in the pantry for 1-2 years. If you have any jars that didn't seal, place them in the refrigerator and eat them in the next couple weeks.
Related Recipes