Rice Krispie Treats have always been one of my favorite quick easy desserts, and it is also a favorite of my family's. It seems, though, that if you don't eat them all right away they get hard and stale and don't taste as good anymore. Here are some of my favorite tips on how to soften Rice Krispie Treats.
This post may contain affiliate links.
How to Make Rice Krispie Treats Soft Again
Surprisingly, a slice of bread works great to make your Rice Krispie Treats soft again. If you just have a couple of Rice Krispie Treats to soften, then place them along with a slice of bread into a ziploc bag and let them sit overnight. The moisture from the bread will make the Rice Krispie Treats soft again.
If you have more than a couple of Rice Krispie Treats to soften, then place them in an airtight container along with a couple slices of bread and the Rice Krispie Treats should be soft by the next day.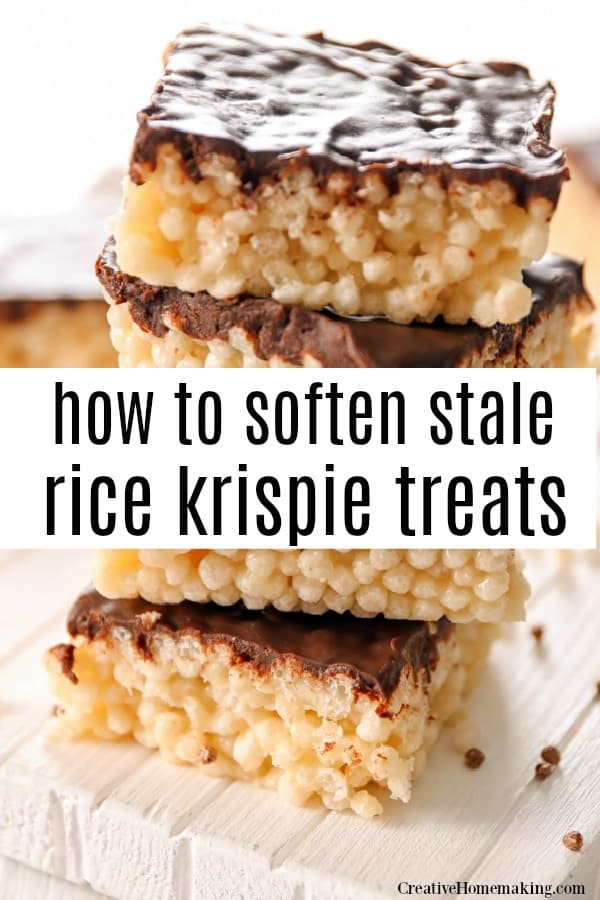 Why Are My Rice Krispie Treats Hard?
If your Rice Krispie Treats are hard as soon as you are done making them, then there are a couple of things you can do to avoid this happening in the future.
Rice Krispie Treats often turn out hard from using stale marshmallows. Always use new fresh marshmallows when you make Rice Krispie Treats.
It's also very important to measure carefully when preparing this recipe. If you accidently add a little too many Rice Krispies that will also make them turn out hard.
When you are melting the marshmallows, melt them over low heat or you will end up having to learn how to remove burnt marshmallows from your pan (ask me how I know). Melting the marshmallows over low heat will also help keep your Rice Krispie Treats from getting hard.
Related Articles
Follow my baking board on Pinterest.