Description and Growing Information
This post may contain affiliate links.
Bee Balm is a very pretty herb with a wonderful fruity, minty aroma. The gorgeous tubular flowers, held like a crown at the top of the 3-4 foot stems in mid and late summer come in a lot of colors including red, pink and purple.
On top of all these qualities, it is a hardy perennial herb that will grow in all zones. Bee Balm requires full sun or light shade and fertile, light and moist soil. It is best propagated by division or cuttings rather than seed because the seed isn't always true to the parent plant.
In the Garden
Bee Balm is so pretty it should be included in your flower beds. It will attract bees, butterflies and hummingbirds to your garden.
I know it's hard to welcome bees into the garden, but remember that we need them to pollinate our plants. Good partners for Bee Balm are Purple Coneflower (Echinacea purpurea), Black Eyed Susan (Rudbeckia), and Lavender (Lavandula).
Related Article: Attract Hummingbirds and Butterflies to Your Garden with These Plants
Uses for Bee Balm
Tea. This is a wonderful tea herb. To make a cup of tea, simply place tablespoon of fresh or one teaspoon of dried Bee Balm leaves and/or flowers in a tea strainer or tea spoon and then pour one cup of boiling water over it. Allow it to steep for ten minutes and then remove the tea leaves. Sweeten if you wish and enjoy.
Cut Flowers. The flowers make excellent cut flowers. Be sure to cut the stems at an angle so they can take up water.
Culinary. Chop the leaves and flowers and then add to fruit salads for extra flavor. Garnish any type of salad with the leaves and flowers.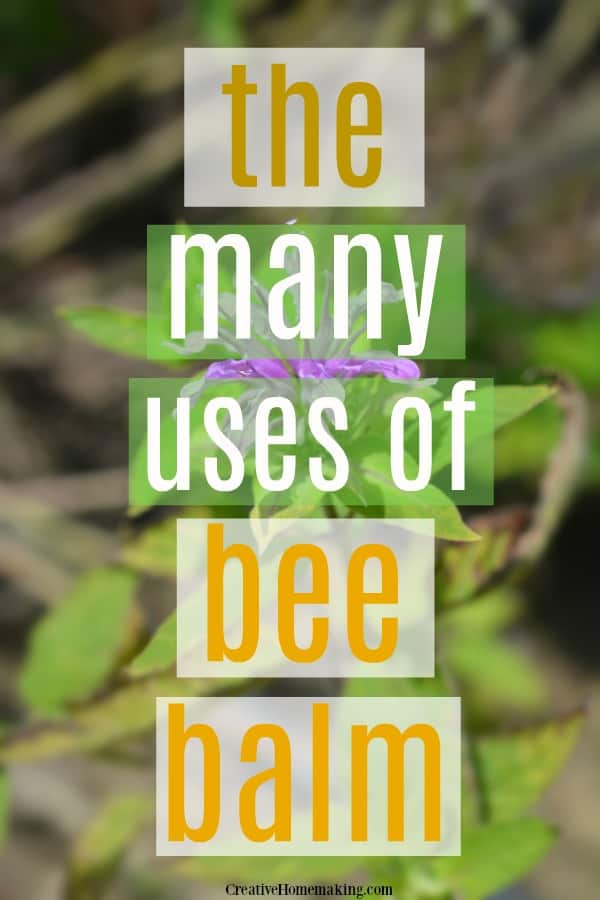 Preserving Bee Balm
The leaves and flowers of Bee Balm can be dried and used for potpourri or tea. To dry, bundle 8-10 stems with a rubber band at the cut end and hang upside down until crisp to the touch. Crush and store in airtight containers out of direct sunlight.
Written by Monica Resinger. Reprinted with permission.
Related Articles
Follow my gardening for beginners board on Pinterest.