Home decor is not limited to your home, why not decorate your garden too? These DIY plant markers are fun to make and are a great way to not only label your plants but decorate your garden too.
This post may contain affiliate links.
Chalkboard Paint Plant Markers
These plant markers just take a few minutes to make and would even make a fun project for kids.
All you will need to make these are popsicle sticks and chalkboard spray paint.

Krylon I00807 Chalkboard Aerosol Spray Paint, 12-Ounce, Black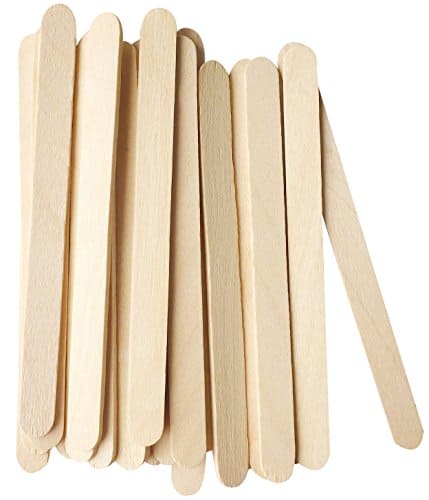 Korlon 200 Pcs Craft Sticks Ice Cream Sticks Wooden Popsicle Sticks 4-1/2

Set the popsicle sticks on some newspaper and spray the sticks with chalk board paint. Let dry.
Use chalk to write the names of the plants on the popsicle sticks. That's all there is to it. These would also make a fun gift idea.
Note: For container gardens, you can also use this chalkboard paint to spray directly on a pot and write the name of the plant on the pot instead.
Spoon Plant Markers
If you are looking for something really unique and elegant looking, you will really like these plant markers made from silver spoons.
You can usually find a variety of inexpensive silver spoons at thrift stores or antique stores.
You will need a rubber mallet to pound the end of the spoon completely flat. You can also use a hammer but you might scratch the silver, it just depends on the look you are going for.
You will also need an inexpensive metal stamping set that you can find online or in some hardware stores. This is the type of set you would use to place identification information on tools or use to stamp on leather.
AmazonBasics Metal and Leather Stamp Kit – 5/32-Inch

Using the metal stamping set, use a hammer to put the letters you want on the spoon, such as "basil", "thyme", etc. You can also use this technique on silver forks or knives.
These plant markers are really one of a kind. They go for about $5 a piece on Etsy, so why not make your own and give as a unique gift to family and friends?
Concrete Plant Markers
These concrete plant markers take a little more time but they would make a great addition to your garden.
To make these you will need a bag of quick setting concrete, aluminum mini loaf pans, cooking spray, a small shovel, a five gallon bucket, and some inexpensive concrete letter stamps.
Prepare the mini loaf pans by spraying them with a light coating of cooking spray.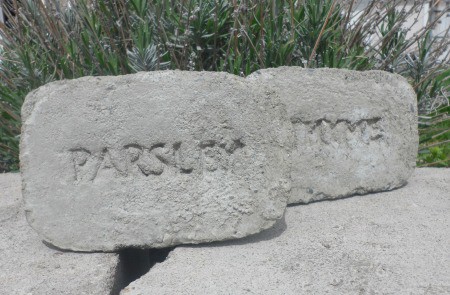 Pour some quick setting concrete in the five gallon bucket and add water, stirring with shovel, until mixture resembles the consistency of brownie batter.
Shovel some of the wet concrete into the mini loaf pans, smoothing it out and removing any extra concrete.
Let blocks set for about 15 minutes, blotting any excess water with paper towels.
Use the concrete letter stamps to stamp the plant name in the concrete, such as "rosemary", "oregano", etc. If you don't get a good imprint, then just wipe it out and do it again. You might have to do it several times to get it just right. If the concrete is too soft, let it set for a few more minutes before trying again.
Let the concrete set for a couple hours and then gently remove the blocks from the aluminum pans. Set out to dry for a couple of days, and then move your beautiful new plant markers to the garden.
Plant markers can be as easy or as difficult as you choose. There are many creative ways to make your own plant markers, and these are just a few of those ideas. You are only limited by your imagination.
Follow my gardening board on Pinterest.
Related Articles