Cleaning Laminate Floors with Vinegar
This post may contain affiliate links.
Tip 1: We have laminate flooring in our kitchen/dining room. I was told that the thing to use is a solution of vinegar/water. You mix 1 gallon of water to 1 cup of white vinegar. I cut this down to 1/2 gallon of water to 1/2 cup of white vinegar in a bucket.
I then use a sponge to dip into the water and squeeze it out really good so that it isn't dripping wet. For me I get down on hands and knees and wipe the floor down. There is no need to follow with a dry cloth.
The vinegar makes the color and grain come out and makes the floor nice and shiny in my opinion. Don't worry, there is no lingering smell of vinegar. Vinegar is a very good cleaning agent plus you've probably heard that there are other uses as well.
Tip 2: I use a combination of vinegar, water and Sunlight dish detergent. I have a day home and it seems as though there is always spilled milk, juice, and ground in vegetables on my floor.
The mixture seems to do a great job without leaving any streaks. I also do not have to add much elbow grease to the solution! I don't measure but I would have to guess that I use 1 tbsp. of soap, 1/2 c. of vinegar to 5 gallons of water.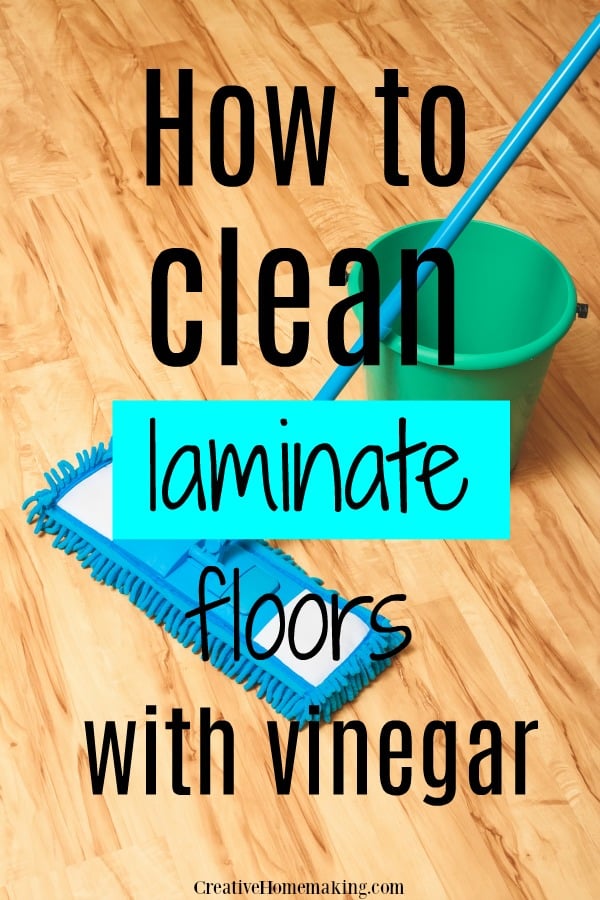 Cleaning Laminate Floors with Pine Sol
I like using Pine-Sol. I really liked the Pine-Sol that pulled the dirt to the bottom, but last couple of times I looked I couldn't find it. But, follow the directions for Pine-Sol that are on the bottle.
I have had good results with this. I really like my laminate floor, it is easy to keep clean, except for the dog that sheds all the time. This microfiber mop is the best mop for cleaning laminate floors.
Cleaning Laminate Floors with a Swiffer Mop
Tip 1: I use to use a Swiffer but I have a small child and heard the chemicals are not good for children or pets. I also have a big dog. I now take a baby wipe and put it on my Swiffer.
Cleans the floor great and I do not have to worry about my children or my pet. If I can not get something off with the Swiffer I take a clean baby wipe and elbow grease and it comes off great.
Tip 2: I simply use my Swiffer Wet Jet on our laminates. I don't even buy the special cloths for it as they are too expensive. I only by the cleaner refills and then push a rag/dust cloth around with it. Works just fine.
Tip #3: The place where we purchased our laminate flooring told us to use Armstrong Floor Cleaner. It works GREAT!!! Doesn't leave any sticky residue or diminish the shine. Everyone compliments me on my floor.
Pledge for Laminate Floors
I use a dust mop with Pledge, then, if needed, I use Spic & Span (it doesn't take very much) & mop with that. I really liked the Spic & Span they use to make that the dirt sank to the bottom. But, they don't make it anymore.
Related Floor Cleaning Hacks
Follow my cleaning hacks board on Pinterest.