How to Make Rootbeer Jelly
This post may contain affiliate links.
I've tried making lots of different types of jellies, and this rootbeer jelly is a fun one. If you are new to jelly making, then you'll find there are different types of jellies to make at different types of the year. It's one of my favorite top 10 easy homemade jelly recipes for beginning canners.
If you are looking for a fun, inexpensive gift idea for the holidays (or any time!), then you might want to give this rootbeer jelly a try. You can make this jelly with any type of soda (orange, cola, Mountain Dew, Dr. Pepper).
Lids will make a pinging noise when they seal. To test the seal, press your finger in the center of the lid. If the lid doesn't move, the lid is sealed. If the lid presses down and pops up again it is not sealed.
Unsealed jars should be placed in refrigerator and eaten in the next couple of weeks. Sealed jars should be stored in a dark pantry and can be safely stored for 1-2 years.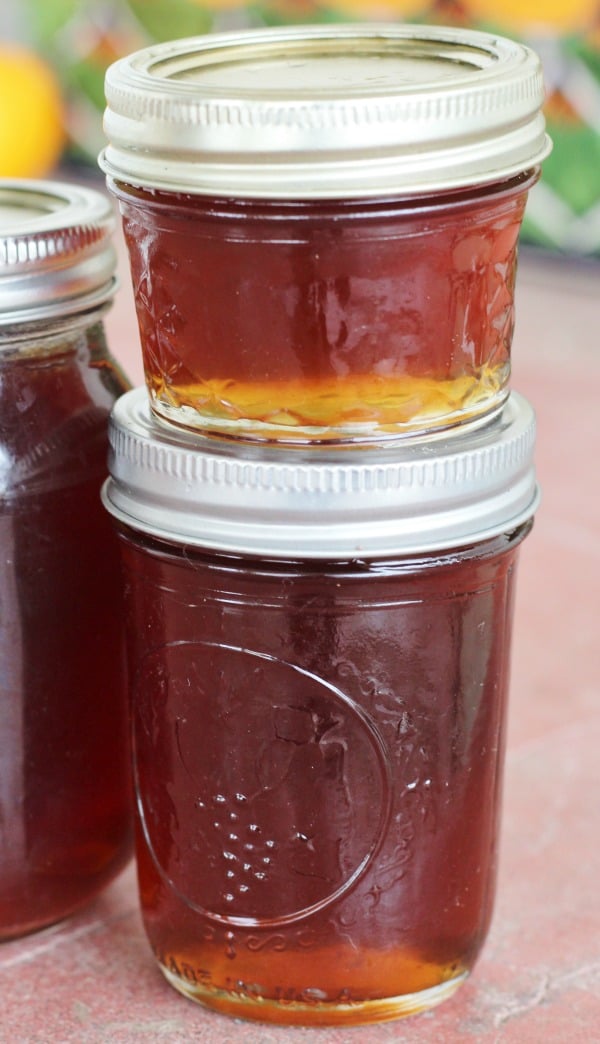 Note: Jelly needs some time to set and may not gel correctly if you move it around. Let it sit undisturbed for a couple of days if necessary.
Jelly can take from several hours to a couple of days to gel properly. If after two days your jelly still isn't set, then follow these instructions for what to do if your jelly doesn't set.
If you are going to make a lot of jam and/or jelly, then you HAVE to try this powdered pectin that you can buy in bulk from Amazon. Six tablespoons of this pectin is the equivalent to one box of Suregel pectin. This is the ONLY way to buy pectin inexpensively if you are going to buy a lot of it (like I do!).
Hoosier Hill Fruit Pectin, 2 lb bag
Related Jelly Recipes:
Canning Rootbeer Jelly
Easy recipe for canning Rootbeer Jelly
Ingredients
4 1/4

cups

rootbeer soda

4 1/2

cups

sugar

1

pkg. or 6 tbsp.

powdered pectin

2

tbsp.

bottled lemon juice

1/4

tsp.

butter
Instructions
Combine the root beer soda and lemon juice in a

large stock pot

. Sprinkle the

powdered pectin

on top of the juice mixture and use a whisk to mix it together. Stirring constantly, heat until boiling. Boil for one minute.

Add the butter and return to a boil. Add the sugar to the pot all at one time (measure it and have it ready ahead of time). Stir until sugar is dissolved. Return to a boil and boil for one minute.

Remove the pan from the heat. Remove any foam with a metal spoon. Ladle the jelly into hot sterilized

canning jars

, leaving 1/4 inch head space, and process in

boiling water canner

for 10 minutes.

Remove jars from canner and set the jars on the counter on a kitchen towel to cool.
Prepworks by Progressive Canning Funnel for Regular and Wide Mouth Jars

Granite Ware Covered Preserving Canner with Rack, 12-Quart

Did You Try this Recipe?
Tag @creativehomemaking on Instagram and hashtag it #creativehomemaking
Follow my canning and preserving board on Pinterest.