These turkey pretzel bites are a fun treat to make for kids for Thanksgiving or any holiday meal or celebration. They are really easy and only take a couple ingredients and a few minutes to make.
This post may contain affiliate links.
Turkey Pretzel Bites Recipe
Ingredients:
Pretzel twists
Milk Duds or Rolos
Reese's Pieces
Candy corn
Candy eyes
Preheat oven to 300 degrees. Line baking sheets with parchment paper or baking mats. Place pretzel twists on parchment paper salted side down. Make sure all pretzels are facing same direction to make decorating easier.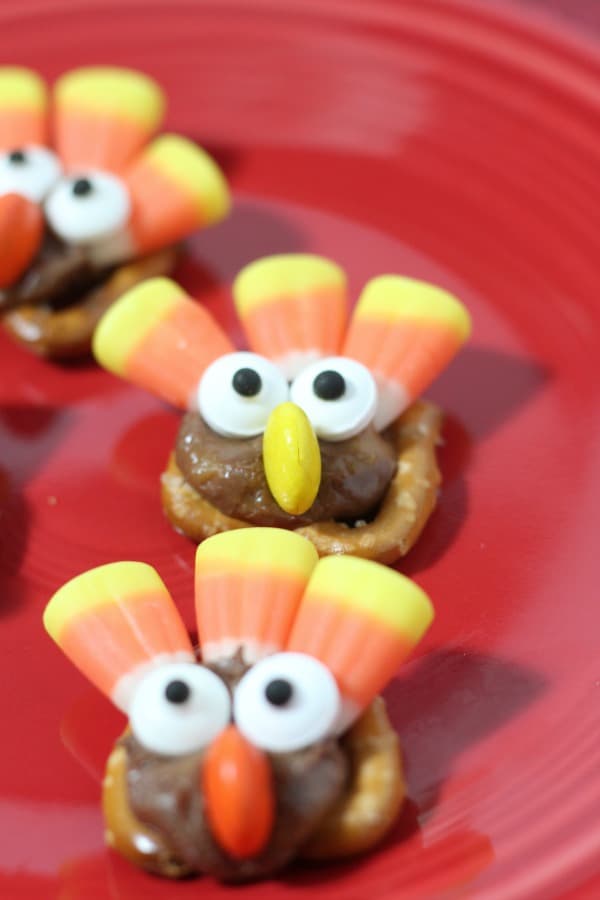 Directions
The front of the turkey is the side of the pretzel that has the two rounded ends. Place a Rolo or Milk Dud in the center of each pretzel. Either will work, it just takes a little longer for Milk Duds to soften in the oven.
Place baking sheet in the oven. Bake pretzels with Rolos for 1 minute or pretzels with Milk Duds for 3 minutes. Remove from oven.
Related Article: Can You Cook a Turkey Partially Frozen? Find Out the Surprising Answer!
Now it's time to decorate the turkeys. To each softened Rolo or Milk Dud, add two candy eyes for eyes and a Reese's Pieces (turned lengthwise) for the nose. Place three candy corns along the back for the tail.
Let sit for a few minutes to harden. Placing them in the refrigerator will help them harden faster. Store in an airtight container.
That's it! Have fun, and enjoy. Happy Thanksgiving!
Like this recipe? Try my cheeseball turkey appetizer.
Related Articles
Follow my Fall and Thanksgiving board on Pinterest.