Please make the children's table festive at Thanksgiving! It's so much fun for everyone.
This post may contain affiliate links.
I watched a little munchkin's face fall last Thanksgiving when she realized she was relegated to the "children's table." I do set a separate table sometimes for the kids, but I do it like a special treat, not as a punishment for not being an adult.
Here are some festive Thanksgiving drink recipes for the kids at your holiday get-together. Choose festive ware and garnish.
Any drink with whipped cream, you can put sprinkles atop, candied fruit, cinnamon candies, Thanksgiving "picks," drizzle with (non-alcoholic) crème de menthe for color, shaved colored chocolate, or add a candy kiss.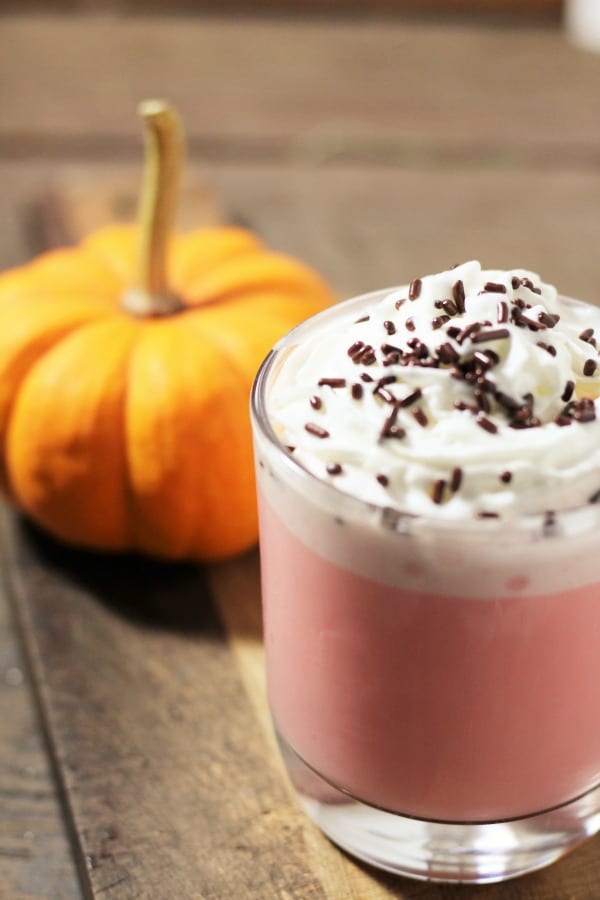 Tie an orange bow with a sprig of fall leaves on the punch ladle; surround the base with leaves and greenery and miniature pumpkins, squashes, or toy Thanksgiving "ornaments" from the Dollar store. There's lots to choose from!
If it's hot, stick in a cinnamon stick or butterscotch candy. Dollop with whipped cream and garnish with sprinkles, cinnamon candies, or confectioner's sugar; add a holiday "pick"; stick a sparkler in each mug and light at presentation time.
Related Article: Can You Cook a Turkey Partially Frozen? Find Out the Surprising Answer!
If it's cold, use decorated ice cubes – freeze cranberries, tiny ornaments, mint leaves, anything festive and NON-POISONOUS into the cubes and add at presentation time.
(Remember at Christmas time that holly berries and all parts of the mistletoe are poisonous); or freeze the same things in an ice mold.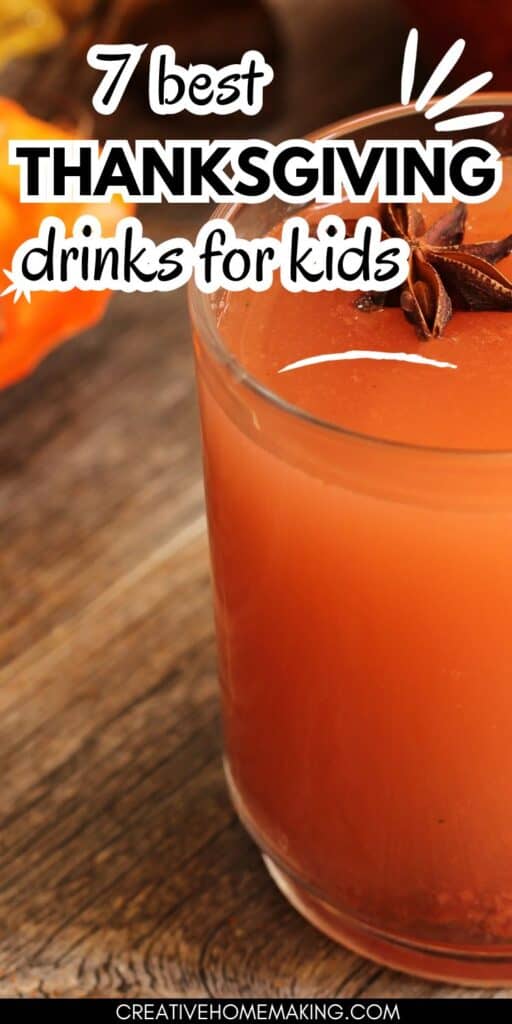 You can have great fun with floating ice rings for punch for the kids – put in ornaments, cherries, greenery, anything you can make hygienic-enough and that edible!
Whatever you serve, serve it with festive flare, and give it a holiday name!
Related Article: How to Cook a Turkey in a Roaster: A Beginner's Guide
Thanksgiving Drinks for Kids
Nana's Nog
3 cups milk
1 cup half 'n' half
3 T. sugar
Put in blender with ice and frappe. Consider orange food coloring and chocolate candy sprinkles to keep with the color scheme. Serves 4.
Pumpkin's Progress for Pilgrims
1 can of pumpkin puree
12 oz. can of frozen apple juice concentrate
Ground nutmeg and cinnamon to taste
2 1/2 cups of water
Remove the pumpkin from the can and freeze for an hour, till slushy. In a blender, combine the partially frozen pumpkin, the frozen apple juice concentrate, and spices and blend till smooth. Continue to blend while adding the water.
Harvest Cider Punch
1 gallon apple cider
12 whole cloves
2 large apples (Granny Smith, Rome Beauty), peeled, left whole
2 cinnamon sticks
Ground nutmeg
Pour apple cider into large pot. Insert 6 cloves into each apple. Add apples and cinnamon sticks to pot. Bring to boil.
Reduce heat; cover and barely simmer over very low heat 1 hour to allow flavors to blend. (Can be prepared 1 day ahead.
Cover and refrigerate. Rewarm over low heat before continuing.) Ladle hot cider punch into mugs. Sprinkle with nutmeg and serve.
Source, Bon Appétit, December 1995
Spicy Cranberry Punch
1/2 cup red cinnamon candies
4 C. water
8 C. cranberry juice cocktail, chilled
6 oz. can frozen limeade concentrate
6 oz. can frozen orange juice concentrate
In small pan, melt candies in water; chill. At serving time, combine candy liquid and fruit juices in punch bowl. Stir to dissolve. Makes 18, 5-oz. cups.
Children's Orange Thanksgiving "Champagne"
Combine 2 well-chilled 750-ml. bottles non-alcoholic sparkling cider with 1 cup orange juice or to taste.
Turkey Toe-Warmer
1 qt. vanilla ice cream
3 sticks margarine
1 box brown sugar
nutmeg, cinnamon, allspice
Combine and keep in freezer. At serving time, put 1 heaping T. scoop into a mug, add hot water (to taste) and heat.
Pumpkin Orange Punch
4 cups water
3 cups sugar
2 small packages of orange Jello
l large can pineapple juice
1 bottle of almond extract Serves 25-30.
Reprinted with permission.
Like these recipes? You might also like this crock pot spiced pumpkin latte recipe.
Related Articles
Follow my Fall and Thanksgiving board on Pinterest.