I'm always looking for fun Halloween dinner ideas to make for my kids for Halloween. These mummy hot dogs are always a big hit. This year I decided to try something different and ran across these Halloween stuffed peppers. They are super easy to make and taste great too.
This post may contain affiliate links.
To make these Halloween stuffed peppers you will need an orange bell pepper for each person. The Mexican style stuffed peppers that I made served about 6 people.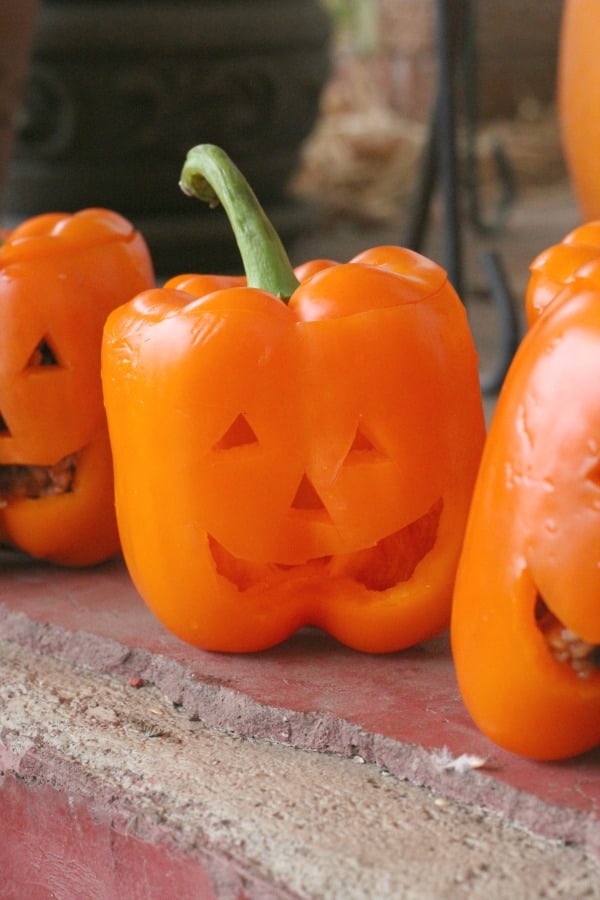 Mexican Stuffed Peppers
To make Mexican stuffed peppers you can just use shredded chicken and Mexican style rice left over from another dinner. I didn't have any leftovers, so this is how I made mine. This recipes serves about 6 people.
Ingredients:
6 orange bell peppers
3 chicken breasts
1 can black beans, drained
Grated cheese (optional)
Sour cream (optional)
Cook the rice according to the directions on the box, and fry or boil chicken and shred it. Drain the can of beans.
To prepare the bell peppers, wash them and cut off of the tops. Use a spoon to gently scoop out the insides of the bell pepper.
Use a small sharp knife to cut a face into the front of the bell pepper. I didn't bother with drawing a face on it first, I just cut triangles for the eyes and nose and then cut out a mouth shape. Repeat with the other bell peppers.
Related Article: 8 Spooktacularly Easy Halloween Recipes
Preheat oven to 350 degrees. Mix the cooked rice, shredded chicken, and drained black beans together. Spoon the rice mixture into the bell peppers, filling them to the top. Sprinkle some grated cheese on top.
Place the lids back on the peppers and place them on a cookie sheet. Bake filled peppers for 30 minutes, until the pepper are soft.
Remove from oven and serve with sour cream.
Spaghetti Stuffed Peppers
To make spaghetti stuffed peppers, make your favorite spaghetti and fill the peppers with the spaghetti before baking.
When I am in a hurry, I use store-bought spaghetti sauce and just mix it with a pound of cooked hamburger and cooked spaghetti noodles.
If you are interested, here is my recipe for canning homemade spaghetti sauce. I also have a great recipe for spaghetti seasoning mix if you want to save some money and flavor your own sauce with a homemade mix.
Related Article: Spooky and Fun Monster Door Ideas for Halloween
Vegetarian Stuffed Peppers
If you want to make these peppers vegetarian style, no problem!
To make vegetarian style stuffed peppers, cook 1 cup quinoa in 3 cups vegetable stock. Bring to a boil, and simmer until the liquid is absorbed, about 20 minutes.
Chop up one small onion, one garlic clove, and a cup of baby spinach. Add to the quinoa during the last 10 minutes of cooking.
Fill the carved peppers with the quinoa and bake as directed above.
Like this recipe? You might also like my spider deviled eggs and my Halloween spider cookies.
Related Articles
Follow my easy dinners and Halloween recipes and crafts boards on Pinterest.