I saw a photo of a pumpkin painted to look like a big candy corn on Pinterest a couple of years ago and really wanted to give this cute candy corn painted pumpkin a try. I even bought the paint but never got around to doing it.
This post may contain affiliate links.
Last year I decided to try it for myself and was really excited with how it turned out. Painting pumpkins is a great, easy way to decorate them and they will last a lot longer than if you carve them.
This project only takes about 30 minutes to complete, depending on how long it takes for the paint to dry.
Related Article: How to Tell When a Pumpkin is Ripe: Quick and Easy Guide
Supplies Needed:
Tall pumpkin
Yellow spray paint
White spray paint
Masking tape
Newspaper
Choose a day that is not windy or raining so you can paint outside. Set out some newspaper and place your clean pumpkin on the newspaper. I had quite a bit of dirt to wipe off of mine.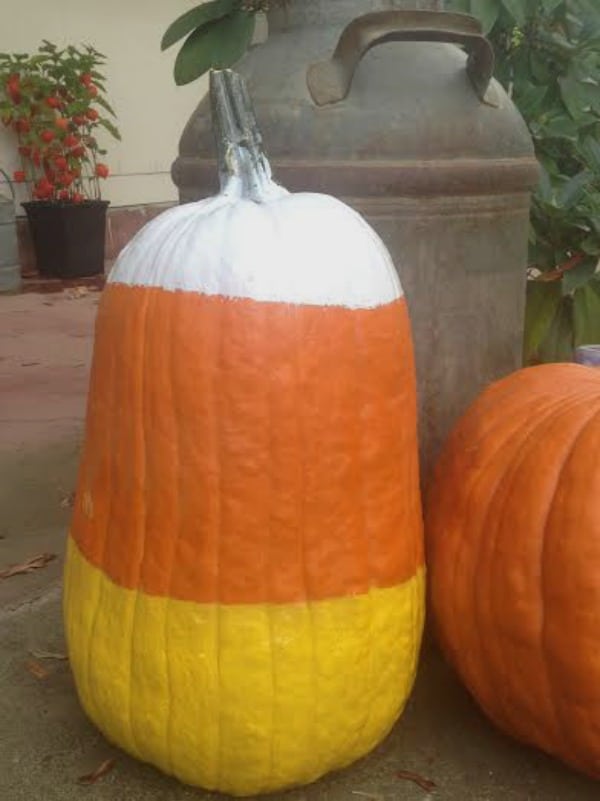 Use the masking tape to mark where you want the lines for your candy corn. Place one piece of tape marking the top third of the pumpkin, and another piece marking the bottom third.
Wrap the tape around the entire pumpkin. I didn't measure anything. I just placed the tape where it looked good. It doesn't have to be straight.
Related Article: 7 Creative Fall Decor Ideas for Transforming Your Home into a Cozy Haven
The important thing about putting on the masking tape is to keep in mind that you need to press down the tape as close to the pumpkin as you can get so that paint doesn't drip down under the tape. Press it down really well.
Shake up the spray paint really well and paint the top third of the pumpkin white. Paint the bottom third of the pumpkin yellow. Let the first coat dry and then apply a second coat if necessary.
Let the paint dry and then remove the masking tape. You should be able to wipe any excess paint off with a damp towel, it just takes a little bit of rubbing.
Related Article: Spooky and Fun Monster Door Ideas for Halloween
That's it! Enjoy your candy corn pumpkin this Halloween.
Like this idea? Try my candy corn punch to serve at fall or Halloween parties.
Follow my fall or Halloween boards on Pinterest.
Related Articles