This candy corn punch is really pretty and easy to make. It is the perfect drink to serve at fall, Thanksgiving, or Halloween parties.
This post may contain affiliate links.
Candy Corn Punch Recipe
Ingredients:
Orange soda
Whipped cream in a can
Pineapple chunks
Candy corn for garnish
You need to start preparing this recipe several hours or the day before you want to serve it.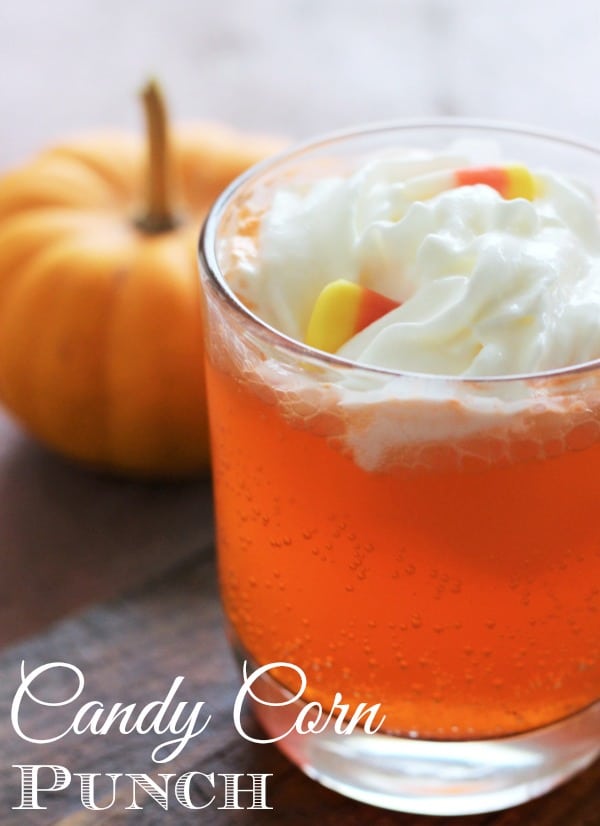 The pineapple chunks are what give the punch a yellow tint. Get out an empty ice cube tray and place a pineapple chunk into each empty cube. Fill up the remainder of the tray with pineapple juice from the can of pineapple, or you can also use orange juice.
You can prepare the punch when the pineapple cubes are completely frozen.
Related Article: 8 Spooktacularly Easy Halloween Recipes
It's best to serve this punch in individual glasses. Fill each glass with orange soda. Place a frozen pineapple cube or two in each glass. Spray some whipped cream on top, and garnish with candy corns.
Note: The whipped cream will start to dissolve into the soda pretty quickly, so don't prepare these until right before you are going to serve them.
These are a fun treat for kids and my boys really enjoyed them. I like that it is not only good for Halloween but can be served for Thanksgiving too.
Like this recipe? You might also like my Pumpkin Patch Dirt Cups.
Related Articles
Follow my Thanksgiving/Fall or Halloween boards on Pinterest.