When I was a kid my mother would often take myself and my older brother to see Santa in his Christmas Grotto, which was created, setup and run by one of the big apartment stores in our home city. It was quite popular with other young kids and families.
This post may contain affiliate links.
Cutting forward to today, my brother now has his own family with kids ranging from 2 to 12 years old, and last year he decided to recreate a similar experience in his own home to share with his own family.
Here's how you can create your own DIY Santa's Grotto for your friends and family.
Setting Up a Santa's Grotto
Think about rooms in your house that you could potentially re-purpose for a few days during the Christmas season without causing too much disruption.
Great potential contenders for Grotto-like rooms include: attics, basements, wine cellars, spare bedrooms, garages that are connected internally, gazebos or even tool sheds.
The idea here is to be inventive, because houses weren't built with grottos in mind!
You also ideally want to choose a room that has a limited number of windows, or where the windows in the room can easily be blacked out with blackout blinds or temporary blackout blinds.
Remember that a grotto typically means small cave, so the room needs setting up to be dark and free of natural light in order to create a nice warm, cozy atmosphere.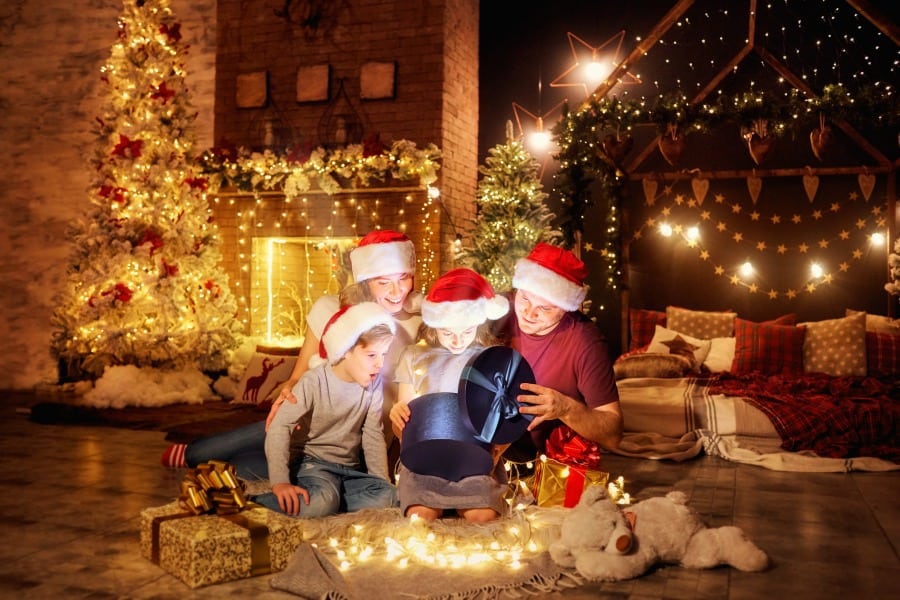 Materials for Your DIY Santa's Grotto
If you're not going to use blackout curtains,you're going to want black out window film for blacking out the windows.
You will also need black duct or electrical tape for a variety of sticking related tasks, including hanging and arranging lights and decorations.
You can find more appropriate means of hanging and fixing certain items, however, tape is relatively easy to use and won't destroy anything in the process.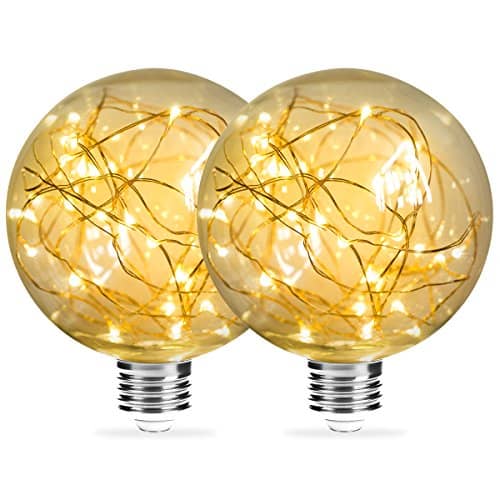 DORESshop Globe Decorative Bulb Fairy Christmas Lights, 25W Equivalent, E26 Base Edison with Starry Filament String Lights for Celebration, Party, Front Porch Light for Christmas, 2 pack (Warm White)

Homemade Santa's Grotto Drapes & Fabrics
To help create that mysterious cavernous, den-like experience you will need to purchase some fabric that can be hung from the ceiling to obscure different areas of the room.
Plenty of sellers provide shimmery fabrics or semi-transparent drape fabric that would look equally great hanging in a room.
Old bed sheets can be used for covering up and masking the familiarity of the room.
Use them to cover bookcases, desks and other bulky items that you can't easily remove from view.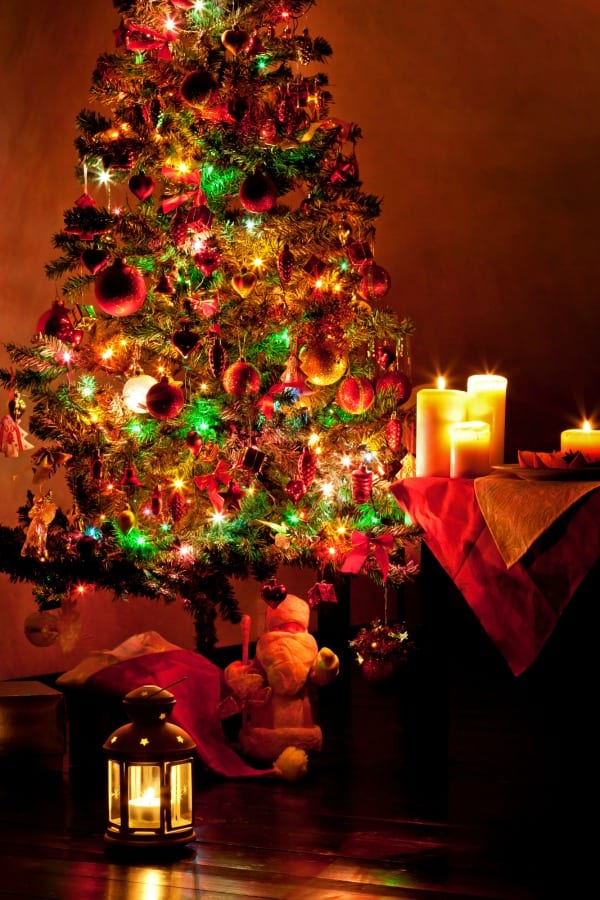 Decorations for Santa's Grotto
You might like to include a variety of traditional Christmas decorations that can be positioned around the room including, decorated plastic trees, baubles, glittery stars and angels, etc.
Decorations that can be run, hung or tapered along walls, ceilings, doorways or drapes such as colorful beads, crystal chain garlands, and tinsel worked really well.
Ambience & Lighting
In most circumstances I recommend you use a combination of Christmas lights, fairy lights, and candles, which all can potentially play and bounce off nicely with other sparkly and reflective decorations.
These cute star-shaped fairy lights can easily be hung in your window.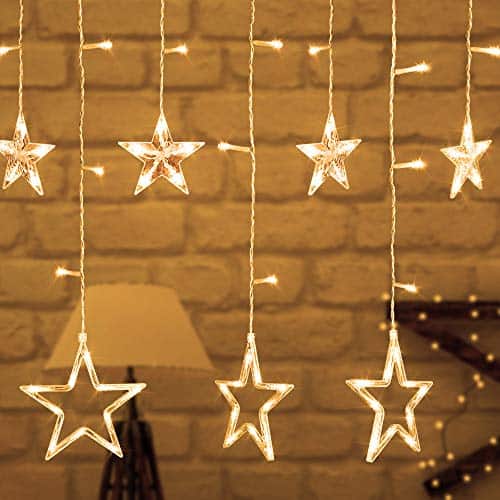 KOMAKE Curtain String Lights, 8.2ft 12 Stars 138 LED Window Curtain Lights Fairy Star Lights with 8 Flashing Modes Indoor Outdoor String Lights for Christmas Wedding Party Home Garden, Warm White

Stores will also sell their own festively illuminated decorations from blossom trees to neon reindeers.
The idea is to be using these other lights to create a bright, sparkly and colorful ambience and not have to use the main room lights switched on.
Our favorite Santa's Grotto decorating tip: These curtain string lights are magically looking and would be super easy and inexpensive to hang in your window.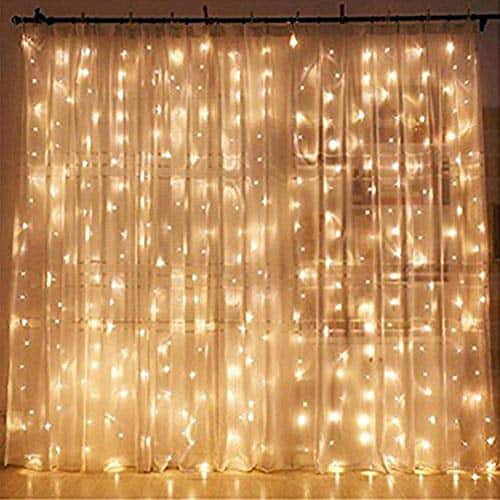 Twinkle Star 300 LED Window Curtain String Light Wedding Party Home Garden Bedroom Outdoor Indoor Wall Decorations, Warm White

This inexpensive Christmas light projector will project snowflakes onto your wall.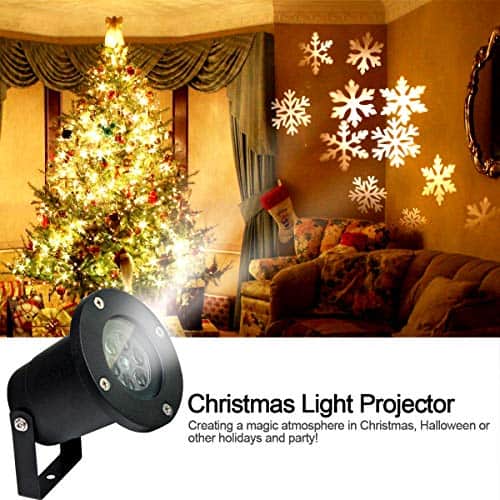 Christmas Lights, White Moving Snowflake Light Projector Holiday Outdoor Decorations Waterproof for Landscape Garden Halloween Thanksgiving Christmas Party

Safety Matters
When constructing your Grotto think with safety in mind so everyone can have a fun, safe and enjoyable time.
If the space you're using is limited in terms of movement, then candles may not be the most appropriate, if you do use them, ensure they're secure and that somebody is in attendance.
Likewise if you're temporarily converting a tool shed or garage for your home Grotto experience, make sure you've sufficiently cleared or stored away any dangerous tools or equipment that especially young children might hurt themselves on.
These are some of our best Santa's grotto ideas. Good luck with creating your Grotto, the rest is up to you!
This article was written by David Beastall on behalf of: www.ChristmasTreesAndLights.co.uk
Like these tips? You might also like these easy DIY cinnamon stick reindeer ornaments.
Related Articles
Follow my Christmas Recipes & Crafts board on Pinterest.