I am pretty new to making cheeseballs, but I was really surprised at how easy they are to make! Last year I made this cheeseball turkey for Thanksgiving, and it was adorable. This year I decided to try making a pinecone cheeseball.
This post may contain affiliate links.
Cheeseballs are really easy to make, but they do to take two days to make them. You mix together the ingredients the first day (just takes 10 minutes or so), then you place the cheese mixture in the refrigerator to firm up before putting the finishing touches on your cheeseball.
You can use any cheeseball recipe to make these pinecone cheeseballs, the pinecone part is just in the finishing touches. Here is my favorite go-to cheeseball recipe that my family loves.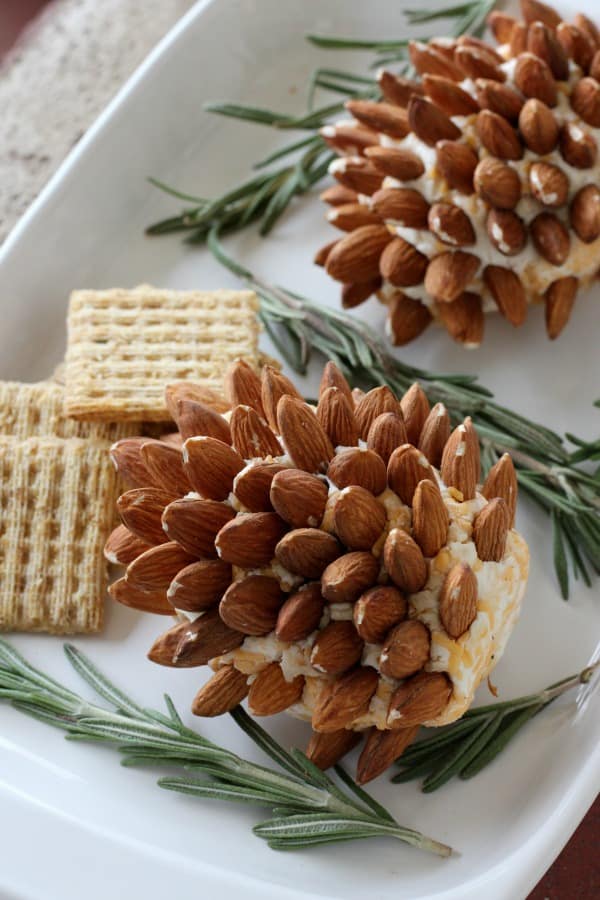 Ingredients:
1 8-oz. package cream cheese, softened
1 c. grated cheddar cheese
2 tsp. garlic powder
1 tbsp. Worcestershire sauce
2 c. whole almonds
Directions:
In a medium sized mixing bowl, mix together the softened cream cheese, grated cheddar cheese, Worcestershire sauce, and garlic powder. Taste the mixture to see if it needs more garlic or Worcestershire sauce.
The cream cheese will still be a little chunky. The best way to make a cheeseball is to wash your hands and get your hands in there to mix all the ingredients together, kneading it with your hands until well mixed.
Divide the cheese mixture into two portions. Form each portion into a rough ball and wrap with plastic wrap. Place the cheese balls in the refrigerator until the next day.
The next day, remove the cheese mixture from the plastic wrap and use your hands to smooth the edges of the cheese mixture until it is roughly the shape of a pinecone. You should now have two "pinecones".
Normally at this point you would roll the cheeseball in ground pecans (I love using this nut grinder for grinding my nuts for cheeseballs).
For this recipe instead of rolling in ground nuts you are going to press whole almonds into the cheese mixture until your cheese mixture starts to look like a pinecone (see photos). Make sure your almond pine needles are all facing the same direction.
That's it! You can serve your pinecone cheeseballs right away or cover them with plastic wrap and place them in the refrigerator. They will last in the refrigerator for about a week. Need extra pinecone cheeseballs? Just double the recipe!
Serve with crackers. Enjoy!
Related Articles
Follow my Christmas recipes and crafts board on Pinterest.