I'm always looking for new easy crock pot dinner ideas to try, and these easy crock pot chicken and dumplings didn't disappoint. I'm not a big fan of frozen peas myself, but my family likes them so I decided to give this recipe a try. It's really easy to make, just throw everything in the crock pot and then add the biscuits and peas in for the last hour. A great easy-to-prepare meal for weekends or any time, and kid friendly too!!
This post may contain affiliate links.
Crock Pot Chicken and Dumplings
Ingredients:
5-6 chicken thighs
Salt and pepper to taste
1/2 tsp. dried thyme
1/4 tsp. dried rosemary
1/2 tsp. garlic powder
2 c. chicken broth*
1 carrot, peeled and sliced
1 onion, chopped
1/2 c. frozen peas
1 can cream of chicken soup
1 can refrigerated biscuit dough
Note: There are a number of ways you can make chicken broth. You can purchase it already made and ready to pour in, you can use a chicken bouillon powder or cubes to make your own, or if you want to make your own fresh chicken broth and can it with a pressure canner, here are the complete step by step instructions for canning chicken broth.
You can use any type of chicken you'd like for this recipe, you could even use cut up chicken leftovers or leftover rotisserie chicken to prepare this meal (if you do use chicken that's already cooked you will want to cut down the cooking time). This recipe calls for chicken thighs but I used chicken legs instead. I buy a large package of chicken legs when they're on sale and freeze the extra.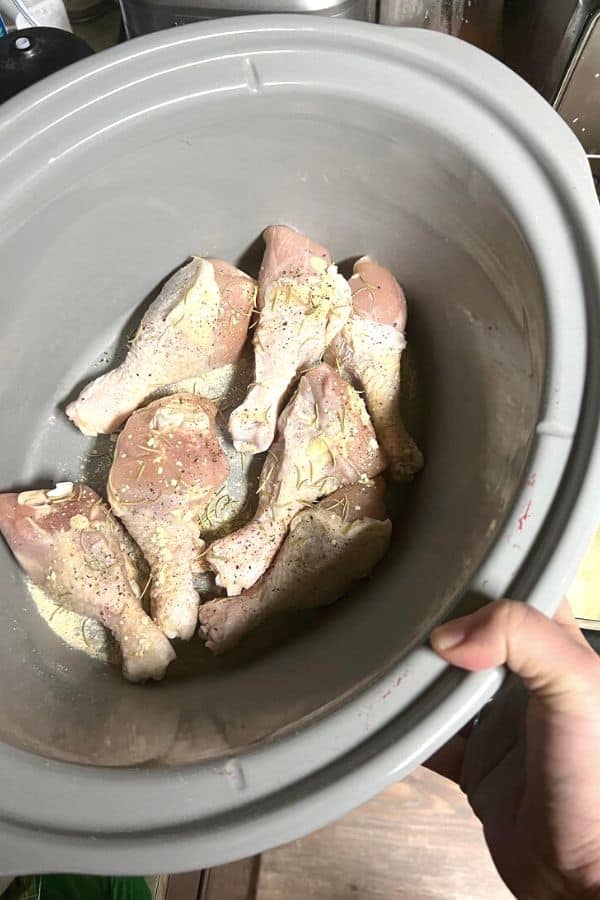 Sprinkle the chicken thighs or legs with salt and pepper, dried rosemary, thyme, and garlic powder, and arrange them in the bottom of your crock pot.
Quick Dinner Idea for Picky Eaters
In a small bowl, stir together the chicken broth, cream of chicken soup, chopped carrots and onions. Pour the soup mixture over the chicken. Cover the crock pot and cook on high for 3-4 hours, or until chicken falls easily from the bones.
Gently stir in frozen peas. Open the can of biscuit dough and cut each biscuit into fourths (if you're using large biscuits) or halves (if you're using smaller biscuits). Roll each section into a small ball with your hands and arrange them on top of the chicken mixture.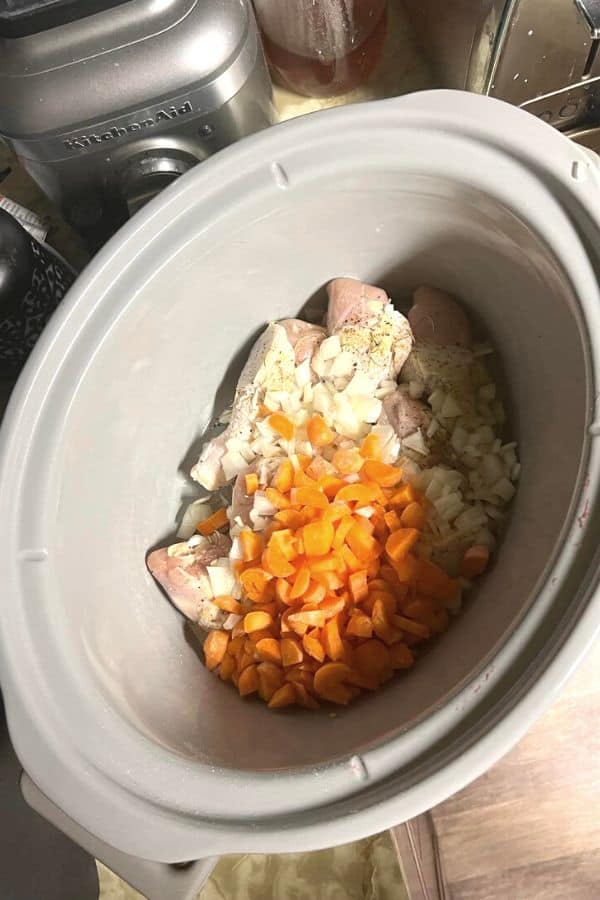 Cover the crock pot and cook for an additional 1-2 hours, until the biscuits are cooked through. They won't be brown and flaky like they would when cooked in the oven, they will have more of a boiled consistency, but they will be cooked through and still be light and fluffy in the inside. Try not to remove the lid until you think they are done, or they may not finish cooking completely…it's the steam trapped in the crock pot that cooks them.
That's it! My family loved this recipe, and I will definitely be making it again. If you liked this recipe you might also like these recipes for white chicken enchiladas or freezer chicken enchiladas. It's another one of my family favorite weeknight meals!
Serves 3-4. This recipe can easily be doubled!
Follow my quick dinner ideas board on Pinterest.