I was really excited when I first saw a recipe for crock pot oatmeal on Pinterest. I mean who doesn't like a crock pot recipe. And it cooks while you are sleeping and is ready for you to eat when you get up for breakfast! It doesn't get much better than that.
This post may contain affiliate links.
I searched the Internet for different crock pot oatmeal recipes and noticed that some of them use steel cut oats and some use old-fashioned oatmeal.
Either work great but there might be a little change in the consistency. You definitely don't want to use quick cooking oats, they will cook too fast.
I recently started stocking up on some pantry basics and purchased my first 25 lb bag of old-fashioned oatmeal! I think it worked out to about .50 a pound. Gotta love that.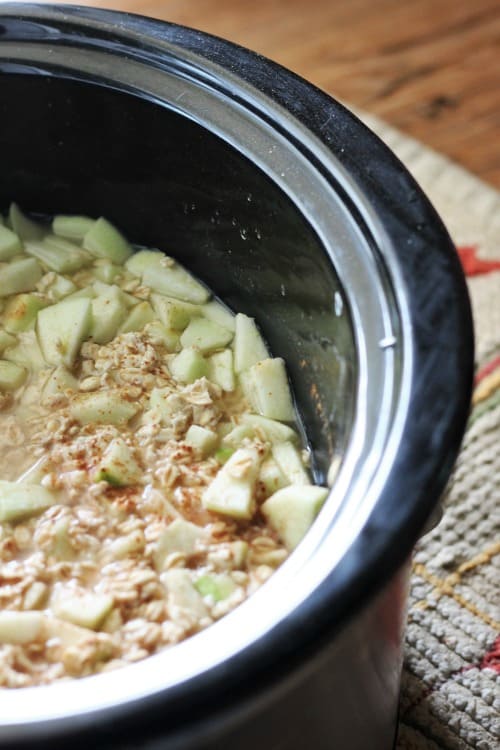 Crock Pot Oatmeal Recipe
Ingredients:
2 cups old fashioned or steel cut oats
4 apples, peeled and chopped
4 cups water
1 tablespoon cinnamon
2 tablespoons brown sugar
Pinch of salt
Place all ingredients together in crock pot. Do not stir. Cook on low for approximately 8 hours and you will have the most delicious porridge like oatmeal. It is the perfect consistency. I could seriously eat this every morning for breakfast AND it is healthy. Well, depending on how much brown sugar you put in it!
This recipe is perfect for cold winter mornings. For larger families a double recipe will fit in a standard sized crock pot. You can store any leftovers in the refrigerator to heat up later.
Related Recipes
Follow my Favorite Recipes board on Pinterest.