These fall leaf candle holders are really fun to make and display with your fall or autumn decor. I would like to say they are fast and easy to make, but that wouldn't be completely true. They do take a little bit of patience to make, but they really are easy and look beautiful when they are done.
This post may contain affiliate links.
Supplies Needed
Mason jars
Artificial fall leaves
Mod Podge
Sponge brush
Twine (optional)
Yellow, orange tissue paper (optional)
Votive candle
The hard part about this project is getting the artificial leaves to stick to the jar. When you are shopping for leaves, look for the most inexpensive ones you can find. You may be able to find some at the Dollar Store.
You want the leaves to be as flat as possible. I looked at several different kinds, and some are definitely flatter than others. Flatter ones will work better for this project.
After playing around with this project a little bit, I decided to also iron the leaves to get them as flat as possible. Just lay a thin cloth on top of them and iron them with a warm iron.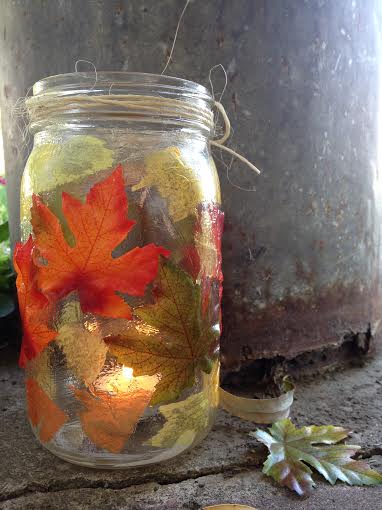 Directions
When you are ready to start gluing them on the jar, use a foam brush to place a thin layer of decoupage on the jar. Next place some decoupage on the backs of the leaves. Let the glue set up for a minute or so or until it starts to get tacky.
Next arrange the leaves on the jar, pressing them down as you go. You may have to hold them for a minute or two to help them stay stuck to the jar.
After I ironed them and then let the glue set up for a minute before applying them I found that I didn't have much of a problem getting them to stick to the jar.
I decided to fill in the blank spots on the jar with little scraps of yellow and orange tissue paper.
I just pasted them on with a bit of the decoupage. After the glue has dried you can brush a layer of decoupage over the top of the leaves and tissue paper.
You will be able to see the decoupage on the jar in between the leaves after it dries, but I like the shiny look it gave the jars. I used a Mod Podge with a glossy finish.
I finished off the jar by tying some twine around the top of the jar. You can place a votive candle in the jar. Battery operated votives will reduce any fire hazard and keep you from having to continually replace the candles.
I love how these candle holders turned out. They make a great addition to any fall decor and would look beautiful on a Thanksgiving table.
Related Articles
Follow my Fall and Thanksgiving board on Pinterest.