DIY Reindeer Hot Cocoa Cones
This post may contain affiliate links.
Last year I was looking for an easy DIY hot cocoa craft to make to give away to friends and family during the holiday season and I ran across these super cute DIY reindeer hot chocolate cones.
These reindeer hot cocoa cones are really easy to make. You just need a few craft supplies you can easily order from Amazon and your trusty glue gun.
Supplies Needed (Per Item)
*Note: If you are going to make a lot of these hot cocoa cones to give away, you will want to buy this big box of hot chocolate packets.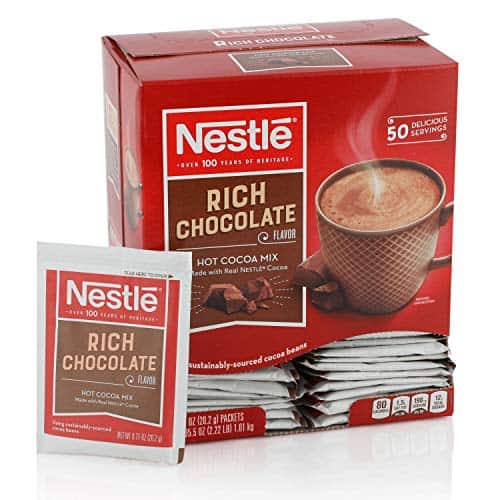 Nestle Hot Chocolate Packets, Hot Cocoa Mix, Rich Chocolate Flavor, Made with Real Cocoa, 50 Count (0.71 Oz each), 35.5 Oz

These reindeer hot chocolate cones are very easy to assemble, but there's a trick you need to know before putting them together.
Assembly Directions
When you pour the hot chocolate mix into the piping bags, the hot chocolate mix may stick to the sides of the bag. To avoid this problem, make a little funnel with a piece of waxed paper and place it in the top of the piping bag. Then pour the contents of the hot chocolate packet through the funnel and into the piping bag.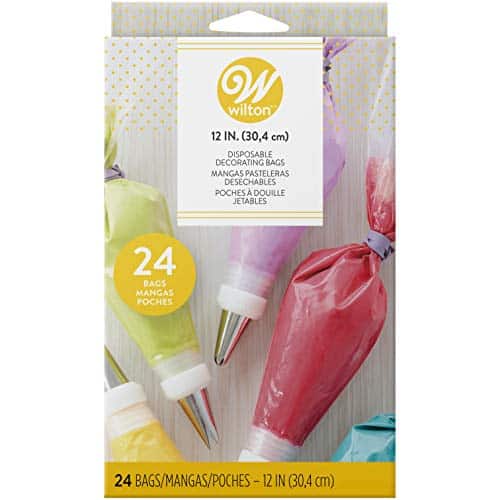 Wilton 12-Inch Disposable Decorating Bags for Piping and Decorating with Assorted Icings, Flexible and Microwave-Safe, Bags Only (24-Count)

After you pour the hot chocolate in the piping bag, place 2 tablespoons of mini chocolate chips in the bag on top of the hot chocolate, gently patting them down.
Place 1/3 cup of mini marshmallows on top of the mini chocolate chips.
Gently twist the top of the piping bag right above the mini marshmallows. Fold one of the brown pipe cleaners in half and twist around the hot cocoa cones. Bend the pipe cleaner to look like reindeer antlers.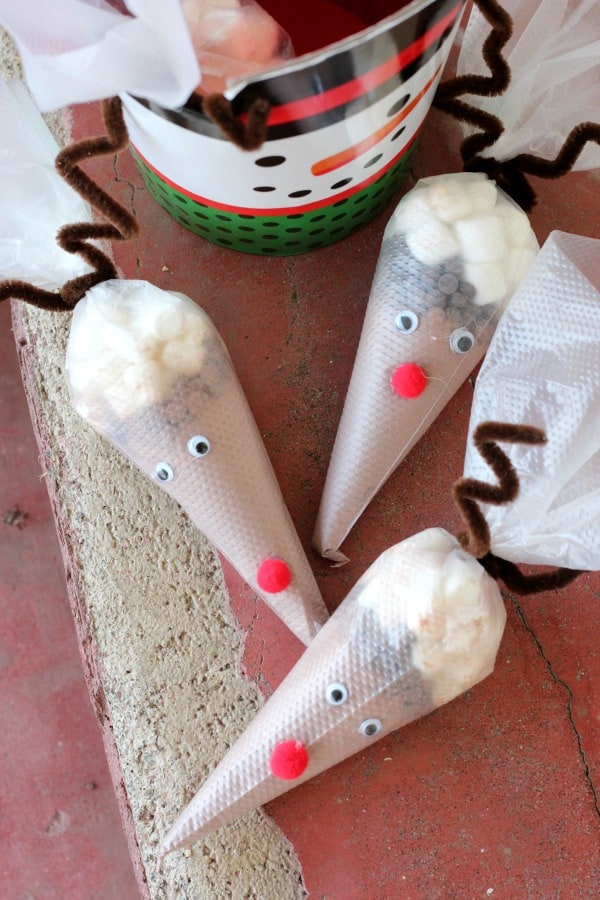 The last step is to use the hot glue gun to glue on the wiggle eyes and the red pom pom for the nose. See photos for approximate placement.
I like to make each reindeer a little different just to give them more variety. Just use a little dot of hot glue, or you may melt the piping bag and create a small hole in the bag.
That's it! These easy DIY reindeer hot cocoa cones also make a fun party favor for holiday parties. Make extra for when you need a quick gift for a neighbor or co-worker.
Follow my Christmas recipes and crafts board on Pinterest.
Related Articles