Until recent times, those who loved roses and didn't own a home of their own often had to settle for books with pictures of roses in them. If they wanted to be around roses to experience the fragrance or the beauty of the blooms in person, they were limited to visiting friends, relatives or nearby botanical gardens where blooming roses might be found. Luckily for those who love the live blooms, miniature roses have gained in popularity in the last several years.
This post may contain affiliate links.
Roses that are classified as "Old Garden Roses" (from Europe or the Mediterranean with shrubs that only bloom once and have flowers that come in mostly white, pink and red) had, along with their regular-sized stock, a dwarf or miniature version.
Related Article: How to Deadhead Roses: A Friendly Guide for Beginners
Unlike the larger version, the miniatures were crossed with species that were repeat-blooming bushes from Asia to create the ever blooming miniature roses we're familiar with now.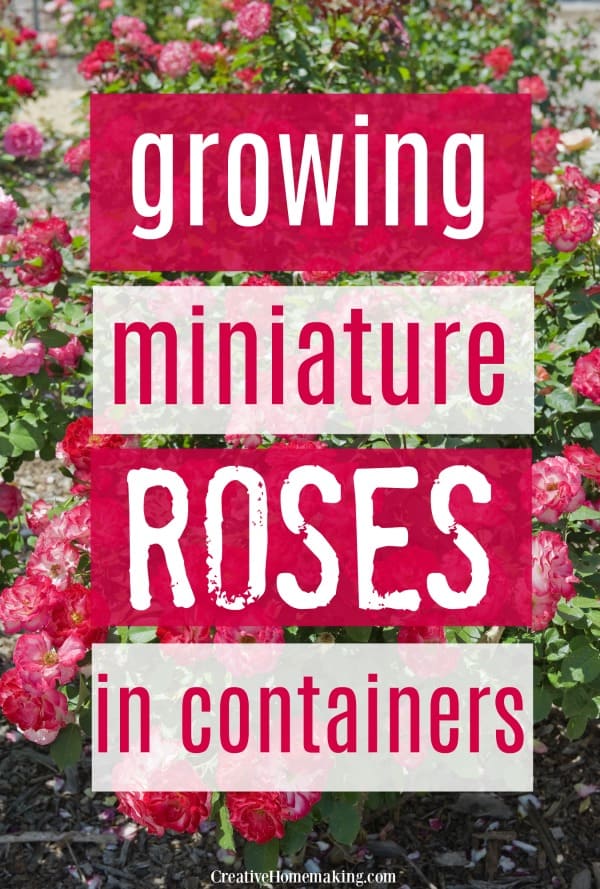 Today, miniature rose varieties come in the form of a small bush that is twiggy, repeat-flowering and the shrubs range in height from six inches to 36 inches in height. Most miniature shrubs come in a size that averages between 12 inches to 24 inches.
The blooms on miniature roses come in the same colours as hybrid tea roses. Many versions also emulate the shape of the flower that is high-cantered like what is thought of as the "classic" hybrid tea rose.
The floral industry quite often markets and sells miniature rose bushes as houseplants, but it is essential to keep in mind that these plants are most often descended from the bigger outdoor shrubs that are native to more temperate regions.
For this reason, most varieties of miniature roses have to have an annual period of cold dormancy to survive from year to year.
Growing miniature roses is much easier than planting a bush outdoors because they simply need a small container that can be placed on the patio or indoors. Like their bigger cousins, miniature roses like water, but need to have adequate drainage to make sure the foliage and roots can dry out in between watering.
Remember to try and water your rose from underneath, rather than spraying it on the leaves. If you have to water like this, do so when there is no direct sunlight shining on the leaves. Water that remains on the leaves in direct sunlight heats up the plant too much and can lead to sunburn of the foliage.
Like the larger roses, the miniature varieties can suffer from the same pests and diseases, so prevention from them is essential. Aphids can be even more devastating to the miniature bushes because they are smaller and can be weakened far easier than the full-sized varieties.
Caring for miniature roses is much the same as caring for a larger variety. They benefit from the use of bone meal and compost. Also similar to the larger rose varieties, the miniatures need to have around four to six hours in direct sunlight.
Written by Tega Noel. Tega is a rose gardening expert. Reprinted with permission.
Follow my gardening for beginners board on Pinterest.
Related Articles