I hate cleaning the shower in my master bathroom. I have tried many different cleaning products, and most of them contain harsh chemicals. Then I found this miracle tub and shower cleaner!
This post may contain affiliate links.
The great thing about this DIY tub and shower cleaner is that it is non-toxic, and made from only two ingredients: white vinegar and blue Dawn dishwashing liquid.
You will need to have an empty spray bottle. I like to keep a supply of empty spray bottles on hand for making a variety of household cleaners.
Ingredients:
1 1/2 cups white vinegar
1 1/2 cups Dawn dish soap
You can change the amounts of the ingredients just as long as you keep the 1:1 ratio of vinegar and dish soap.
Heat the vinegar in the microwave until it is hot. Using a funnel, pour the vinegar into the spray bottle. Pour in the Dawn dishwashing liquid.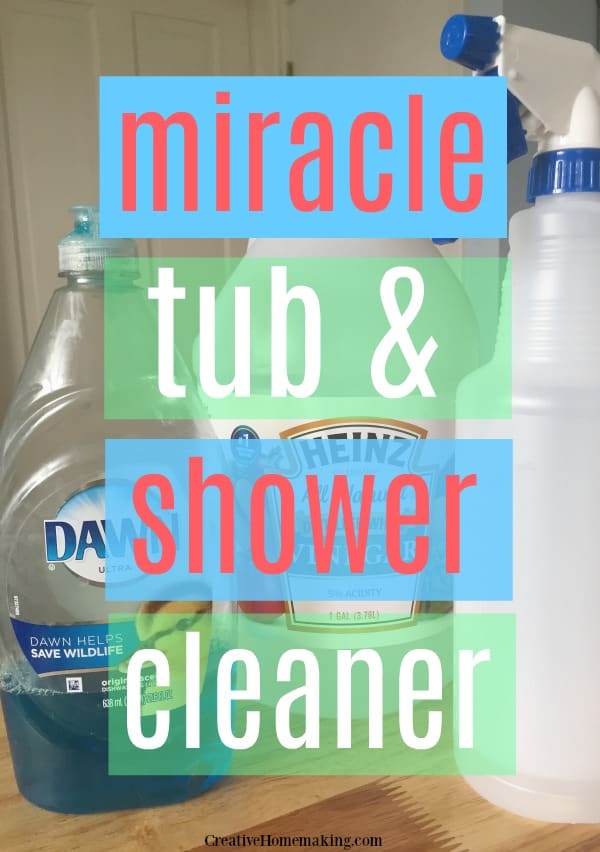 You are now ready to use your miracle bathtub and shower cleaner. One thing you want to keep in mind when you are spraying this stuff is that a little is better than a lot. If you spray too much, you are going to end up with a lot of soap to wash off.
What I found worked best was to spray the cleaner on, scrub it in a little, rinse it off, and then wipe it down with a dry towel.
Related Article: How to Clean Plastic Bathtub Stains
What really impressed me about this cleaning solution was the great job it does on faucets and on my glass shower doors. The faucets were absolutely shining. This solution does a great job of removing hard water deposits from your sink, shower, and bathtub faucets. It also does a great job of removing soap scum off of shower doors.
You definitely want to give this one a try. It is very inexpensive, non-toxic, and works great! (It smells great too.)
Follow my cleaning tips board on Pinterest.
Related Bathroom Cleaning Hacks