I love to bake, especially at this time of the year when it is getting close to the holiday season. It's fun (and easy!) to bake cookies ahead of time so that you have them when you need them during the holidays. Today I want to share with you a secret. Actually FIVE secrets to making better cookies.
This post may contain affiliate links.
Cookie Baking Secret #1
Make sure that your cookie sheets are not too thin. The heavier that your cookie sheets are, the less likely your cookies are to burn. If you can't afford heavy-duty cookie sheets, you cover thin ones with a layer of aluminum foil.
Cookie Baking Secret #2
Experiment with the temperature of your oven. If you are using an older oven, it may be hotter than what you set it for. When I used an older oven, I set my oven 25 degrees cooler than what a recipe called for.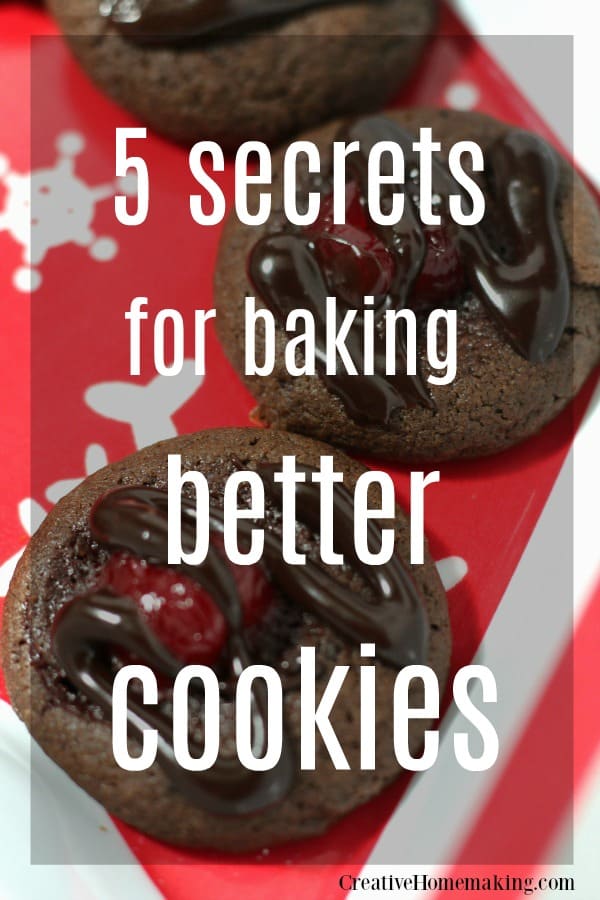 Cookie Baking Secret #3
Always place your cookie dough on cold cookie sheets (it took me years to figure this one out!). If you don't let the cookie sheets cool, your cookie dough will spread too much from the heat of the cookie sheets.
Cookie Baking Secret #4
Don't bake the cookies for too long. They should be light brown around the edges. Keep in mind that the cookies will continue to cook from the heat of the cookie sheet after you remove them from the oven.
I always let my cookies bake too long because I didn't think they were done yet. Your cookies should look a little underdone when they come out of the oven.
Cookie Baking Secret #5
Cool the cookies on the cookie sheet until you can lift them with a spatula without breaking them.
Cool the cookies completely on wire racks, if you have some, otherwise you can cool them on paper towels or waxed paper.
Want an extra secret? Always bake a test cookie before putting a whole batch in the oven. Then you can make sure you have the temperature and time right before you put in the next batch of cookies!
Like these tips? Try my recipe for Andes Mint cookies, or this recipe for Kris Kringle cookies.
Follow my Christmas Cookies board on Pinterest.