What are the best types of tulips to plant?
This post may contain affiliate links.
Many of the hybrid (grown and bred) tulips that came from Holland or from one of the Holland tulip festivals are some of the best.
You can plant beauties such as Red Emperor, Florentine, or other varieties of both single and double blooming flowers. For more specific information regarding what types you will have to check which USDA hardiness zone you live in.
A zone map will tell you how cold of a temperature the ground in your geographical area drops to during the winter. These maps are numbered by regions, and are a very useful tool. You can find this map at the United States National Arboretum website.
What kind of soil should I use?
Generally speaking you should use a loose, sandy soil in which to plant your tulips. Your tulips should be well-drained to ensure proper growth.
How much sun should my tulips get?
Most of your tulips need quite a bit of sun. However, planting in them in a lightly shaded area-but not away from the sun-will help keep the bulbs chilled during the winter.
Related Article: Care for Potted Tulips: Tips for Keeping Your Blooms Beautiful
How do I plant and take care of my tulip bulbs?
This is a broad question that can be answered in many ways. Some of the most important tips for properly caring for your bulbs include making sure you plant them deep enough (6 inches under the ground), make sure they receive enough water (one time per month before bloom, one time per week after bloom is recommended), and make sure you remove all the weeds before they reach more than an inch high.
You also may need to add mulch for extra insulation for the winter months or a fertilizer that contains Nitrogen, Potassium, and other necessary plant ingredients. Make sure you do not fertilize them after they have begun to bloom, however, because they could develop a fungus or other disease.
What tools do I use for planting my tulip bulbs?
The most commonly used tool for planting small tulip patches is the trowel, a small spade, with a blade that is approximately six inches. For larger gardens many people use a garden fork, or larger garden spade.
You can also use another device called a Dibble, which is a T-handled tool that has a sharp point at the end of it. You insert this device into the ground, and it makes an impression in which you can put your tulip. Then, you cover the planted bulb with surrounding dirt.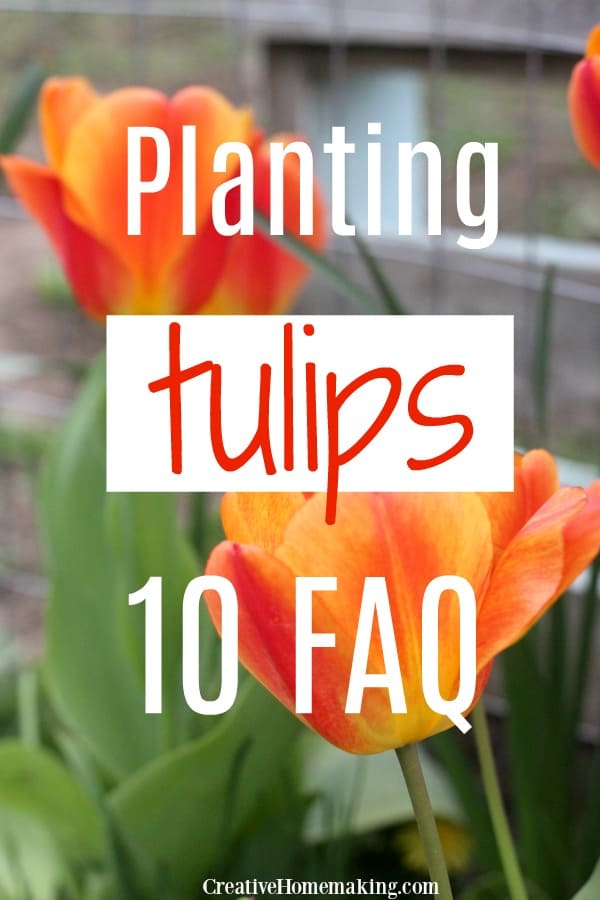 Why didn't as many tulips come up the second year as the first?
This could be due to a variety of reasons. One could be that the type you have purchased to not fare well in your climate.
It could also be that you need to add peat moss or sand to your soil. This will help the water drain from the tulips more properly.
You also may need to move your tulip bed to a more well-lit area of your yard.
How long do tulips bloom?
Some tulips bloom starting in the early spring for approximately one month. Some tulips bloom in mid to late spring, and bloom for the same period of time or shorter.
I planted bulbs. Why did they not come up?
This is the plight of people who did not know better. If your tulips did not come up the first year there is a chance that you either did not allow them to incubate for long enough.
They need to either be chilled in a refrigerator for a few months before growth in warmer climates, or they need to be planted in late fall, just after the ground reaches below 60 degrees.
When do I plant my tulips?
You plant them in what is considered fall in your area. In some hardiness zones you plant them in mid September to early October, and other areas you may not plant them until November, December, or January.
It all depends on when the ground begins to freeze. If you are experiencing an unusually warm winter in your area you can also refrigerate the bulbs for a few months. Some may only require refrigeration for about 8 weeks.
What if some of my tulips have developed a fungus?
Remove the affected plants immediately, and make sure you not fertilize them with high-nitrogen fertilizer after the blooming season. Not only that, but you may need to add protection such as mulch to your tulip patch to keep out unwanted hosts.
Like these tips? You might also like these additional tips for growing tulips.
Related Gardening Hacks
Follow my gardening board on Pinterest.