If you are new to raising baby chickens, there's a lot to learn, and most of the things you need to know you don't even know that you need to know until it happens. Having a baby chicken with a pasty butt is one of the things you have to learn very quickly the hard way when it happens to you.
This post may contain affiliate links.
What is Pasty Butt?
Pasty butt and chicken vent problems are actually very common in young chickens or baby chicks. If you have a new batch of 8-12 chickens, chances are at least one of them is going to suffer from this painful condition.
I don't know if you've ever examined the underside of one of your baby chickens before, but if you do you will see two small openings–their belly button, and their butt (also called vent).
Pasty butt is when a baby chicken's vent gets clogged and dries up, usually in a big hard mass. This keeps them from being able to go to the bathroom, and if it isn't cleared up right away, the chick will die.
Sometimes it's really noticeable and you will recognize it right away. In other baby chicks it won't be really noticeable, although it is just as dangerous for the baby chick. If you notice a baby chick running around with poop on its bottom, you definitely need to take a closer look.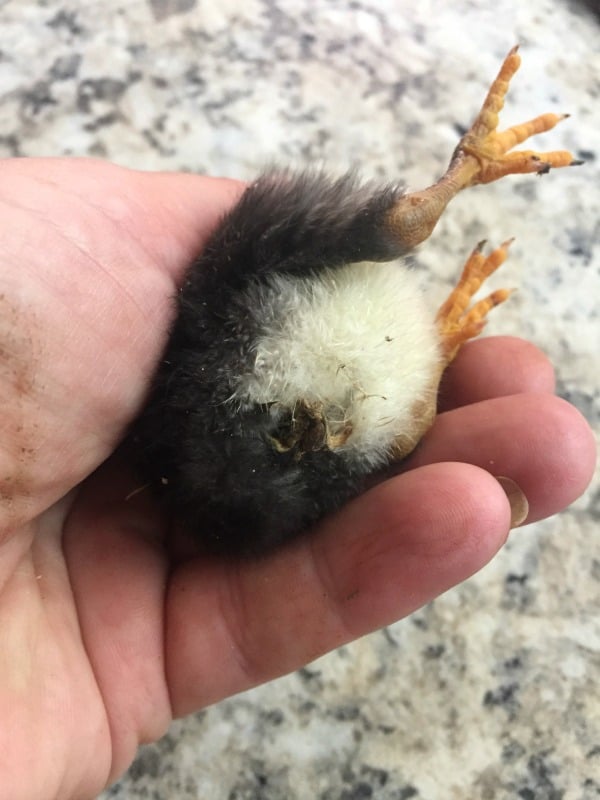 It's really important to keep an eye on baby chicks their first few weeks to make sure they are going to the bathroom the way they should. This condition does not clear up on its own and the chicken will die if not treated.
Note: Make sure that you properly identify which opening is the vent and which is the belly button. When baby chicks are born they have an umbilical cord attached to their belly buttons just like human babies. When the umbilical cord falls off and dries up, you might mistake this for pasty butt.
It's important to leave the dried umbilical cord alone until it falls off on it own, or the baby chick's bowels will fall out (this sometimes happens on its own anyway, that's a post for another day!).
Causes of Pasty Butt in Chickens
There are a number of causes of pasty butt in baby chickens, and you will likely not know for sure how it occurred.
It can occur when they get too cold, too hot, when they are stressed, or if they have an improper diet that may lead to diarrhea. Even if you do everything right they might get it anyway, so it's always good to keep a close eye on them.
How to Treat Pasty Butt in Chickens
We have been raising baby chicks for the past 3-4 years, and invariably we will have at least 1 baby chicken a year that ends up with a pasty butt. Occasionally they die if we don't catch it in time, but if you catch it right away, it is generally very treatable.
The easiest way to treat pasty butt is to hold the baby chicken and place its little rear end under lukewarm water running from the faucet to soften the poop on its butt. Generally this will do the trick, and you can use a paper towel or something to gently remove the poop.
Make sure not to pull too hard on the crusty poop or you might tear the baby chick's skin. It is very important to be patient and gentle when cleaning the chick up. Don't use any soap, the water should be just fine.
You should be able to clearly see the chicken's vent opening and closing when the poop is removed.
Use a hair dryer on a low setting to dry the chick off so it doesn't get cold.
If the chick has this problem more than one time, you can apply a little vaseline or petroleum jelly to its vent to help prevent future problems.
How to Prevent Pasty Butt in Baby Chicks
To prevent pasty butt in baby chicks keep these important things in mind:
Maintain proper temperature in your chicken brooder with a heat lamp. If you have a hen caring for the chicks you don't need to worry about this as much.
Make sure chicks are eating proper medicated chick feed
Add probiotics to chicks water
Manna Pro Medicated Chick Starter Crumbles, 5 Lb

Sav-A-Chick 9-Count Probiotic Supplement 9 (3 Packages with 3 Packets Each) 9 3 3

Simple Deluxe Clamp Lamp Light with 8.5 Inch Aluminum Reflector up to 150 Watt E26 (no Bulb Included) 6 Feet 18/2 SPT-2 Cord UL Listed

Chick Feeder and Small Cup Waterer Set

If you have purchased baby chicks at a feed store or bought them through the mail, it is important to check the chicks for pasty butt as soon as you get them home. Keep an eye on them for the next few weeks.
My boys love to hold their baby chicks in an effort to tame them, so I always remind them to take a good look at the chicks while they are holding them to make sure everything looks okay.
Having and raising baby chicks is a really fun experience, especially for kids. There is a lot to learn, and most things you won't even think of until you have to experience it for yourself. Unfortunately, sometimes baby chicks will die no matter what you do, that's just the way life is, but if you know some helpful tips like these tips for treating pasty butt it will make your life with chickens a lot easier.
Find out how to clip a chicken's wings to keep it from flying over your backyard fence.
Related Articles
Follow my homesteading for beginners board on Pinterest.