When I helped my daughter move into her first college dorm room, I wasn't prepared for how tiny her room would be! Floor space was definitely scarce, and it was obvious she would have to come up with some creative storage solutions.
This post may contain affiliate links.
Decorating a dorm room can be tricky, because obviously your roommate will want to have a say in how the room is decorated. Whether you are moving into a dorm room for the first time or you are looking to re-decorate your existing dorm room, hopefully these decorating tips will give you and your roommate some creative ideas to give your dorm room a great new look that you both will love.
LED String Lights Photo Display
These LED photo lights are too cool! It is a 6.6 ft string of lights that has paper clips on it to hang and display your favorite photos. The paper clips light up.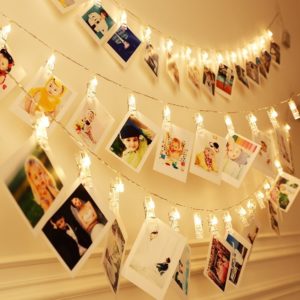 Storage Ottomans or Benches
Small storage ottomans or benches can provide seating and storage areas, and are easy to move around and fit into small spaces. They are great for storing blankets, pillows, hats, gloves, and a great place to stow away book bags or back packs.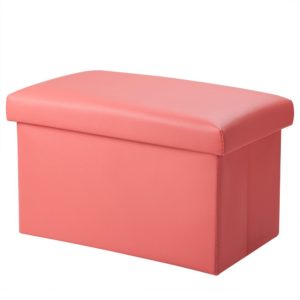 Shoe Pocket Organizer
Hang a shoe pocket organizer in a closet or on the back of a door to hold small items (cosmetics, hairbrushes, CD players, pens, pencils, socks, underwear, etc.).
Mini Refrigerator
If you are able to find out, it is a good idea to see if your future dorm mate already has a mini refrigerator so that you don't have to have two refrigerators in your room. If you are going to buy one, they are fairly inexpensive. This mini refrigerator has a dry erase board on the front of it. Pretty cool!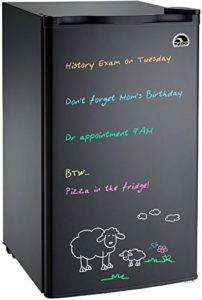 Shower Totes and Caddys
Shower totes are great for organizing stray shower supplies and personal hygiene items. Transport them easily to the bathroom when they are located all in one place. Don't forget to get a towel wrap for walking back and forth from the bathroom.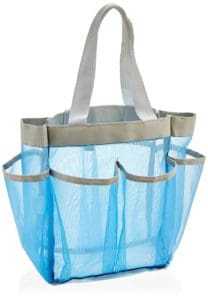 Stackable Plastic or Metal Crates
Stackable plastic or metal crates and bins can be used to store things like books and snacks.
Baskets are easy to find and can be used to store many items. Most of these can be spray painted to match your decor.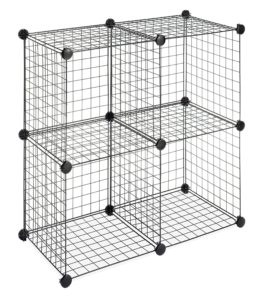 Bedside Caddy
In such a small space, you will be looking for ways to organize as much as possible. This bedside caddy has six deep pockets to organize your important books and magazines you want to keep close to your bedside.
Message and Dry Erase Boards
Chalk board paint can be used to paint on many items to make them into a chalkboard message board.
Dry erase boards on the back of the door are handy for communicating with friends and roommates and making notes to yourself. You can also get a dry erase calendar to keep track of your busy schedule.
Picture frames can also make great message boards. Just remove the glass and replace it with cork, a fabric covered piece of cardboard (use tacks to attach messages) or a piece of dry erase board. Most picture frames can be spray painted.
Laundry Tote or Bag
You will need something to carry your laundry back and forth from the laundry room. This laundry tote serves as both a free standing laundry hamper as well as a tote to carry your laundry to the laundry room.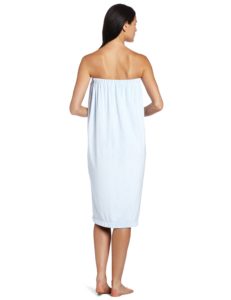 Small Area Rugs
Area rugs can add a note of individuality to a room. They can also help warm up the room and help soundproof it.
Before you get started decorating, make sure you look over all the dorm room do's and don'ts in your college handbook. Many college handbooks are available on the college's web site.
It's also a good idea not to buy all your accessories before you actually see the dorm room for the first time. Dorm rooms are all different, and you want to make sure all your furniture and accessories will fit in the room. Thrift stores are usually numerous in college towns, so you shouldn't have a problem finding extra furniture after you get there.
---
Reader comment: I'm just finishing up my first semester at college, and this article was super helpful and inspirational. But I do have have a suggestion for an addition–bean bag chairs! Bean bag chairs are ESSENTIAL dorm furniture! They're perfect for napping or studying or relaxing, they can be shoved aside if needed be, and if anything gets spilled on them their covers can be tossed in the wash. I have two and they're the best! Just thought your readers might be interested!!…Ashley
---
Follow my home decor board on Pinterest.
Related Articles