As the holiday season comes to an end, you may find yourself cleaning up the decorations and preparing to store your cherished Christmas lights. Proper storage is essential to maintain the longevity and functionality of your lights for many years to come. In this article, we'll walk you through some practical and easy methods for storing your Christmas lights.
This post may contain affiliate links.
Organizing and storing Christmas lights in a neat and efficient manner can be a challenge, but it's worth the effort to avoid a tangled mess next year. With a few simple strategies and common household items, you'll find that keeping your lights tangle-free and accessible is very achievable. We'll share some clever tips and tricks to help you keep your precious holiday lights in immaculate condition.
Read on to discover various ways of preserving the quality and brightness of your Christmas lights as we guide you through the process of safely storing them. By following these suggestions, you'll be ready to effortlessly decorate and spread joy next holiday season without any frustrations.
Related Article: How to Store Christmas Ornaments: Tips and Tricks for Organizing Your Decorations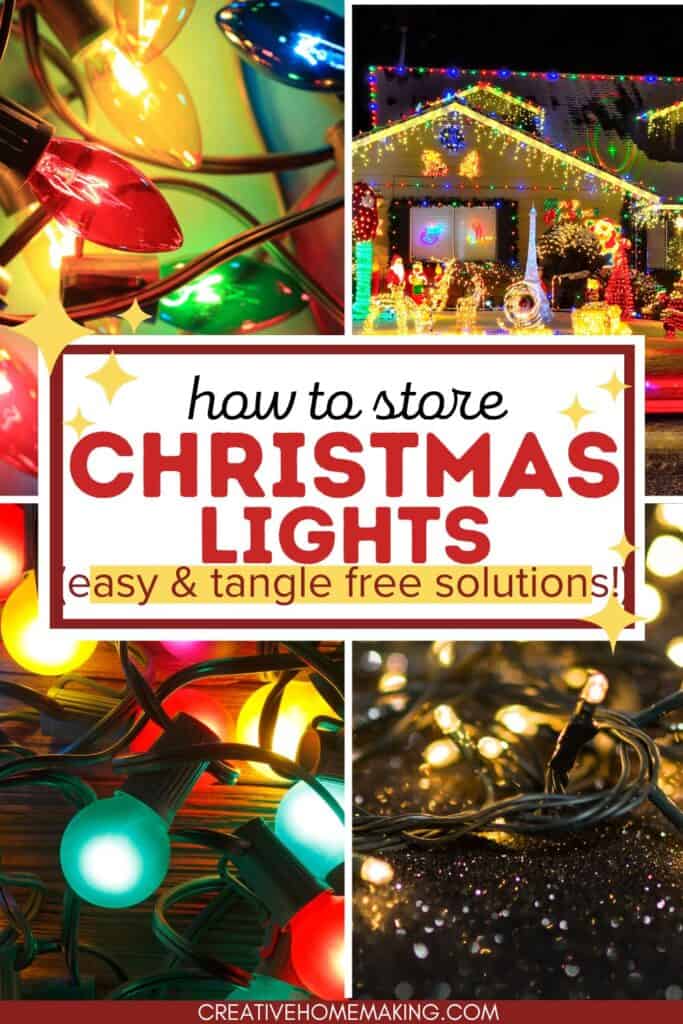 Understanding Christmas Lights
Christmas lights can add a sense of magic and warmth to your holiday decorations, but it's important to understand a few key aspects before you start stringing them up. In this section, we will cover some basics about various types of Christmas lights and provide tips for storage.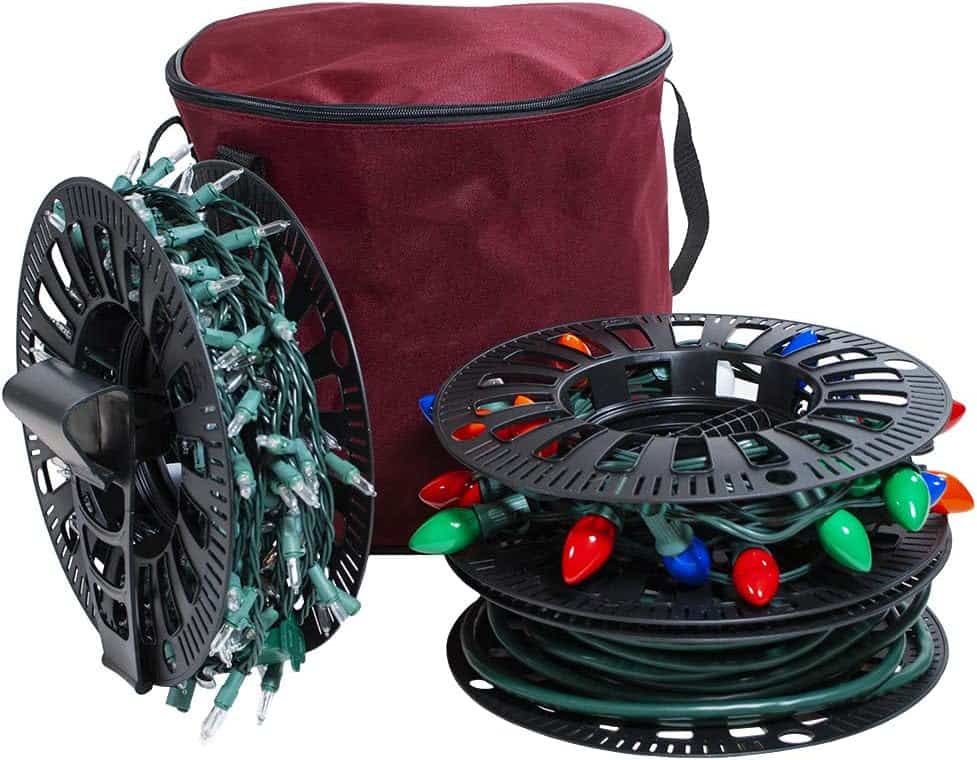 Christmas Light Storage Reel Holder with Installation Clip, Polyester Zip up Bag, Organizes up to 150 Foot of Mini Lights
Types of Christmas Lights
When you think of Christmas lights, you may picture the traditional incandescent bulbs that have been popular for decades. These bulbs come in strands of varying lengths and colors, and their warm glow has made them a favorite for many holiday decorators. However, there are also LED Christmas lights available now that offer energy efficiency and a longer lifespan. These lights may cost more upfront, but they save money in the long run due to their low energy consumption and reduced need for replacements.
Icicle lights are another popular option for decorating your home during the holidays. These strands feature a series of dangling lights that mimic the look of icicles and can be hung along the eaves of your house or from trees and fences. Like other types of Christmas lights, icicle lights come in both incandescent and LED varieties.
Storing Christmas Lights
The way you store your Christmas lights when not in use can impact their longevity and appearance. Proper storage can help keep lights untangled and in good condition season after season. Here are some tips for safely storing your Christmas lights:
Always unplug your lights and allow them to cool down completely before handling and storing them.
Check the strands for any broken or damaged bulbs and fix or replace them as needed.
Gently coil or wrap the strands of lights to prevent tangling and damage. There are a variety of storage solutions available, such as light spools, reels, or even using a sturdy piece of cardboard to wrap the lights around.
Store lights in a cool, dry place away from heat, moisture, and direct sunlight. This will help prevent damage to the bulbs and wiring.
Keep lights in containers with a lid to protect them from dust and pests. Plastic bins or dedicated light storage containers work well.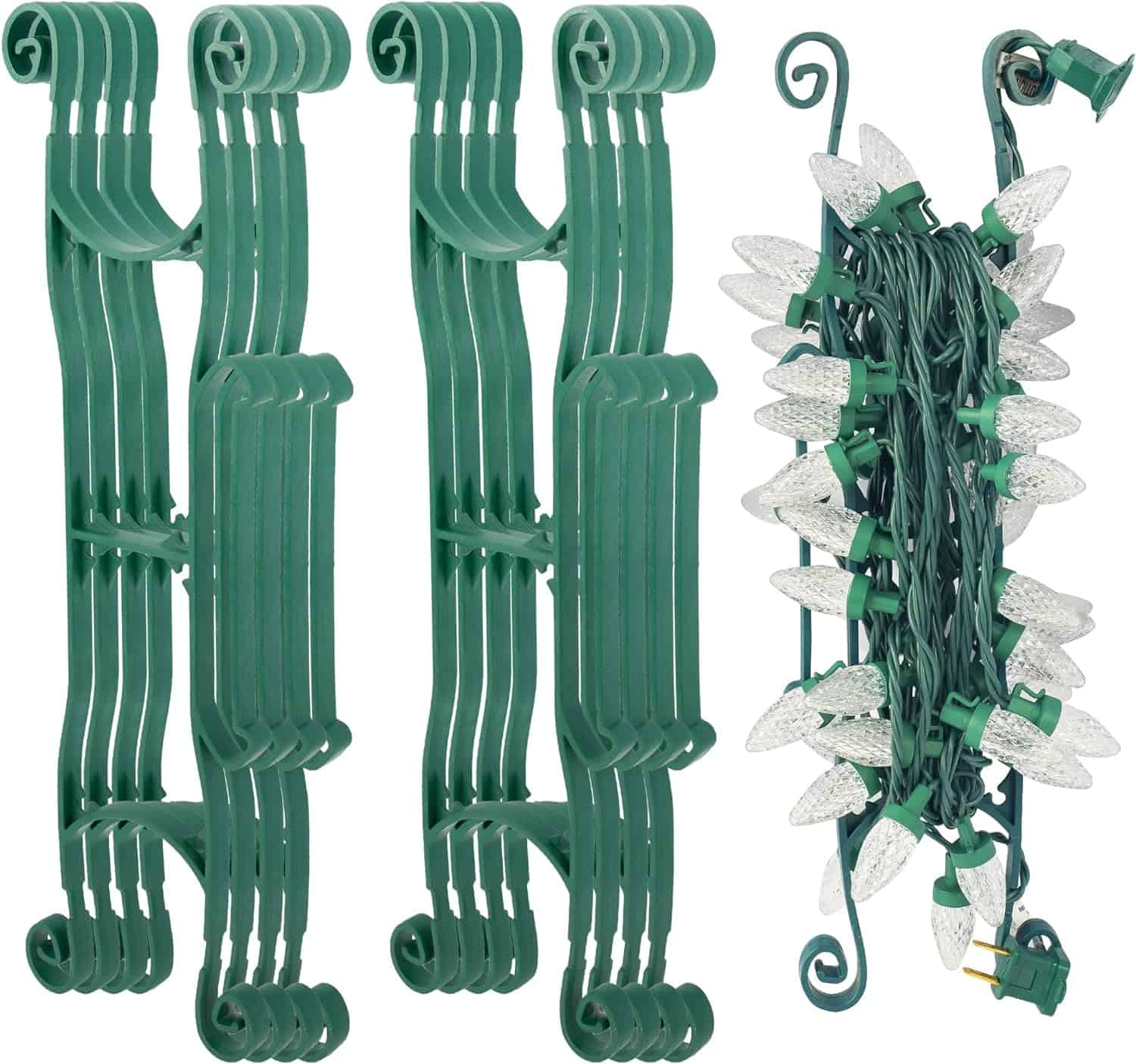 8 Pack Christmas Lights Storage Holder, Holiday Light Storage for All Purpose Light Cord Wind Up, Christmas String Lights Organizer Holder
The Importance of Proper Storage
Storing your Christmas lights properly is essential for maintaining their longevity and functionality. When you store your Christmas lights correctly, you can prevent any potential damages, making it easier for you to use them year after year.
Related Article: How to Replant a Christmas Tree
One of the main benefits of proper storage is keeping your lights tangle-free. We've all experienced the frustration of trying to untangle a tangled mess of wires. By learning how to store your Christmas lights correctly, you can save yourself this headache and ensure that your lights are ready to go when you need them.
You don't want to spend unnecessary time untangling and fixing lights. If you know how to store the lights and keep them tangle-free, you will save much time during the busy holiday season. Proper storage also helps to avoid any potential damage, such as broken bulbs or frayed wires, which can be dangerous if left unnoticed.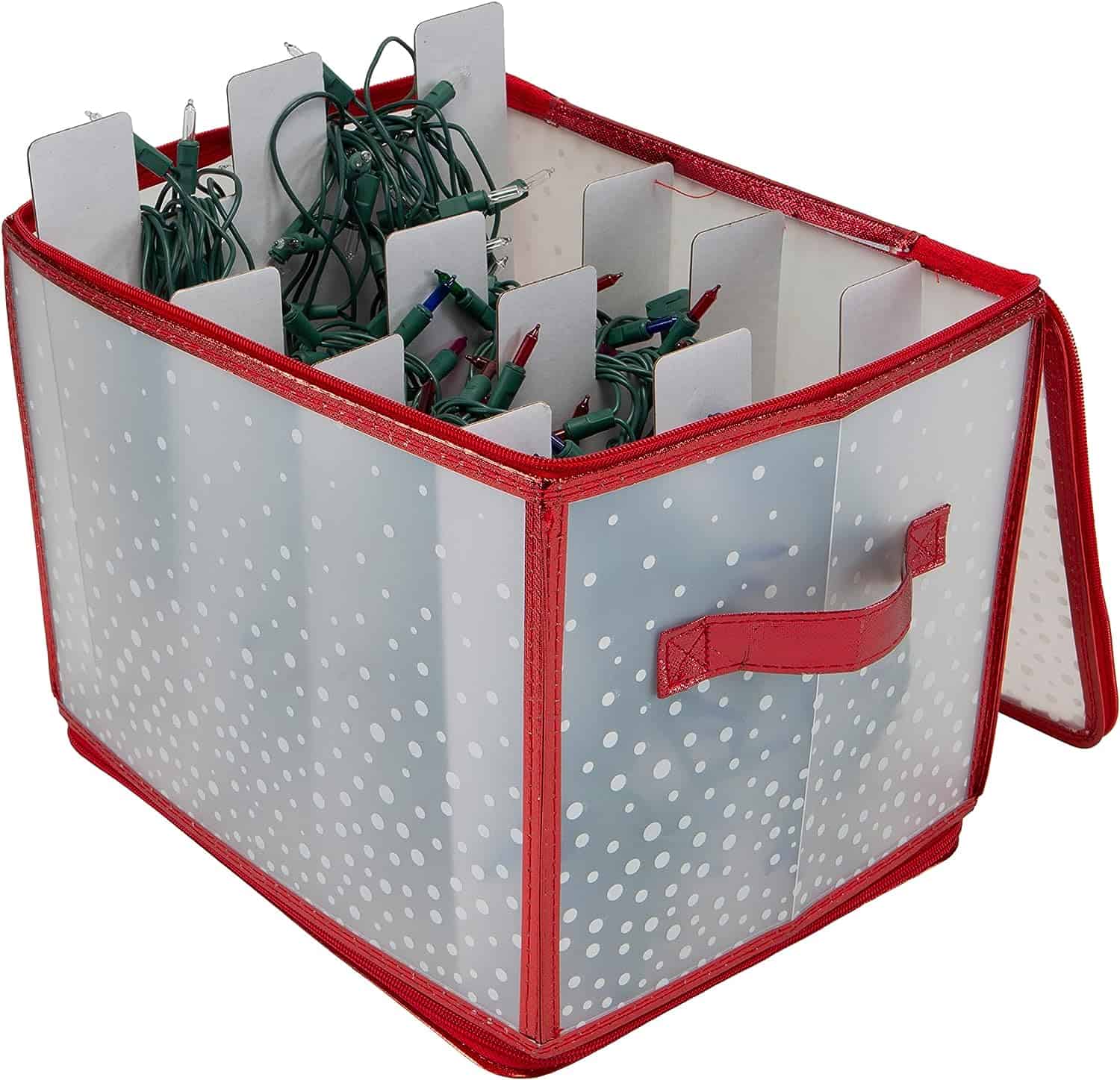 Simplify Holiday Light Organizer Box | Holds 500 Lights | Christmas Storage | Tree String Lights | 5 Divider Reels | Collapsible | Ultra Zip | Red
Different Storage Methodologies
Using Cardboard
Cardboard is an easily accessible and affordable option for storing your Christmas lights. Simply cut a piece of cardboard into a rectangular shape and wrap the lights around it, securing the ends with tape or a tie. This method helps prevent tangling and makes it easy to unwind the lights when you're ready to use them again.
Related Article: Grow a Bigger Christmas Cactus: Tips and Tricks for Thriving Succulents
Utilizing Clothes Hangers
Another option is to use clothes hangers. Drape the lights around the hanger, making sure to secure the ends. The hanger's hook allows for easy storage in a closet, and the lights will remain tangle-free.
Employing Spools and Reels
Spools and reels are specifically designed for organizing cords and ropes. Wind your Christmas lights around a spool or reel to keep them tangle-free. Some reels even have built-in storage compartments for additional Christmas decorations like hooks or clips.
| Type | Advantages | Disadvantages |
| --- | --- | --- |
| Spool | Lightweight, affordable | May lack durability |
| Reel | Durable, easy to use | Can be more expensive |
Utilization of Original Packaging
If you still have the original packaging for your Christmas lights, consider using it for storage. The packaging was designed to keep the lights tangle-free and secure. Be sure to wind the lights in the same way they were when you first purchased them.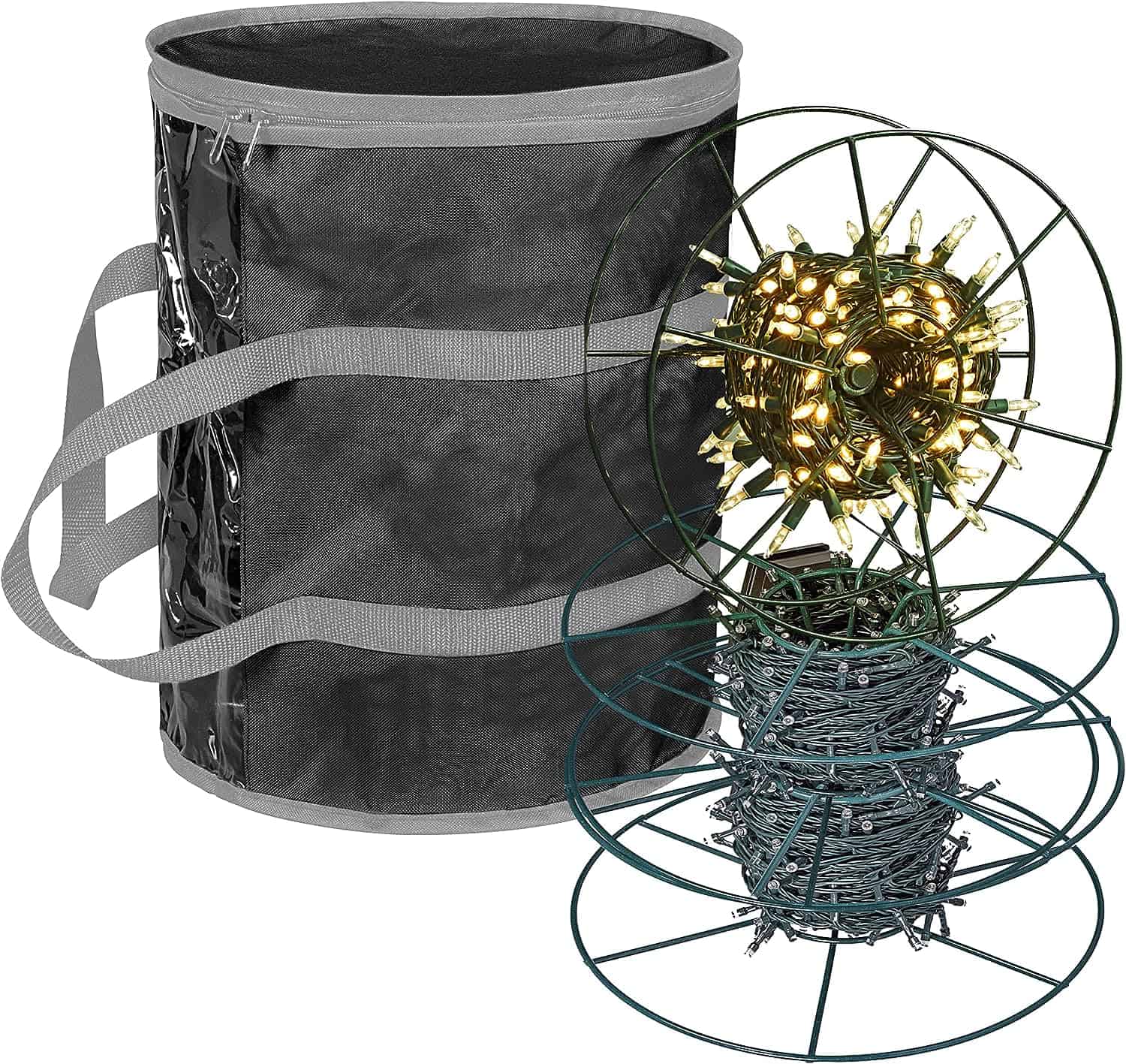 Simplify Holiday Light Organizer Box | Holds 500 Lights | Christmas Storage | Tree String Lights | 5 Divider Reels | Collapsible | Ultra Zip | Red
Wrapping Paper Tube Method
The wrapping paper tube method is an innovative way to store your Christmas lights. Once you've finished using a roll of wrapping paper, save the cardboard tube. Secure one end of the lights to the tube with tape, then wrap the lights around the tube in a spiral pattern. When you're finished, secure the other end of the lights. This method not only keeps your lights organized but also repurposes an everyday item.
Related Article: Help! My Potted Christmas Tree is Turning Brown: Tips for Saving Your Tree
DIY Solutions
Harness the Power of Notches
One approach to store your Christmas lights is by utilizing notches in various items around your home. For example, clothes hangers or plastic hangers often have notched areas perfect for holding the light strands. To do this, simply wrap your lights around a notched hanger, keeping the cords neatly separated and tangle-free. This method not only keeps the cords organized but also makes it easy to hang the wrapped hangers in your garage or storage area using hooks.
The Plastic Wrap Approach
Another DIY storage solution for your Christmas lights involves using plastic wrap. Start by laying a sheet of tissue paper on a flat surface, then place your lights in a zigzag pattern across the tissue paper, leaving some space between each strand. Next, carefully wrap the tissue paper around the lights, creating a protective layer. Finally, wrap the entire bundle in plastic wrap, making sure to cover all the exposed areas and secure the ends with tape.
Using plastic wrap helps to keep dust and debris off your precious lights and makes it a breeze to unravel and rehang them next year. You can neatly stack your wrapped bundles in a storage container or even hang them up on hooks in your garage for easy access.
Christmas Light Storage – Christmas Light Organizer W/ 4 Plastic Christmas Lights Organizer Wheel
Safeguarding Your Lights
Giving proper care and protection to your Christmas lights is essential for maintaining their longevity and performance. By following these simple steps, you can ensure your lights are in perfect working condition each festive season.
Always check your lights before storing them away. Make sure there are no broken bulbs, frayed wires or other damages that might make them unsafe to use next time. Replace any broken bulbs and take necessary precautions to avoid any potential hazards.
To avoid a tangled mess, wrap your lights carefully around a sturdy and clean object, such as a large piece of cardboard or a spool. You can also purchase specialized storage solutions for this purpose. This will help you store and access them easily and reduce the risk of damaging them.
Temperature plays a crucial role in keeping your lights safe. Be sure to store your lights in a cool, dry place, away from direct sunlight and extreme temperatures. Excessive heat or cold can damage the wiring and cause the bulbs to deteriorate, making them less vibrant.
Utilizing bubble wrap can be beneficial for added protection, particularly with delicate or glass bulbs. Wrap the bubbly padding around any vulnerable parts of the light strings, or simply place a layer between them and other items in the storage container to safeguard against any accidental bumps.
Storage Locations
Stashing in the Attic
The attic is a great option for storing your Christmas lights, especially when space is limited in other areas. Since you probably only access this space once or twice a year, utilizing it for storing your seasonal decorations makes sense.
To keep your Christmas lights organized and easy to locate in the attic, be sure to label all of your storage containers. This way, you'll save time rummaging through dusty boxes when you are ready to decorate. Pro tip: using clear containers allows you to see the contents without opening them.
Related Article: Christmas Tree is Dying: Quick Solutions to Revive It
The Garage Option
Your garage, if available, is another practical storage location. Utilizing the overhead space in your garage is a smart way to store your Christmas lights, keeping them off the ground and out of harm's way. Consider installing storage hooks under the ceiling or shelves along the walls to keep your lights organized and easily accessible.
Remember to neatly coil each light strand and secure it with zip ties before putting them in their respective containers. This helps avoid any tangling and makes the setup process much smoother the following holiday season.
Shed as a Storage Spot
If your property has a shed, it can be an excellent alternative for storing Christmas lights away from your main living areas. To maximize space in your shed, you can:
Install peg boards or hooks that allow you to hang containers, keeping your lights off the ground and well organized.
Use tool organizers to hold smaller items, such as extension cords or additional lightbulbs.
It's essential to ensure your shed is secure and weathertight to protect your holiday decorations. Make sure that the roof and walls don't have any leaks or gaps where rodents could get in and damage your belongings.
Preventing Common Issues
When it comes to storing your Christmas lights, a few simple steps can help prevent common issues like tangle-free storage, kinks, and tangled messes. The key is to keep your lights organized and secure. Here's how you can do that.
Firstly, wrap your lights carefully. Instead of throwing them in a box or bag, take the time to wrap them around your arm or a sturdy object like a piece of cardboard. This will ensure that the lights are tangle-free and ready to use next year.
To prevent kinks in your Christmas lights, avoid wrapping them too tightly. Apply a gentle pressure when wrapping them, making sure the wires are not bent or twisted. This will help maintain their shape and reduce the chances of kinks forming.
One helpful method for keeping lights from becoming a tangled mess is to use an appropriate storage container or organizer. You can either purchase a specially designed storage solution for Christmas lights or create your own using simple household items such as:
Empty wrapping paper tubes: Wrap the lights around the tubes in a circular or spiral fashion, securing the ends with tape.
Plastic storage bags: Divide the strand of lights into smaller sections and place each section in a separate Ziploc bag.
Hangers: Wrap your lights around a hanger, ensuring that the strands don't overlap too much.
Remember, always carefully inspect your lights before putting them away. Check for any damaged bulbs or frayed wires, and replace or repair them as needed.
Frequently Asked Questions
What is the best method to prevent Christmas lights from tangling?
To prevent your Christmas lights from tangling, wind them around a stiff material or a purpose-built storage tool. Cardboard tubes, coffee cans, or light organizers are helpful. Before winding, make sure to plug the ends into each other to secure the strand.
Any effective storage hacks for icicle lights?
For icicle lights, you can use a hanger with clips to keep them organized. Attach separate clips to each drop on the icicle light, and then clip them around the hanger. This will keep the icicles separate and tangle-free. Store these hangers in a dedicated space.
What is the ideal location to keep Christmas lights when not in use?
Store your Christmas lights in a cool, dry, and dark place like a closet, attic, or garage. Avoid areas prone to moisture, temperature fluctuations, and pests. Protect the lights from damage by placing them in plastic storage containers or cushioning them with bubble wrap or packing paper.
What is the proper way to store C9 Christmas lights?
To store C9 Christmas lights, use a large-gauge Christmas light storage reel or a large piece of cardboard. Wind the C9 strand around it, ensuring that the bulbs don't touch each other. Wrap each bulb with a small piece of bubble wrap for added protection. Once done, place the wrapped strand in a secure storage box or container.